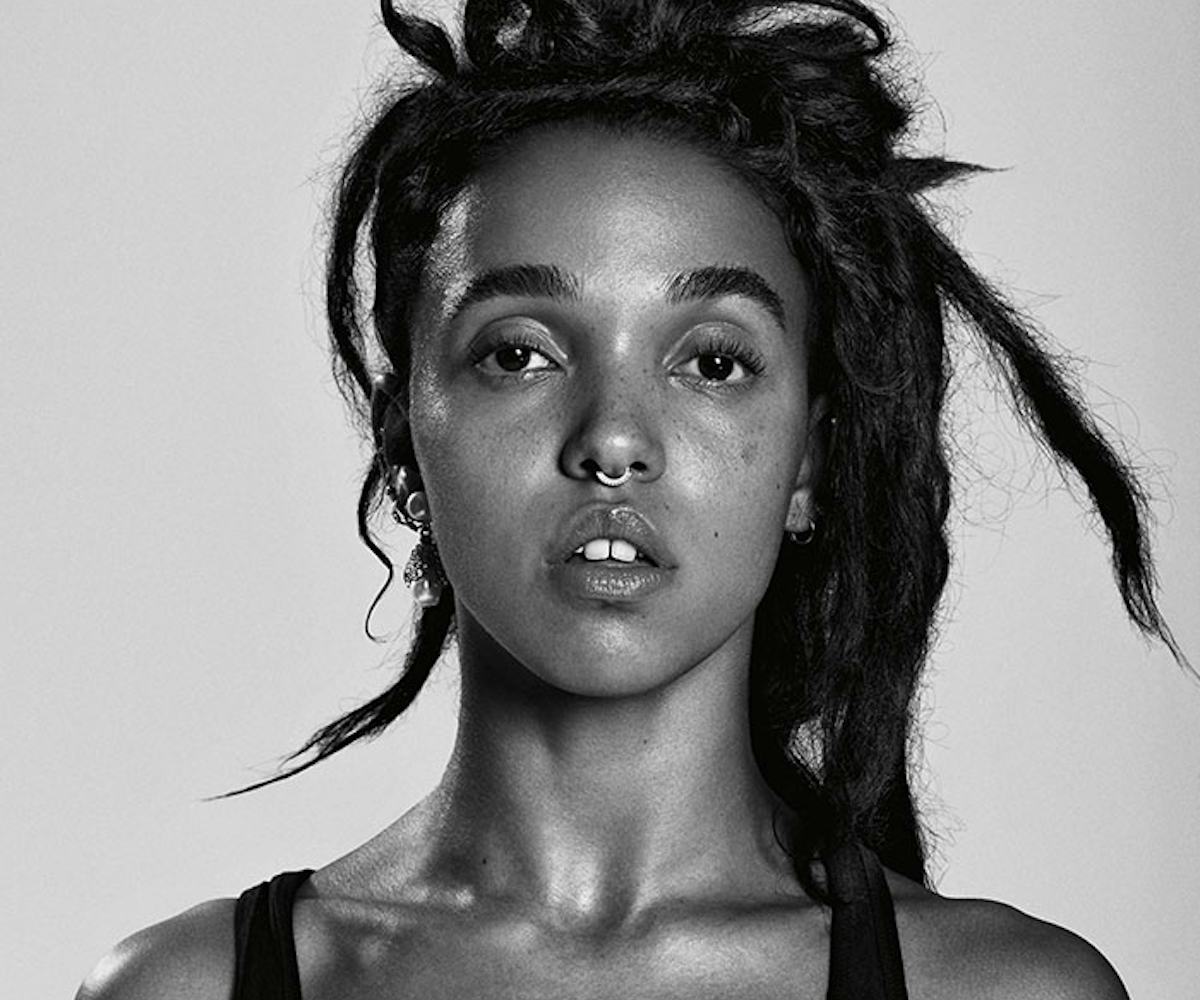 Photo by Paola Kudacki
FKA Twigs Strips Down For 'Paper'
fashion's most reluctant cover star
FKA twigs hardly gives interviews anymore because of the non-stop questions pertaining to her engagement to Robert Pattinson, so to see the superstar wearing a leotard with platforms on the cover of Paper Magazine in a classic black-and-white spread is a rare sight.
The theme of the story is "NOWSTALGIA," because twigs is the future of music. That said, apparently she avoided delving into anything that had to do with race and sexuality in her art, instead diverting the conversation to the process of her performances. Twigs is a hard worker and as one of her biggest critics, she knows where she has room to improve, specifically pointing out writing, dancing, and producing.
Twigs goes on to acknowledge that she's not doing this all for herself—she's taking advantage of her current position in the industry and using it as a platform for other talented dancers, producers, and artists to shine. She is in complete control of her artistry, and the posse that rolls with her: "Me and my mates, we do whatever we wanna do," she said. "And actually, I think there's something quite punk about that. Not screaming into a mic or wearing leather straps every day, but doing whatever the fuck I wanna do. So to me, that's punk. That's not a wet blanket." 
As an inhabitant of the artistic world, twigs is part of a richly diverse community. On the type of fans she attracts, she believes that hers are creative, intelligent, kind, and sensitive individuals. "I'm honest, and that comes out. Honest people come in lots of different types and they relate to things that aren't straightforward," said twigs. "I'm happy that people can roll with me, give me a chance, and let me explain my songs through my visuals. But I don't even like calling fans 'fans.' It's like, [pulls face] Ugh, fans. [laughs] It's just people that like your music."
Further down, twigs hinted at her longing to settle down and raise a family of her own someday. As witnessed in the videos for M3LL153X, twigs is fascinated by pregnancy and is completely open to her maternal side. "I do this because I want my children to have a nice life, and I want my children's children to have a nice life," she said. "And I want my grandkids to be proud of what I've achieved. And I want to be a role model, but not for the world. I don't mind about that—that'll come or it won't come." 
We never get enough of FKA twigs, so here's to hoping that she continues to let us in, one carefully selected cover at a time. She may not be leading a movement, but she sure is making one hell of a statement.