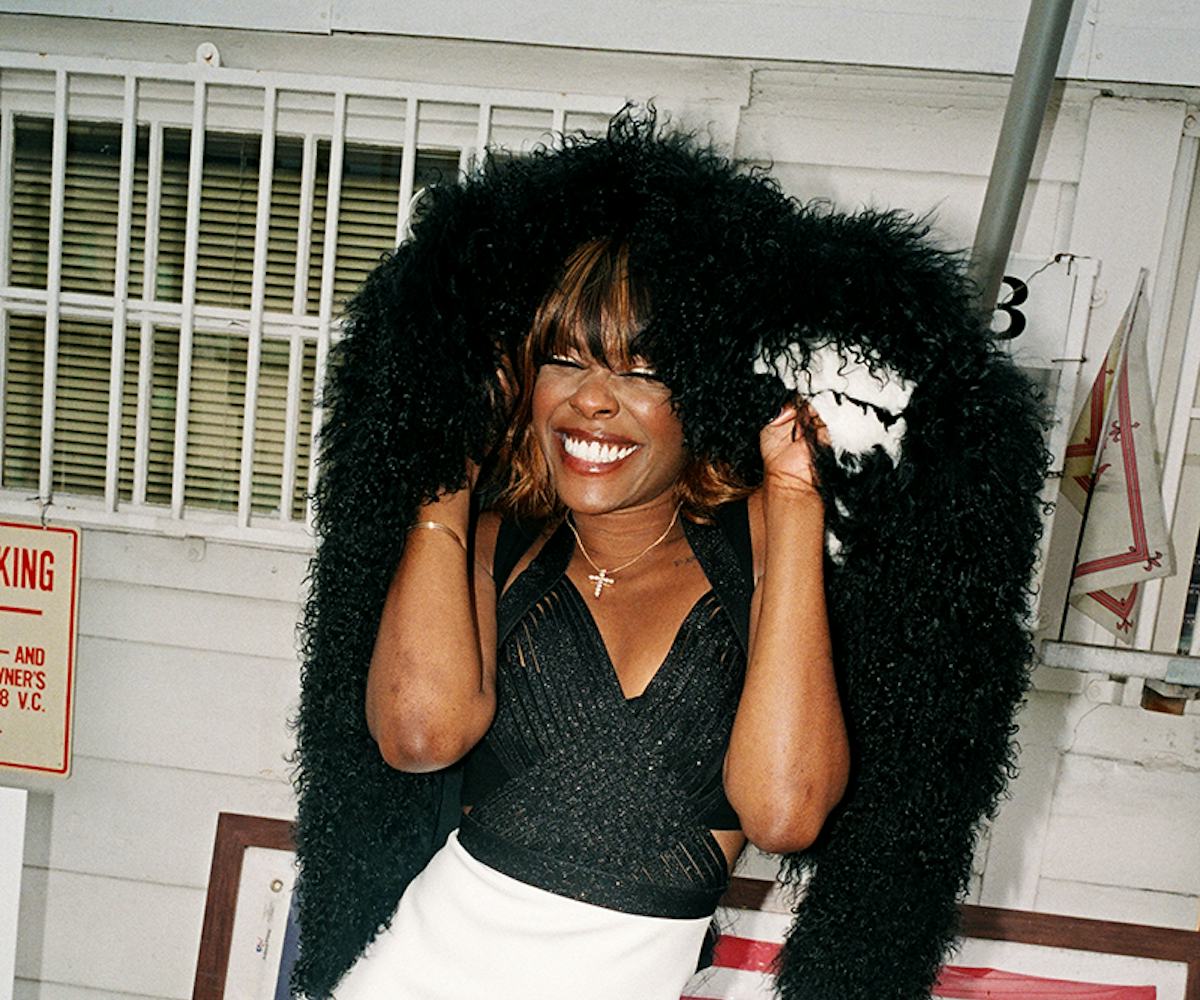 Photographed by Bella Howard. Jacket by Viktor & Rolf, halter by Zimmermann, skirt by Shakuhachi, Banks' own jewelry. Stylist: JAK at the Wall Group. Hair: Marcia Hamilton at Celestine Agency using Enjoy. Makeup: Andrew Mascarinas.
Flashback: Azealia Banks Is Up And At 'Em
in her feature from the february 2014 issue of nylon
The following feature originally appeared in the February 2014 issue of NYLON. 
"With Azealia Banks, there's a mystique...but there really isn't a mystique," explains Banks, barely. "No, there's definitely a mystique, but I'm trying to hold on to it—trying to keep some secrets a secret." 
Secretive maybe not the first word that comes to mind to describe the 22-year-old Harlem-raised rapper, fashion muse, oral sex enthusiast, and occasional mermaid impersonator. For example, last night she met Dave Chappelle at Kanye West's Yeezus tour stop in Los Angeles and came up with
a slew of new ideas. And then she passed out on her couch, facedown, still clothed, makeup caked. In her own words: "I gives no fucks."
But she's trying not to say these things in interviews, to reserve that candor for Twitter, or at least conversations that take place past noon. At the moment, it's not even 11 a.m., and Banks is in blue-green pajamas. Her copper-streaked bangs are slightly fluffed, her makeup halfway re-applied prior to a photo shoot, and she's attempting to explain her newfound awareness of the power of leaving some things unsaid. "It's hard because I'm always so excited about everything," she says. "When you hear this album, you're going to be like,
'Holy shit, Azealia Banks has gone somewhere else.'" 
She's referring to Broke With Expensive Taste, her long-gestating Interscope Records debut, planned for an imminent release. "I'm mad turnt up all the time. Sometimes I just want to be like, 'Hey…guys!'" She says this last part with a friendly wave, as though she's personally addressing her 360,000-plus Twitter followers. It's a gesture innate to someone born to be famous, or at least raised in the theater. 
Before sealing her first record deal at 17 years old, Banks attended New York's Fiorello H. LaGuardia High School (of Fame fame), acted in a few off-Broadway musicals, and worked as a Starbucks barista. On a whim, she uploaded some demos to Myspace; within months, she nabbed a Diplo co-sign and a record deal with XL Recordings. Shortly thereafter, she moved to London to cut an album.
"I needed a way to make money, and my music started popping off," she explains. "I didn't want to file some financial aid papers to borrow money to go to school to learn some shit, and immediately pay it back." 
When the XL relationship soured in 2010, Banks ditched the "Miss Bank$" pseudonym for her birth name and moved to Montreal, then back to New York. Schemes to pay the rent included stripping and selling key chains at a Manhattan dance club. But once she uploaded the "212" video to YouTube in September of 2011, her days of anonymity were over. 
If you aren't one of the 60 million-plus who saw Banks, a.k.a. Yung Rapunxel, rhyming about getting her "cunt eaten" in jean cutoffs and a Mickey Mouse sweater, stop reading this article and go watch the video. It was as if Lil' Kim had a daughter who loved Lolita and avant-garde London bass music. NME named her "2011's Coolest Person." Interscope handed her a lavish contract. 
"It's weird being 20 years old and having a million dollars given to you. I had a lot of fun touring the world and had some really horrible times, too," says Banks. As in her music, her accent toggles between bialy-thick Noo Yawk and an upper-crust British lilt. "I just want to be more poised. I'm taking myself a bit more seriously now."
She's lived in Los Angeles since signing with Interscope—the relatively affordable rent being more amenable to her luxe tastes—and it's unclear whether the bad times are a veiled reference to the innumerable squabbles that have uncomfortably played out on social media. The short list includes Lady Gaga, T.I., A$AP Rocky, Nicki Minaj, Perez Hilton, and Lily Allen. The tiffs threatened to overshadow her music, which quietly broke ground with its fusion of deep house, dancehall, slick uptown New York street rap, R&B, and contemporary dance music. "Azealia Banks is dangerous," she says with a mischievous laugh. "Life is all perception. That's why I say whatever the fuck I want." 
A long enough conversation with Banks, though, reveals that her biggest problem isn't an absence of mystique, but rather a lack of a filter. With only a half-functioning internal censor, she'll opine freely about the sociological treatises she's reading (The Bell Curve and The Mis-Education of the Negro), racist masquerade balls in Italy, conspiracy theories, the Santería religion, and the overbearing corniness of most major label rap music. She's blessed with a scythe-sharp intellect and has an impulsive streak that frequently gets her in trouble. But one senses that this same curiosity fuels the relentless eclecticism of her music. 
When it comes to her forthcoming debut, however, she turns uncharacteristically coy, only divulging that she turned in an ostensibly finished version a few weeks ago. Banks's label then requested that two tracks be reworked. "It's like having a girlfriend who loves and takes care of you but might not like the way you dress," she says, explaining the major label dance. "So sometimes you'll get dressed up for her because that's what she likes." She lifts her forearms to reveal tattoos she got at 17. One reads "patience" and the other reads "perseverance." 
"I'm not going anywhere," says Banks. "I'm always putting new music out. I've been allowed a lot of time and space to create and figure myself out and do what I want. I have another surprise for this project, too, but I can't talk about it yet." Long pause. "But I want to."