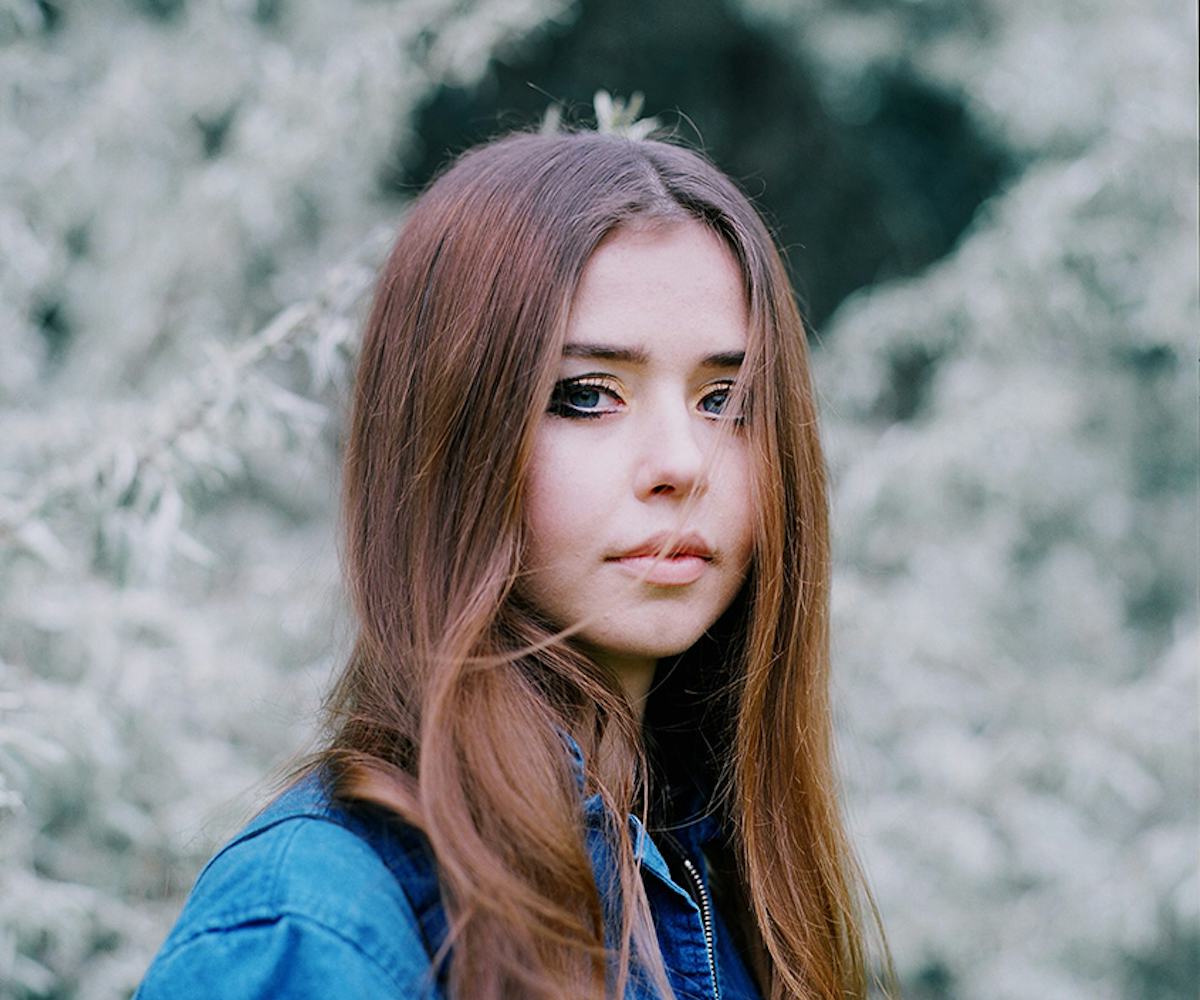 Photographed by Francesca Jane Allen
flo morrissey takes a page ​from '70s folk and spins gold
"Do you think it would be possible for me to have a side of avocado, please?" Flo Morrissey asks our waitress, in the most polite request for avocado ever. "That's very L.A. of me," she says, referring to the two and a half months she spent in Los Angeles recording her debut album, Tomorrow Will Be Beautiful, earlier this year. "Everybody has a side of avocado in L.A." 
We're eating lunch a stone's throw from Morrissey's home in Notting Hill in London. In denim flares, a white lace top, and a brown leather jacket, with her waist-length hair tucked behind her ears and a gold "Love" pendant around her neck, it's easy to see why Morrissey has been described as a hippie-folk revivalist. Comparisons to Joni Mitchell and her ilk have come quickly, but Morrissey insists she's never consciously tried to "do the '70s thing" and hopes her music is timeless and original, rather than simply steeped in tradition. 
The second eldest of nine children, Morrissey, 20, grew up nearby and describes her upbringing as "quite unique." She's close to her parents—her father is an artist and a Buddhist meditation teacher, her mother works full time in Central London—and Morrissey confesses she prefers babysitting her younger siblings to hitting the town. Still, her family has yet to watch her perform. "Just no," she says, horrified at the thought of wrangling her eight siblings and parents into a crowded venue. "Imagine. I mean, maybe one day they can be my backup singers, but en masse? No." 
The singer-songwriter definitely doesn't need her extended family to help fill a show space. Since the release of her single "Pages of Gold"—all dreamy vocals and Laurel Canyon-esque instrumentation—Morrissey's star has been on the rise. Her performances at the Green Man and Wilderness festivals last year cemented her status as one to watch, and last fall she opened for Damon Albarn at the Casino de Paris. 
Click through the gallery to read the entire story.
Her route to making music was relatively uncomplicated, she says: "It was always what I wanted to do, so I started learning guitar at 14 and—this sounds cringey—went on GarageBand, recorded a song called 'Show Me,' then uploaded it to Myspace." 
Morrissey left school at 17 to pursue her passion and managed herself until "Show Me" perked the ears of Aram Goldberg, Devendra Banhart's manager, who promptly signed her. Before long, she'd inked a deal with Glassnote Records (home to Phoenix and Mumford & Sons) and was recording Tomorrow Will Be Beautiful in L.A. 
"I think the album title is something I tell myself a lot," she says, polishing off the last of her frittata. "As you get older, you have to work on things more and really make the beauty. Sometimes seeing sadness is a good thing, too. It's about taking the best things from it and seeing the beauty in it. That's always what I'm trying to do."