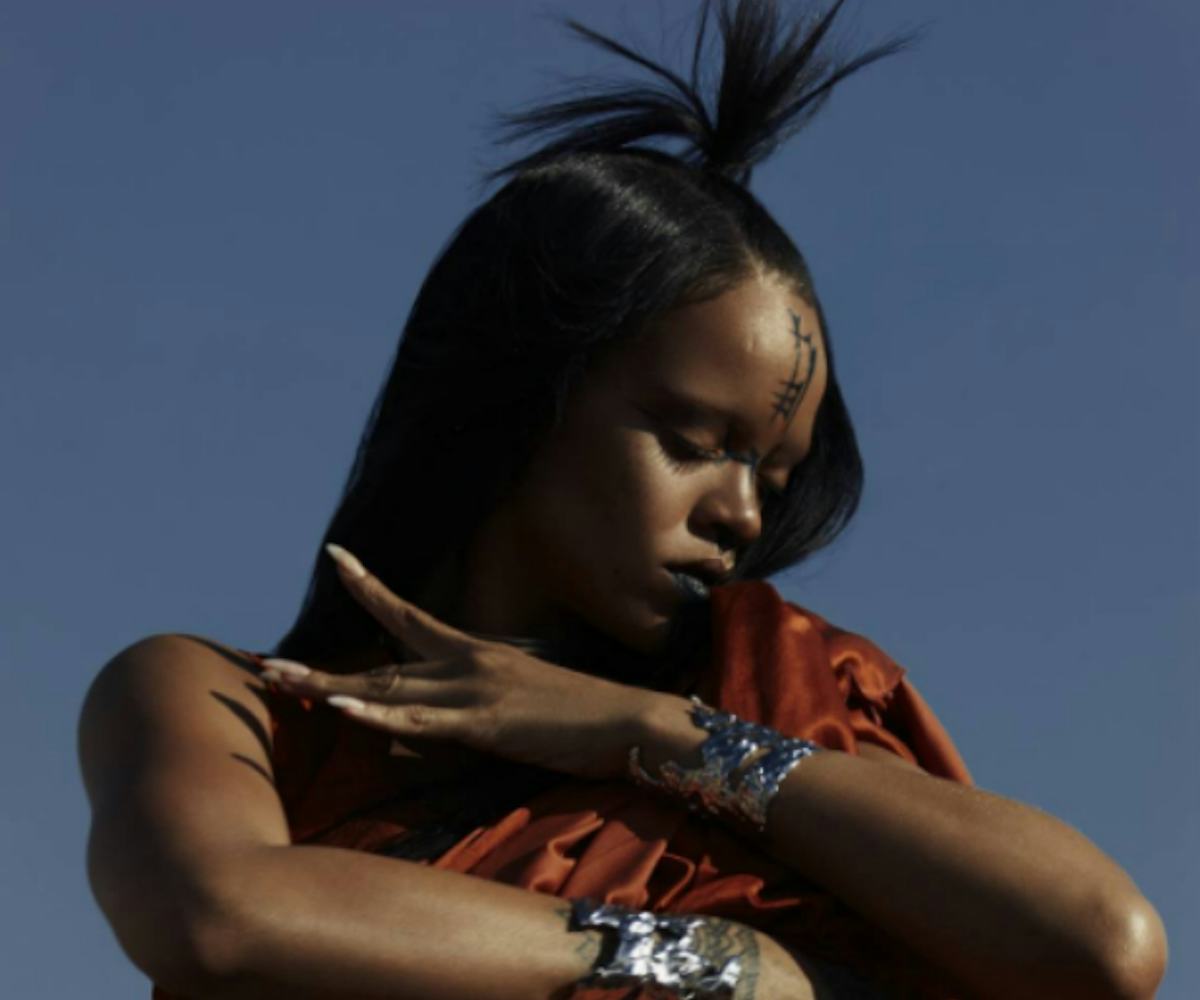 Photo courtesy of Rihanna
Floria Sigismondi Takes Us Into Rihanna's 'Star Trek'-Inspired World
The director on making her "Sledgehammer" vision come to life
This morning, Rihanna released the official music video for "Sledgehammer" in IMAX, making it the first of its kind. In the out-of-this-world visual, directed by Floria Sigismondi, Rihanna portrays a beautiful, mystical being coming into her own all by herself. It's not far-fetched from the pop star's IRL personality, but we don't typically see Bad Gal RiRi draped in a silky garment with ink markings across her face and no eyebrows (looking stunning nonetheless).
While the video transports us to another galaxy, Sigismondi revealed that it was actually filmed in the Trona Pinnacles desert located in Southern California. According to her, the whole "middle of nowhere" environment was significant in setting the tone for the production. "The great thing about that location was it kind of already took you there," she says. "We were surrounded by nothing, so there weren't any distractions. It already kind of puts you in a mood." 
We had the opportunity to pick Sigismondi's brain to learn more about the concept for the video, what it's like to work with Rihanna, and what the director is working on next.
Given that the song is featured on the soundtrack for the upcoming Star Trek: Beyond film, how did you come up with an original concept for this video? 
It's supposed to be a stand-alone piece for the soundtrack film, so what I did is, I extracted some elements from the film that kind of gravitated toward me. It was the form and the rocks and the nebula. I extracted those elements and built a story around it. I always had this image of a person turning into stars. There's something beautiful about having the universe inside of us.
What is the main storyline?
The idea is that she's sort of like this ancient alien, this otherworldly character, kind of like a mystical being, living in this otherworldly planet. And she has the power to harness and manipulate the elements. So that's how I use the sun, the rocks, and the earth itself. She conjures energy and light and ultimately embodies the power to transform into the universe itself, the stars and the planets.
Tell me about your experience working with Rihanna. What was that like?
She's fantastic. It was amazing to watch her perform. In every take, she kind of gives you a little surprise and gives you something new. Or she'll stop singing and just give a look into the camera. Just all those little magical moments, it was really wonderful to see and to be part of. And her endurance—I mean, we shot for nine hours straight in the desert, and I don't know if we even stopped for lunch. We just went and went and went. It was a great experience. 
How did you both work together to come up with the treatment? How did you combine your visions?
A lot of it was just imagining what it would be like, and just sort of creating the character and having her navigate through this otherworldly place. And then just using that transformation. The video's about breaking down walls. The lyrics [are about how] she's a sledgehammer, and she's breaking down boundaries, so I wanted the video to have that. We just talked to her a little bit about what that was—like was that actually banging on a wall or what was that about pushing the boundaries? I think when you look at the video, the overall arc of it has that story. Just kind of pushing through that. The theme of the film is just about exploration and of the unknown, so there are all these really great underlying themes.