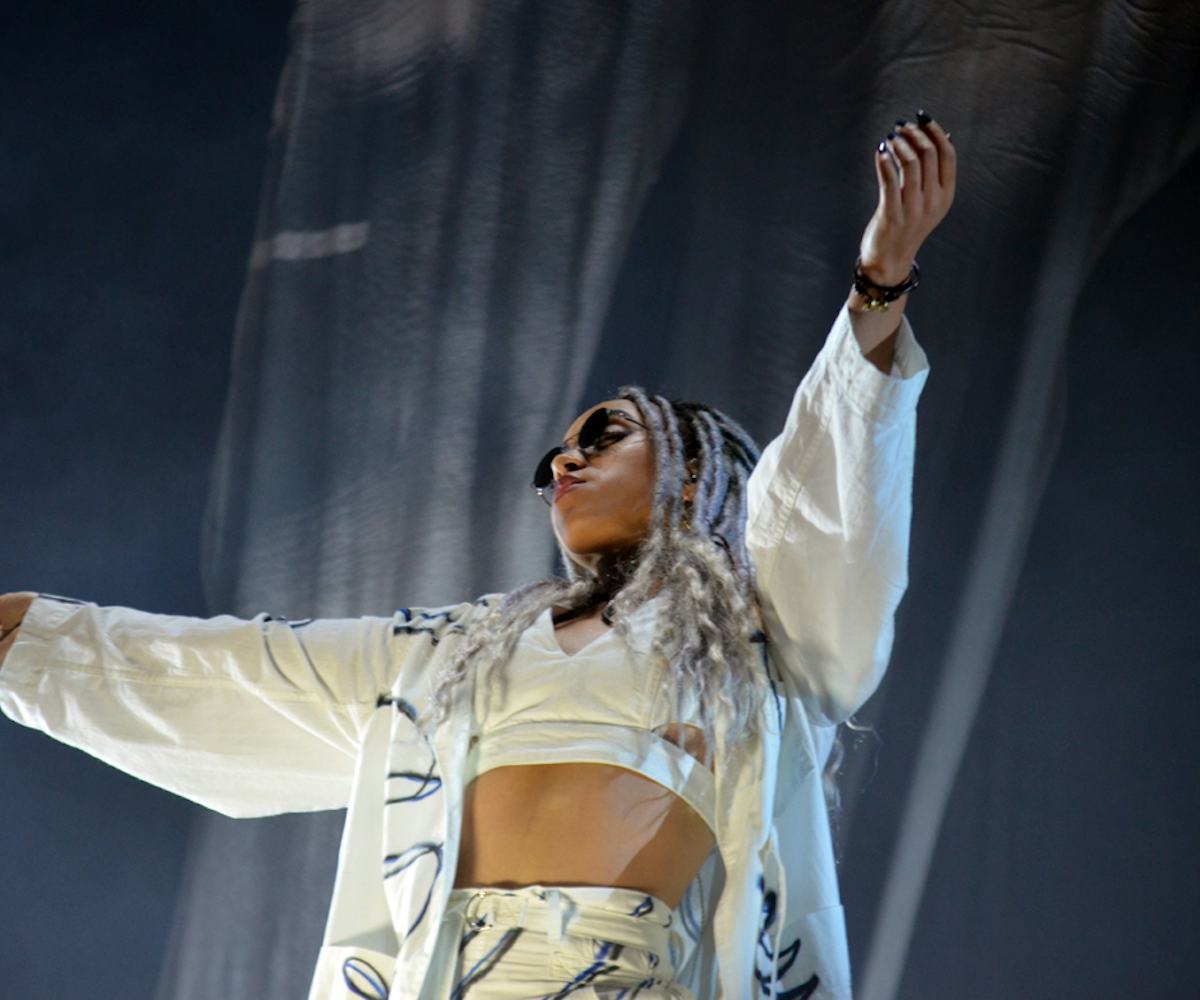 Finland's Flow Festival Featured Some Impressive Leading Ladies
From Sia to ANHONI to Dua Lipa, it was women who ruled the finnish festival's thirteenth edition.
Now in its thirteenth year, Helsinki's Flow Festival still manages to sit at a curious intersection of arts, culture, and commerce. There were the legacy acts, like Morrisey, New Order, and Iggy Pop, who started out his set with "Wanna Be Your Dog" and still managed to make the word "Fuck" sound dangerous despite uttering it hundreds of times over the course of his hour long set. There were the relative newbies—Stormzy, Liima, and Anderson Paak, who poured enough energy into his rapping and drumming to power a small village. There was even the home team, lead by Moonface collaborators Siinai, Alma, and Jaakko Eino Kalevi, an artist that single-handedly proves that spirit of weird is still alive and well in Finland.
"Finland is an excellent place to be a woman," one festival attendee declared enthusiastically. "I never feel uncomfortable or threatened here the way I have in other countries."
It was a statement that held true both off the stage and on. From Dia Lupa's surprise discovery that she could pack a tent even before releasing a solo album, to Sia's emotive pack of dancers, to some seriously on-point festival fashion, one thing became abundantly clear—it's ladies that were running not only the show, but the whole Flow world. 
Flow Festival's neon sign.
CHVRCHES' Lauren Mayberry accidentally burped into the mic during their set, but managed to keep her cool. "Sorry," she told the crowd. "I ate my dinner too close to the show. If you didn't notice that's because I'm a professional."
Flow Festival's champagne bar. Because nothing says glamour quite like drag queens spinning classic disco hits.
Daughter played in the dark for the majority of their first Finnish set, a perfect compliment to their haunting new album Not to Disappear.
A Daughter fan (rightfully) moved to tears.
Set way back on the stage under a huge wig, Sia was almost impossible to spot. (It was a position that forced photographers in the photo pit to shoot with their cameras above their heads, praying they'd get a shot.) Thankfully she brought along her designated mini me—dancer Maddie Ziegler.)
Quirky festival decorating details—like a golden woman sitting in a tree—abound.
NYLON's favorite rising star Dua Lipa reacted in shock when she discovered during her first performance in Finland that the crowd already knew the words to all her songs. Fittingly, the "Last Dance" singer celebrated by dancing.
"Fashion forward" choices abound.
With some truly impressive dance moves (so many points for executing them in high heels) and her art-melted R&B, FKA Twigs turned the main stage into
Sunday was family day—a prefect chance to start 'em young on the festival life.
A fan showing off her Arctic Monkeys pride shortly before Alex Turner took the stage with his other project, The Last Shadow Puppets.
Despite canceling a performance the weekend before in Poland, ANHONI still pulled off an moving headline set, performing with a bag over her head and allowing video of women crying to convey the emotion of her stark new album HOPELESSNESS.
Festival fashion. What's Finnish for "on point?"
Savages' Jehnny Beth, leading the charge during one of Flow's nosiest (and most fun) sets of the weekend.