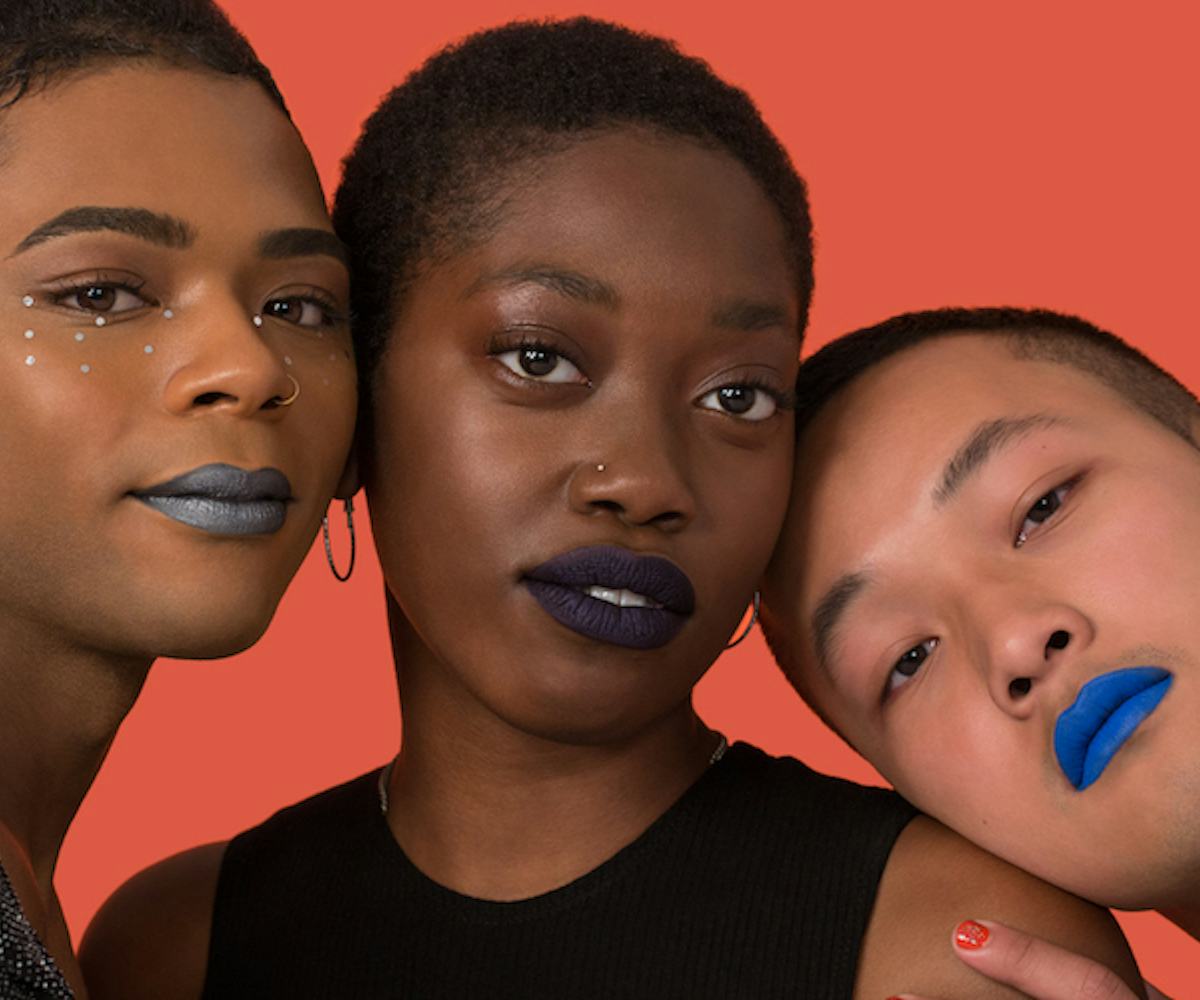 All Photos by Lee O'Connor for Fluide
Meet Fluide, The Brand Breaking The Beauty Industry's Gender Norms
The beauty industry is changing for the better, making great strides toward an inclusive future. More and more, brands are choosing not only to work with a diverse set of models but, also, to put out a more expansive product skin tone range; many are choosing male-identifying and trans folx to represent their campaigns. And while these steps are good, and real change is on the horizon, we're not quite there just yet—the beauty industry is still inherently a cis female-focused industry.
That's where Fluide, the NYC-based beauty brand catering to all gender identities, comes into play. Founded by Isabella Giancarlo and Laura Kraber, Fluide (pronounced "flu-eed") was created with the idea that everyone should be able to feel free to express themselves with makeup. 
"We felt that we could create something new—a beautiful and intimate online universe where everyone is celebrated for being themselves," says Giancarlo. "To locate makeup outside of the paradigm of cis female beauty is incredibly liberating and it opens up the potential for makeup to be an empowering form of self-expression for all people, rather than a representation of all the ways you don't measure up."
Fluide aims to be all-encompassing in terms of gender, referring to itself as an "all-genders beauty brand" rather than "genderless" or "gender-fluid." "To us, 'all-genders beauty' means showcasing a wide range of gender identities and gender expressions in our models and considering the needs of a wider range of people and the types of products they might like," says Giancarlo.
While Fluide chooses to work with a diverse set of creatives ranging in race, size, gender, and more—whether for its campaign or as a part of the crew behind the scenes—the brand's focus is on queer representation. "Our aim for Fluide is to represent and embody queer optimism," says Giancarlo. "As a community, queers are often forgotten, only to be mentioned as a statistic or pandered to by huge corporations during Pride. What about queer joy? Queer resilience? Queer beauty!"
For many, makeup is a tool of self-expression, and when beauty brands consistently utilize cis female representation, that inherently limits the ways in which others can see the potential for their own self-expression. "Makeup can be a powerful, yet approachable, tool in self-actualization and self-expression. In the same way being exposed to queer, non-mainstream representations of beauty opened up limitless, ungendered possibilities in my own self-expression, I'm hoping to do the same for others through Fluide by representing a funky, inclusive, and expansive definition of beauty."
"It's exciting to be a part of a rapidly changing industry and to offer a perspective that's more inclusive and less prescriptive, as well as showcasing a broad, expansive definition of beauty," says Giancarlo. "The creative contributions of the LGBTQ community have undoubtedly been co-opted, unacknowledged, and tokenized for corporate profit by the fashion industry. I think the next step for the industry is to shift its 'inclusivity' behind the camera and to represent diversity—racial, gender, and beyond—in its art directors, photographers, stylists, management, and the people who are calling the shots. Showcasing queer style for queer folx by queer folx is at the core of Fluide."
The brand does much more than just represent the community—it directly supports it. "Fluide originated from a place of love—for our LGBTQ community, for the inspiring work and activism of trans and gender nonconforming individuals, for the parents and other allies supporting kids and teens facing discrimination and bullying for their gender presentation—and from our inception, we knew we wanted giving back to be central to the company," says Giancarlo.
Fluide donates 5 percent of its total profits to a rotating set of two nonprofit organizations. Currently, it's working with NYC's Callen-Lorde Community Health Center and the Sylvia Rivera Law Project, two NYC local organizations. "Health care and legal support are crucial to the success of our community, which is why we are dedicated to supporting medical and legal nonprofits that specifically focus on LGBTQ needs," Giancarlo says. The brand also donates product to a number of fundraising events.
So, what kind of products will you find in Fluide's current offering? Right now, it's pretty simple: a variety of liquid lipsticks in vibrant and metallic shades, as well as two lip glosses; a handful of glitters in an array of sizes and colors, as well as a glitter affixer to keep it all in place; and an offering of seven-free nail polishes in neon, metallic, and sparkly shades.
While it may seem like a small selection, it's carefully thought-out. All three of these product categories are not only versatile, but they're fun to play around with. "We wanted our launch collection to embody a non-prescriptive approach to beauty, in that each product is versatile and can be worn so many different ways. There's no wrong way to wear our products, and I love seeing the way people mix our glitter into our liquid lipstick or use our liquid lipstick as eyeshadow. We definitely have an expressive, experimental approach to makeup—after all, our tagline is 'Make Up The Rules'—and we are all about personalized, DIY looks. You're not likely to get a smoky eye tutorial from Fluide."
What's more, all products are cruelty-free, as well as free of parabens, phthalates, formaldehyde, and triclosan; they're also manufactured in the U.S.
Later this month, Fluide is launching its very first eye product. A palette of four high-impact, pigment-packed shades will be available in late June in a sleek, mirrored compact. And from there, the brand hopes to not only introduce new shades to its current product lineup but also to expand into even more eye products—such as eyeliner—in late 2018 or early 2019.
In addition to expanding its product offering, Fluide will continue to grow as its exactly what the industry needs right now—a safe space for all, free of dated beauty "norms" and full of creative self-expression. And not just during Pride Month, but year-round.  
You can shop Fluide's current offering at Fluide.us.