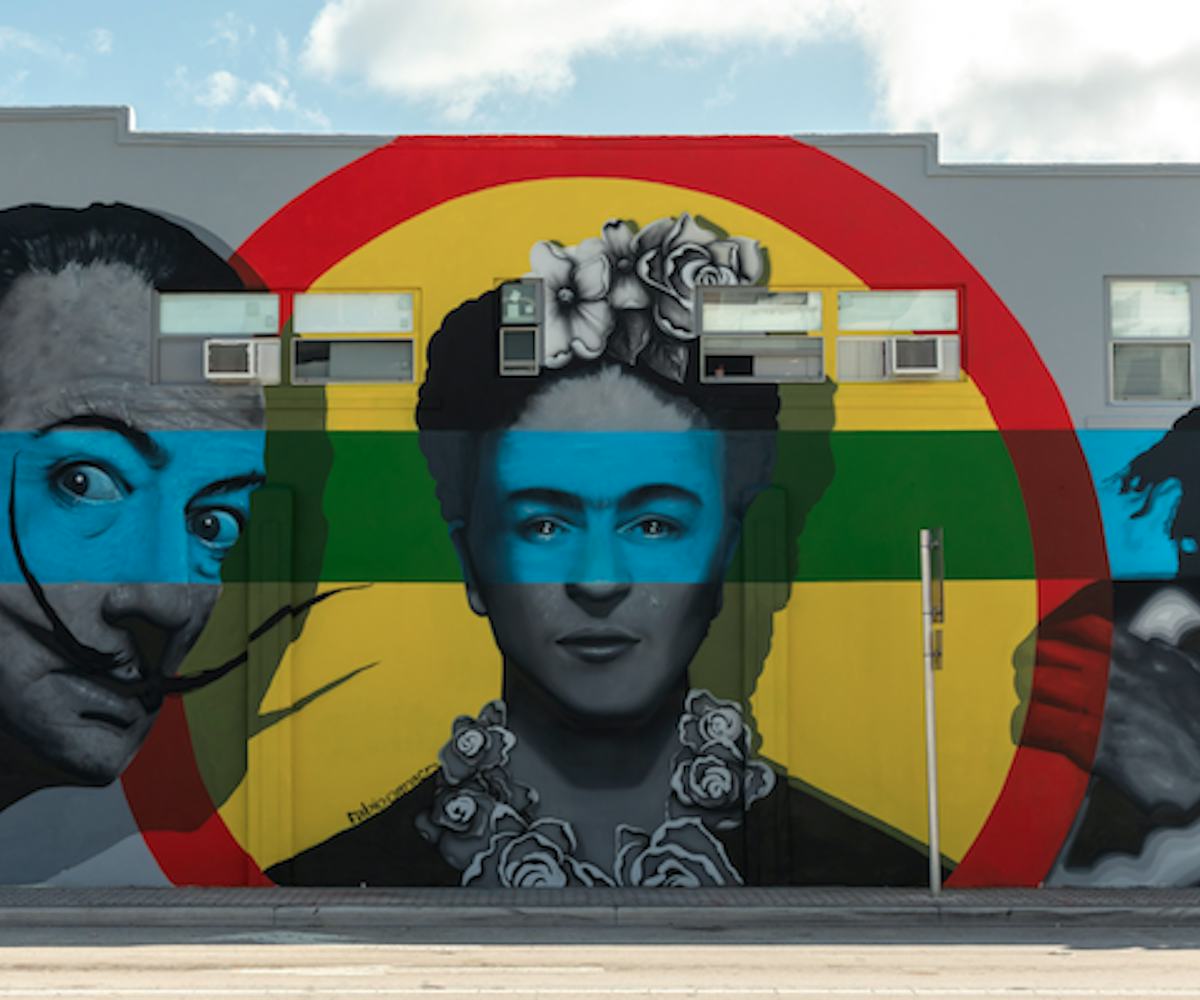 photo by Peter Vahan
Why Fort Lauderdale Is Florida's Best Kept Secret For Art
"Art" and "Florida" might not be two words you think about pairing together—unless, of course, you're thinking of Miami's famed international art fair, Art Basel. Beyond that, the state's reputation as one that solely houses drunk college students or vacationers generally prevails. It's a reputation that the state can't seem to shake—despite its efforts.
Because, as it turns out, many Florida locales have been actively looking to rid of their "party and bullshit" reputation by fostering crucial spaces full of art and culture. And while we've watched Miami transform as both the state's go-to art hub and party district over the past few years, another city on the rise is one of the state's most notorious party havens—Fort Lauderdale.
It's difficult to ignore any prejudices you might have about a city that you've never been to before, but upon seeing Fort Lauderdale's efforts to implement and foster change within their community, all of my preconceived notions faded away. Aside from all of the eye-catching murals, sculptures, and exhibitions the city had to offer, two key aspects that separate Fort Lauderdale's art scene from any other I've ever witnessed is the sense of community and the accessibility of the art. 
Many art districts in major cities are often hyper-commercialized, unfriendly, and inaccessible to the public, but Fort Lauderdale's growing art scene is anything but. Case in point: Almost all the excursions are free and live in public spaces—save for the NSU Art Museum Fort Lauderdale and the Broward Center For Performing Arts. So, if you're looking to free yourself from the chilly weather and opt to get away to a tropical destination bursting with culture (without the tourist hype), let Fort Lauderdale be your underground art haven. Check out the seven best art destinations to visit in the city, below.
Many spaces in Fort Lauderdale's burgeoning art scene are multipurpose, and Girls' Club is one of the most influential of the lot. Not only is it a crucial space that allows female artists locally and internationally to foster their careers, but it also serves as a private foundation and an alternative space for exhibitions, publications, educational programming, and events. For example, its latest event, a day-long conference called ConFab: How to Make Things Happen as an Artists, was chock-full of workshops and discussions on things like how to sustain business in art.
You'll never find a dull moment at the NSU Art Museum Fort Lauderdale. The space alone houses over 6,000 unique works spanning from post-World War II to the early 20th-century art—and the museum's newest exhibition, "Frank Stella: Experiment and Change," boasts 300 works from the artist's 60-year career from the late '50s to the present. The exhibition fronts the museum's 60-year anniversary and is currently available to view until July 8. 
Have you ever wanted everyday places like your barber shop or workspace to be more aesthetically pleasing? You'll find comfort in the Flagler Arts and Technology district, aka FATVillage. This creative and immersive downtown warehouse district is the go-to hub for artists, designers, engineers, and creatives to come together to work, eat, and make art in commonplace spaces. Henning Haupt's "The Journey of Magenta" exhibition is currently on view in the FATVillage Projects space—which used to be a large garage. The best part? On the last Saturday of each month, FATVillage hosts a monthly ArtWalk bursting with art, food, and music, all open to the public. 
Project COAT takes street art to a whole new dimension—literally. COAT consists of a community of artists that work to elevate different parts of Fort Lauderdale with a variation of colorful and engaging murals. Your Instagram feeds will never be the same again.
Broward Center For Performing Arts is home to many of Fort Lauderdale's most memorable concerts, plays, and live shows. And aside from housing some of Broadway's biggest productions—including Hamilton next year—the center also gives back to the community by offering educational opportunities for all ages.
Looking to get your hands on a unique print? The MAC Fine Art Gallery was made for you. Not only does the gallery represent and showcase some of the world's most accomplished local and international artists, but the space also provides artwork to private collectors, art dealers, consultants, designers, and more.
Downtown Hollywood Mural Project takes your average murals and amplifies them on pretty much any outdoor surface you can think of—including storefronts, abandoned walls, and multi-story parking lots. The pieces, done by both local, national, and internationally recognized artists, are using this project to make the streets of Florida more beautiful, one brushstroke at a time.