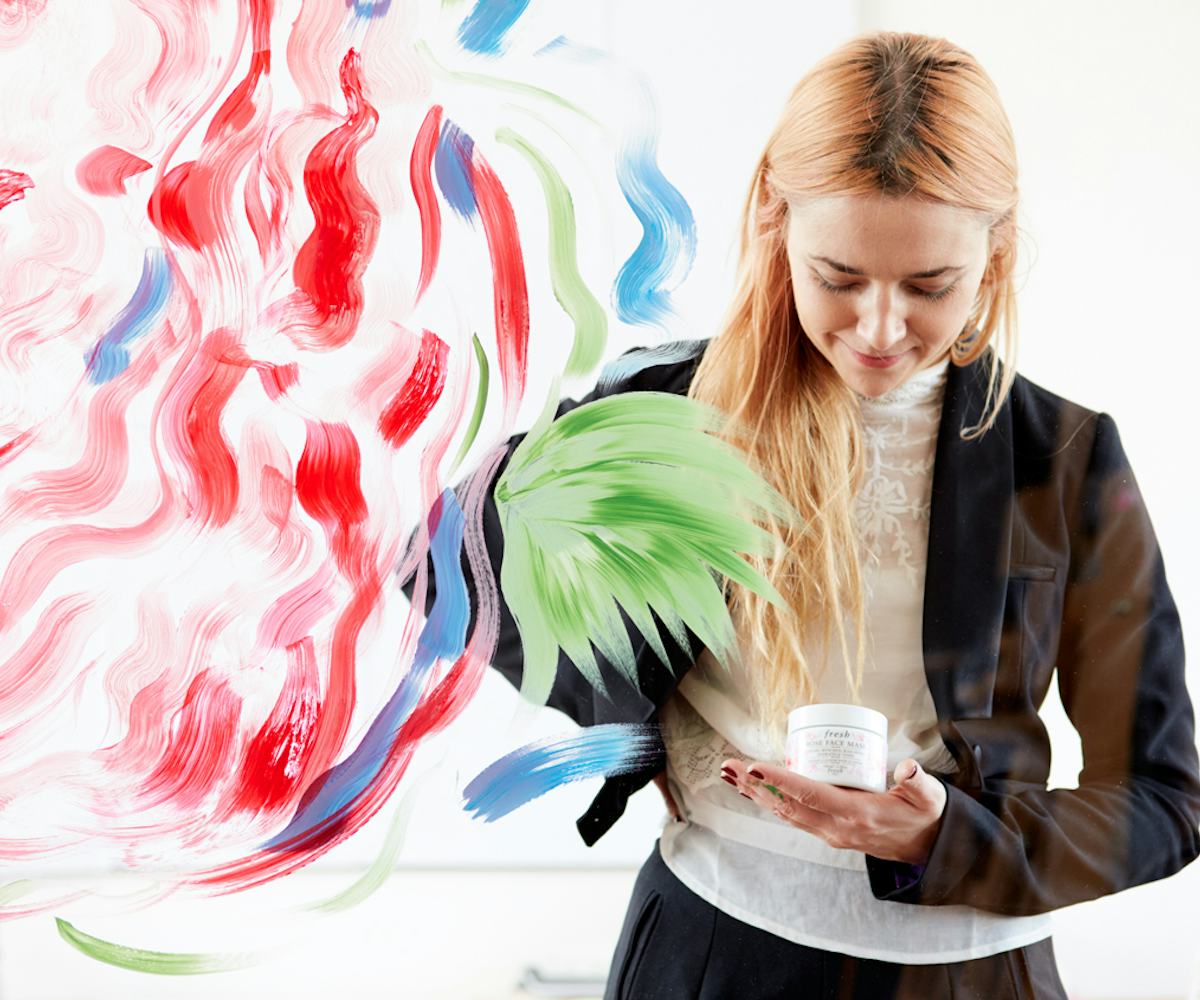 Photo courtesy of Fresh
fresh enlisted superstar artist jo ratcliffe to design limited-edition rose face mask
and the results are magical.
Fifteen years ago, when the eccentrically brilliant Fresh founders Alina Roytberg and Lev Glazman created their revolutionary Rose Face Mask, they had no idea what the consumer's reaction would be. Fast-forward to 2015, and it's one
of the brand's top-selling products worldwide—and anyone who's ever tried it knows why. The hydrating and toning mask restores radiance and suppleness to all skin types
with its cooling gel formula that's infused with pure rosewater and
real rose petals, which literally melt into skin. To celebrate the legendary mask's anniversary, Fresh called on London-based artist Jo Ratcliffe to design a fitting pattern for it: roses, of course. I had the privilege of joining the gang in London, where I got to pick Ratcliffe's brain on how the collaboration came about.
How did you come up with the design for the packaging?

Roses are a very traditional thing to draw, so I knew that I needed to make something that stood out but also fit within the brand's aesthetic. It was a challenge: We went through a few stages of drawing women, then we removed details but kept the curves and the feminine lines. Then we just reduced [the image] to roses. I started to make drawings that weren't so botanical looking, but then they looked too much like tattoos. It's one of those things that you think is going to be very easy, but proves to be quite difficult.
You've had your choice of odd jobs. Why did you take on this one?
It's the 15th anniversary of the product so it was a privilege
to be asked. I hadn't done that much packaging with people or companies before, but this just felt right. I knew that things were dealt with in a personal way at Fresh. The finished product was beautifully done with great attention to pattern.
Did you find a big difference between working with skincare versus fashion designers or magazines?

You always have to rely on the same instinctive way of producing things. But with fashion illustration, you need to follow trends, and I just discovered through doing this that beauty products remain quite classic. You can make it modern, too, but the twists have to be really subtle.
What was the inspiration point? Was it a specific kind of rose?

I work quite often on animations, so I think that's affected the way I make still imagery, because I feel that there needs to be some life and movement. Once I started to draw roses on their own, it felt really difficult to make something that was unique, so I started to add in these paint marks and things that felt more organic and more like a sketchbook. I wanted to create something that was a little wild looking—something that stands for natural beauty.
Do you create a mood board when you work?
I have a constant mood board and it's just covered with clippings and things that inspire me. You really have to get yourself into the space.
Do you have a favorite period in your career as an artist?
I stopped working about four or five years ago and I just painted for about six months. That took my career to a different area because quite often you're making someone else's vision. You become this mold of what other people like and it's very hard to come out of it. I think it's important in whatever you're doing—especially as an artist—you have to push it a little. If you're not interested in it, you're never going to make anything interesting.
Fresh, limited-edition rose face mask, $62, available at Fresh.