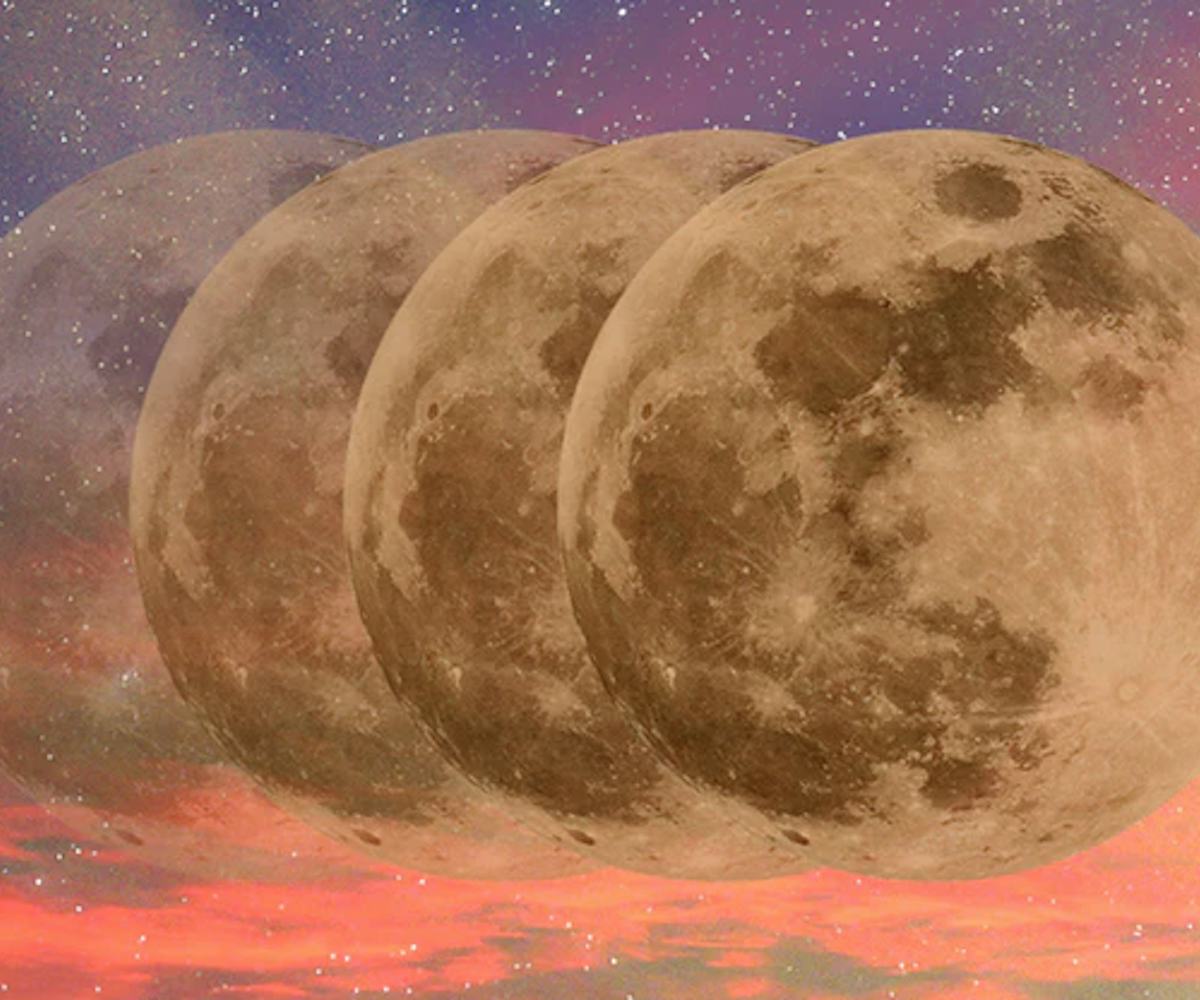 What Tonight's Full Moon Means For You In The New Year
Are you ready for the Wolf Moon?
Can you believe it? Today is January 1, the first day of the new year, and it offers up to us a full moon. It seems that 2017 had no more moons left to give, but that's alright because we're ready to move right on to 2018.
Here's what you might want to know: It's a Full Moon in Cancer, a sign ruled by the moon, so this full moon is EXTRA MOONY. Not to mention, it's a super moon because it's going to be real close to the Earth and real large in our night sky. 
This full Cancer moon will be opposite Venus in Capricorn and sure to bring up lots of Big Feelings about the past, which might have us acting erratically and rationalizing bad decisions out of fear of loss. It's that villainous kind of full moon/Venus opposition that might have you out to ruin yourself, and thinking that the maybe-not-so-great love you receive is the only kind you deserve. Listen up, babe, that's not the moon talking—that's trauma. 
"No one's fated or doomed to love anyone," wrote the late Adrienne Rich, who I will quote forever with impunity. Capricorn knows this even when Cancer does not. Capricorn wants the physical proof that Cancer swears they can feel. Both signs have something to teach each other about love, about what it means to show up for yourself, about what a family is for. Many of you reading this are still recovering from the "holiday season," where you probably put more pressure on yourself than anyone who loves you would ever deem reasonable. You might have put yourself in harm's way out of familial duty and dared to hope that somebody would change because you needed them to. You might have made the mistake of thinking people change in ways you are always capable of discerning and on your timetable. Last year did not end without teaching you otherwise, even if you had to wake up in a couple strange beds or with one big hangover.
Let's talk about the mantras of the moon, its many identities. This is the Wolf Moon, or the Howling Moon, according to the almanac. This is the season when wolves howl longest and most frequently, calling to their loved ones across wintry distances: "I AM HERE." They are also warning predators across wintry distances: "DON'T DARE COME." Their howls mix together in a song that is equal parts revelry and survival. For whom will you howl? Whom do you mean to invite? Whom do you mean to warn away? 
Cancer has a mantra too: "I feel." Cancer feels, and that is their wisdom; Cancer feels, and that is their weakness. Cancers protect what they feel, often at cost of their lived experiences and those who love them. When the full moon is in Cancer, ask yourself what feelings you're protecting, and for whom. Release the story of your own hurt, recognize that holding on to the past doesn't give you control over the future. And, full moons carry their own directive. The end of a cycle, which began with the new moon in Sagittarius, the full moon in Cancer wants us to recognize the work we have done to get this far. The full moon knows we have not been idle. Even our dreams were battlefields. Look again at the wreckage of the land that is your heart; didn't you plant something new there? To survive is also work, to thrive is a miracle. 
Finally, let's talk about what it means to have a full moon right on the heels of the year turning. All years under the auspices of the Gregorian calendar begin and end in Capricorn, the sign that has no qualms about risking a life of drudgery if the result is the fulfillment of their dreams. Capricorns have discipline and resolve and the uncanny ability to see the future from a very, very far ways off. On this full moon, as you write your resolutions for the new year, remind yourself that a resolution is neither hope nor renouncement. A resolution is a decision. A resolution is what Aaliyah (RIP) sang about, asking, "What's your problem? Let's resolve it," asking "Who should be hurt? Will we remain?" A resolution is the moment after you choose yourself and, in doing so, begin a steadfast walk into what's been waiting for you this whole time.