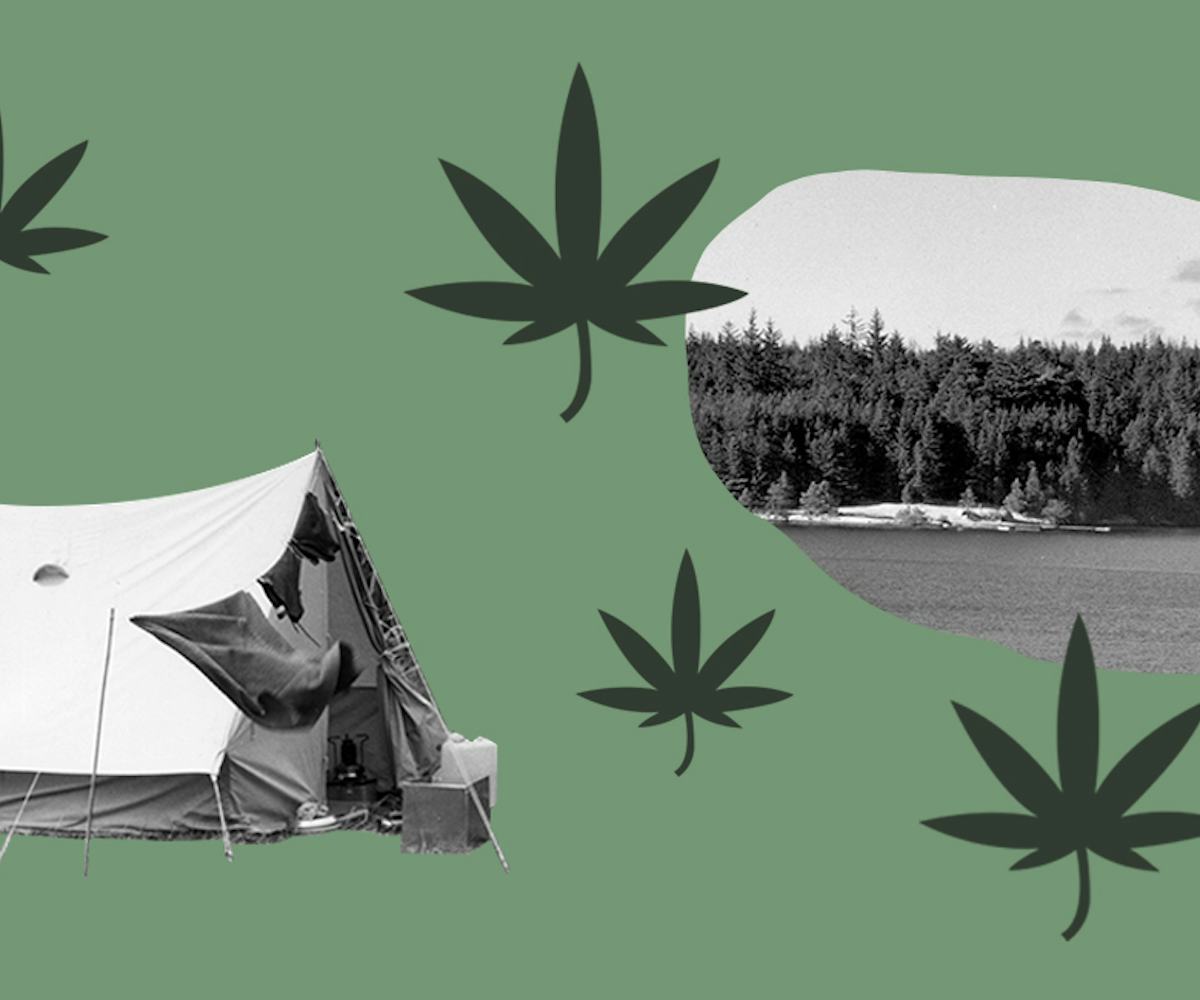 We Went To The Radical Camping Retreat Where Women Get Their Smoke On
Inside the Ganja Goddess Getaway
I was sitting beneath a huge white tent, the kind usually reserved for weddings, when a rooster and a flock of wild turkeys joined together for an early morning duet. I'd spent maybe an hour watching the sun rise over Lake Selmac before curling up under the pavilion amidst half-eaten plates of sheet cake and discarded astrological worksheets, now smudged by dew. It wasn't long before a strange woman I'd never met emerged from the firs and pines where dozens of strangers were still snoozing off last night's dabs and edibles. She sat down across from me and, without speaking, produced a joint from somewhere in her pajamas, lit it, and handed it to me. Thus began the Ganja Goddess Getaway.
Well, it had actually started the previous afternoon, but I had driven down after work and gotten lost in the Rogue-Siskiyou National Forest until close to midnight. When I finally arrived at Smoke on the Water, one of Oregon's first cannabis-friendly campgrounds and our host for the weekend, the only ladies who were still awake were the Ganja Goddess founders. I was instantly whisked away to a lux RV where co-founder Mama Sailene (self-described mother to none and mama to all) hooked me up with a thick turkey sandwich and a few dabs from her own personal nectar collector.
It took time to realize why this experience seemed so revelatory. After all, I was no stranger to enjoying weed in the woods. My first ever hit was in the southernmost reaches of the Appalachian mountains. I was 17, puff-puff-passing by the light of a massive bonfire. In the years since, I sucked down plenty of Headband and Blue Dream at various years of Bonnaroo, shimmying to the Dead on top of an old school bus, like you do. There were camping trips, popping THC-infused gummies on the beach while the waves crashed in time to my heartbeat and the swaying of my hammock. But these were the furtive tokes of a late Tennessean teen and 20-something, always looking over my shoulder for cops and narcs and ranger danger.
As any weed tourist or legal-state transplant knows, getting to partake in a lawful way is definitely a different experience. The Ganja Goddess Getaway takes that comfort and ease to a whole new level. On private property, there's no prohibition against smoking in public. We passed joints over breakfast, punctuated mid-morning yoga with sticky THC toffee bars, did dabs before lunch, smoked solar-powered bongs lit with a witchy crystal ball when the afternoon heat hit its peak, and dipped strawberries into an infused chocolate fountain for dessert at dusk.
In between bowls, we chatted, sprawled out with adult coloring books, beat the heat by running through an enormous, inflatable fountain shaped like a unicorn, and celebrated golden hour with a lap around the lake on kayaks and paddleboards and flat-bottomed rowboats. There were massages, astrology readings, and reiki and three lovely catered meals a day. But perhaps the most profound moment was a discussion about women in the cannabis industry which brought each panelist to tears.
The event organizers described the profound positive effects marijuana has had on their lives. They spoke of overcoming trauma and chronic pain, becoming "less of a mean girl," being better parents and partners, and feeling free to finally live life unfiltered. They spoke, too, of the dark side of a life intertwined with cannabis— the intrusions from child protective services, the carefully built businesses reduced to ash by legislation changes and interference from law enforcement. The way that people who don't partake misunderstand, defaulting to stoner stereotypes rather than recognizing that the fierce female entrepreneurs they're speaking with feel they're able to work harder thanks to cannabis.
This is when it began to dawn on me what exactly about the Goddess Ganja Getaway was so radical, how it was something more than simply smoking weed in the woods with a bunch of other women. I parsed my past, how I grew up in the kind of household where responsible drinking was modeled at the dinner table, and where I was occasionally allowed to participate once I was in my teens. When we traveled, it was part of the experience to sample the local beer or wine or whiskey, as much as visiting European cathedrals and museums and trying regional dishes like haggis. Growing up, too, there were plenty of examples set of what it looked like to spend time outdoors— albeit those examples existed more on the pages of my favorite books than in my day-to-day life.
As a kid, I couldn't get enough of Laura Ingalls Wilder, Julie of the Wolves, and Island of the Blue Dolphins. As an adult, I've maintained that penchant for female outdoor narratives, devouring memoirs like Wild and Forget Me Not and Welcome to the Goddamn Ice Cube that put the reader right there on the trail with real-life women adventurers. Yet despite the enormous impact of writers like Cheryl Strayed, Jenny Lowe-Anker, and Blair Braverman, despite the images they present of women taking to the woods to find release, solace, and independence, that example is still outside the cultural norm.
Equally unfamiliar is our image and understanding of female pot smokers— often limited to sweet stoner archetypes like Tai in Clueless and Michelle in Dazed and Confused, or wide-eyed fish out of water like Nancy Botwin in Weeds, all exclusively white. Even then, these characters weren't enough to balance out the whole stoner canon of Jays, Silent Bobs, Harolds, Kumars, and Spicolis— all the pot-smoking dudes who seemed to make regular cannabis consumption synonymous with a Y chromosome, and with a certain pride in underachievement. There was no example of a female pot smoker I really related to or aspired to be, a far cry from the outdoorsy heroines I admired and the example of alcohol consumption set by my blood and chosen family.
After a weekend at the Ganja Goddess Getaway, I saw how refreshing it can be when women make space for themselves in the arenas of wilderness and drugs usually reserved for men. Sure, it wasn't a hard-core battle for survival in the remote backcountry, or the harrowing hedonism of Hunter S. Thompson. But the women I spoke to at this retreat were deeply moved by their experiences with cannabis, whether they were newly minted smokers barely out of their teens or mellow mamas whose children are grown and are now taking on the adventure that is menopause.
In the month since I attended the Oregon retreat, the organization has officially shifted to blend its individual events with an additional social club model. That's beneficial for navigating the myriad cannabis laws in California, Oregon, and Washington—the Pacific Northwest line dotted by Ganja Goddess retreats every few months—not to mention all the soon-to-be-legal states where Ganja Goddess might expand. That new approach also encourages repeat attendance and continued connection with nice touches like monthly postcards to keep you feeling the love, discounts on events, and access to a special online social platform.
At face value, the Ganja Goddess Getaway was a low-key weekend that subverted both expectations and stigma by embracing nature and a drug that many are beginning to view as medicinal. Yet what the founders are really creating is something beyond simple hedonism, essential as that can be—and as much as we deny that women need a little of it, too. Mama Sailene and Miss Bliss and their friends are crafting a community around the simple idea that women like to relax. Whether it's finding release in the company of fellow female-identifying people, the great outdoors, in a nice long toke, or all three, it's radical simply to admit that women want to chill, specifically so they can keep on letting 'er rip.