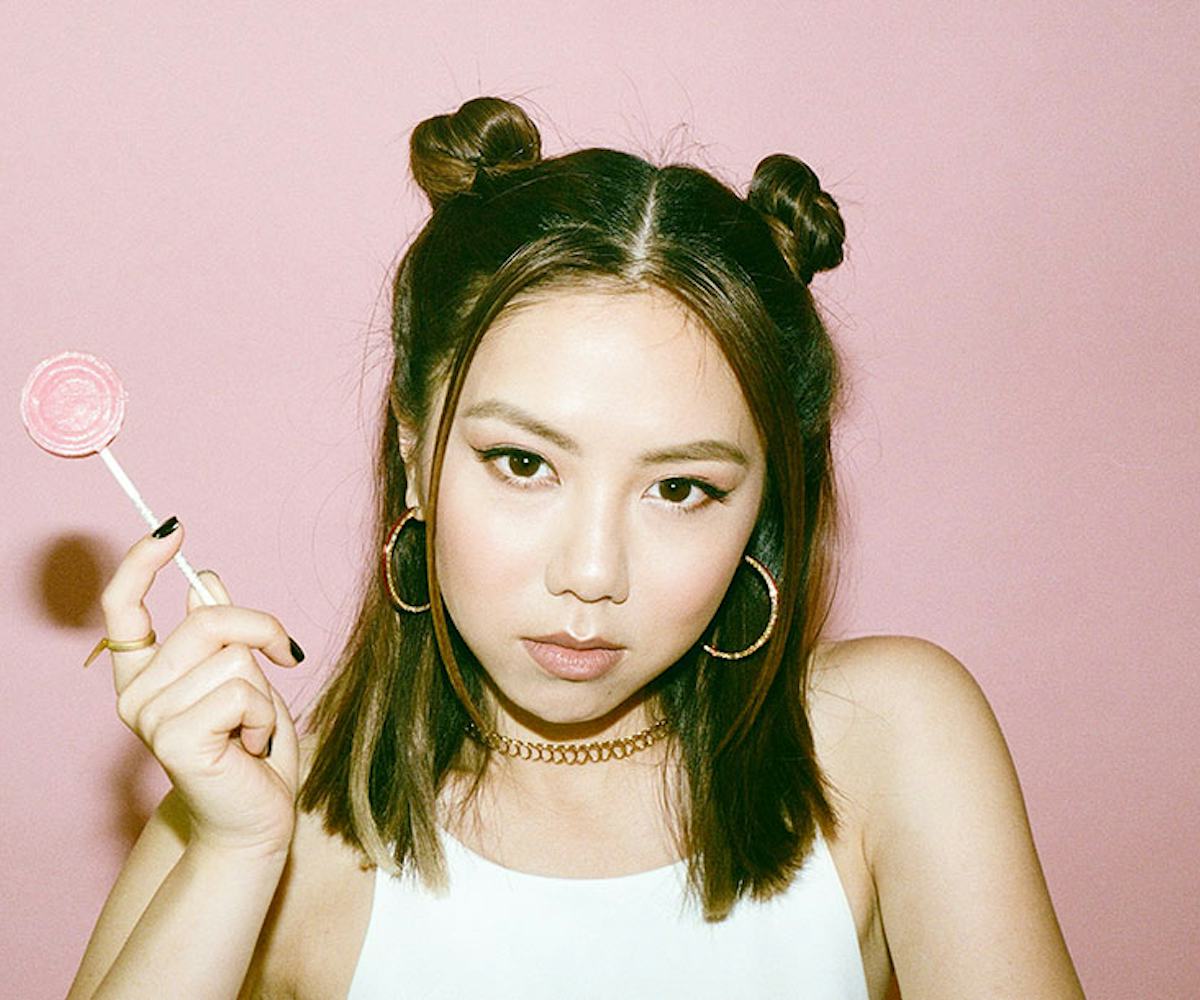 Photographed by Maya Fuhr
hanging out with G.E.M.
talking music, growing up + beauty with the chinese pop star
With over 2.2 million Instagram followers, 17 million Sina Weibo admirers, 2.6 million Facebook fans, and legions of screaming devotees, Chinese pop singer G.E.M. (an acronym for "Get Everybody Moving") has spent the past few years surrounded by those who adore her and her music. In the time since she released her self-titled 2008 debut album, she has released several LPs and concert tour DVDs, and has been deemed the "Taylor Swift of China." But, alas, with fame comes its fair share of naysayers. After enduring cynical commentary, the Hong Kong-born singer-songwriter decided to pen the song "Heartbeat" about rising above all the negativity. And it seems like her efforts have come just in time.
Next year, G.E.M., née Tang Tsz-kei, will become the first Chinese performer to travel and perform in space. She's also preparing for her first North American tour and the release of her first English song. Ahead, we catch up with the 24-year-old to talk about her music, growing up in the spotlight, her style and beauty, and her descent onto the American music scene. 
Photographed by Maya Fuhr, assisted by Yulia Zinshtein; Makeup by Ashleigh Ciucci.
When did you first decide that you wanted to pursue a career in the music industry?I think when I was 15. I won a competition and I met my manager, and that is [when I decided on] music as my career. Becoming a singer actually feels like, "Oh, it's getting real here," because I started to sing when I was like three or four years old, but I never imagined that one day I would be on TV. To me, being on TV is like being a cartoon character—it's so surreal; like it doesn't exist in reality.
How has it been now that you're on TV?Even today, it still feels surreal. Like a week ago when I was watching America's Next Top Model, I wouldn't imagine that the next week I'd actually be in NYLON. So even until today, it feels like I'm dreaming sometimes.
How would you describe your music to people who have never heard it before? I would say it's a mixture of a lot of different cultures. I actually grew up with a lot of Western music. I'm Chinese and my producer is actually an Austrian man who lived in L.A. for 15 years, so every record essentially has a lot of different influences. When we actually get together in the studio, we always try to make a a three-minute track with as many here-and-there influences. From different life experiences and cultures, we create something really unique. Music is actually the only language between us; it makes it so there are no more language boundaries—music is the one bridge. 
What are some of the songs you grew up listening to? I love Whitney [Houston], Beyoncé, Christina Aguilera, Mariah Carey... A lot of different things play quickly in my memories of childhood.
Photographed by Maya Fuhr, assisted by Yulia Zinshtein; Makeup by Ashleigh Ciucci.
You're set to be the first Chinese performer to perform and travel in space next year.Yeah, we actually trained in Amsterdam and in the U.S. a little bit, having different holds of your weight and zero gravity and such. It's another really special experience for me. I am really looking forward to it. 
When you were growing up, were you very interested in space, astronauts, or extraterrestrial life at all?     I actually love watching movies like that. Interstellar became one of my favorite movies, recently. I don't know—even until today I still don't believe that next year I'm going into space. I think even if I finally get up there, I will still think this is a dream—not reality—and this is just so surreal. And even when we were having the space training and the whole experience of getting onto the jet and everything, it's just not an opportunity that everyone gets.
Photographed by Maya Fuhr, assisted by Yulia Zinshtein; Makeup by Ashleigh Ciucci.
What's your approach to fashion and beauty?I think that just like music, fashion is a way to express yourself. Whatever I choose what to wear and what makeup to put on that day is based on my mood and what I'm going to do that day. I try to keep it real and present my personality. It's important to be honest about yourself and not rip anybody off.
Your skin is pretty much pore-less. What's your skincare routine like? I drink at least two liters of water every day, and I try to go to sleep before 1 a.m. and get eight hours of rest. This morning is different because I have jet lag. I only got six hours of sleep, so immediately I have a pimple ready to appear. And for example, when I'm doing a lot of long flights, I will bring an overnight mask with me. I actually tend to change the brands I use from time to time because my skin adapts easily, so after a short while, the product already has no effect on my skin. So I switch the brands a lot, but for skin care, it's very important to stay organic. When I remove my makeup, I use just pure coconut oil.  
Photographed by Maya Fuhr, assisted by Yulia Zinshtein; Makeup by Ashleigh Ciucci.
Since you became a public figure when you were a teenager, how has it been for you to grow up and find yourself while you have so many fans watching?    Finding myself and growing up is a life process. Even at 24 years old, I'm still growing every day and it's actually very important that I remember the main reason I started making music. It's so easy to get distracted by the popularity you start to have, and sometimes it's very easy to focus on the attention, but then you wouldn't be able to follow your heart 100 percent. You still have to know when to block out different voices, but it's not easy. Sometimes it could be the compliments that are taking you down, and sometimes it could be the critics that kill your confidence, so I think the whole process is a very hard lesson for me. I'm really grateful that I have a tight team working around me and giving me direction when I'm lost and giving me support when I want to give up. 
Have there been many moments where it's become too much for you, where you think about taking a break?Yes, I actually took a three-month break and traveled to 10 countries, so it ended up being another good journey for me to grow as a musician and as a person. There are times that I feel really physically and mentally overwhelmed, and other times when I think I'm really lucky that people around me respect me a lot. Even though I'm inexperienced in some aspects, they listen to me and give me a lot of space to grow and explore. I think that's really important for an artist to make their own music. 
I wrote my latest single, "Heartbeat," during Easter because during that particular period of time, I was facing a lot of negative comments online. Sometimes I still feel very fragile inside, but because it was Easter, a time where you're suppose to start a new life, I wrote a song saying that every morning is a new day. Why do I have to still think about old stuff and be dragged down by it? It was very important for me to share this whole experience with my fans, because bullying is not something that just artists face every day. I thought that sharing my own experience would be a nice way to motivate different people to talk about it online—that's the only way to stop cyber bullying because usually people think, "Online, they don't know who I am, so I can do and say whatever I want," but actually sharing your experience with #antibullying lets the haters know that their identity is being identified and their actions are being seen.
Photographed by Maya Fuhr, assisted by Yulia Zinshtein; Makeup by Ashleigh Ciucci.
How do you hope to enter the mainstream U.S. music sphere?Music is a language. I don't feel like it's different in different places, so I don't actually think about how to get attention in different areas. I'm definitely going to explore myself and the English-speaking market more. I'm doing my first-ever English song—a track for the animation movie Charming with Demi Lovato, Avril Lavigne, Ashley Tisdale, and a lot of different great artists. The song is written by Fall Out Boy. It's my first time working with a lot of different great artists. I think this is the way for me to grow, because through different collaborations, I learn a lot and grow into a more mature musician.
What else are you looking forward to in the coming months?I'm coming to the U.S. for my first North American tour. That whole month is going to be a big, pre-Christmas gift to me because I get to travel to a lot of cool places and meet my fans over here.
Photographed by Maya Fuhr, assisted by Yulia Zinshtein; Makeup by Ashleigh Ciucci.