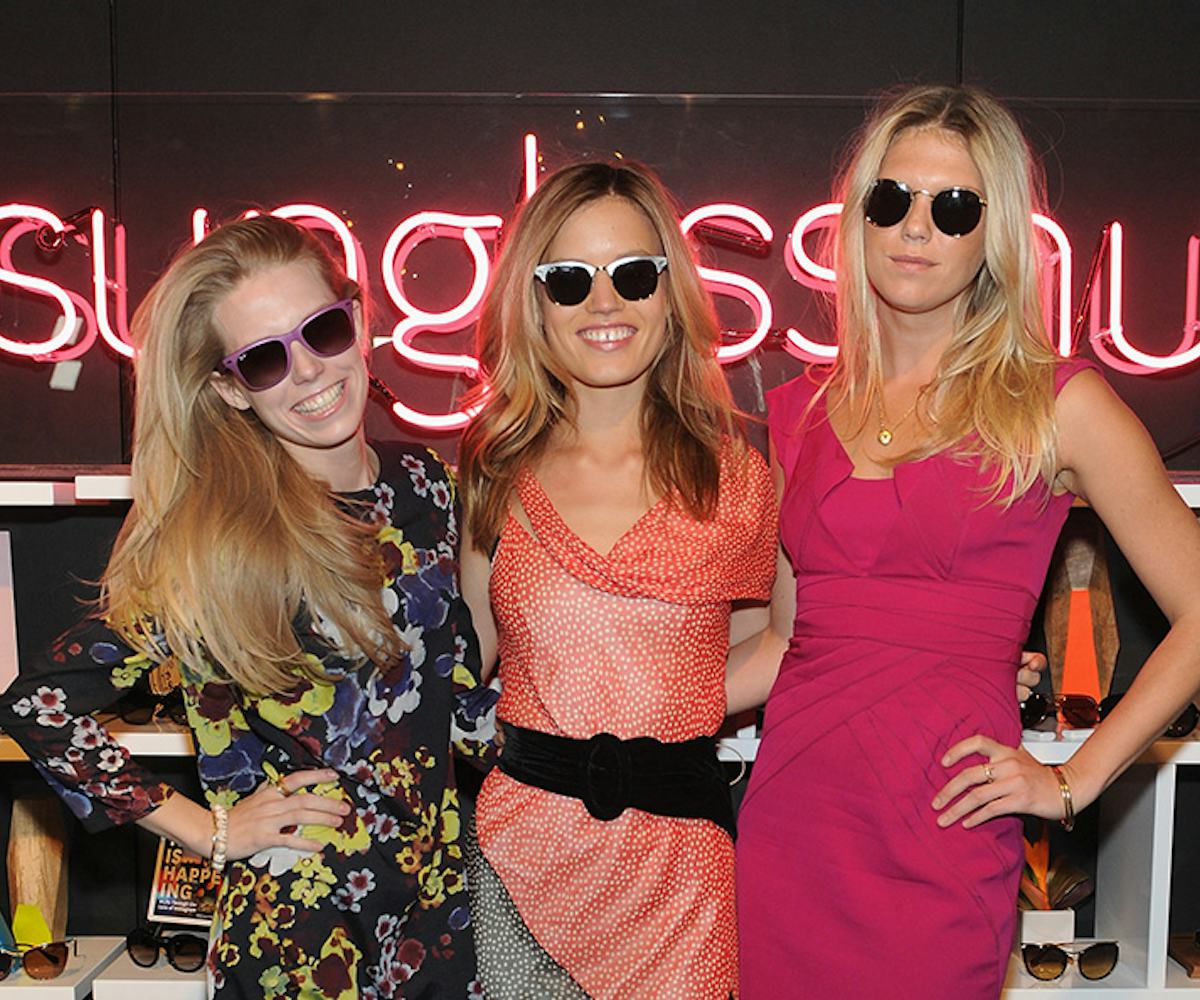 photo by getty images
sunshine girls
getting real with georgia may jagger, alexandra and theodora richards.
When you are model It Girls like Georgia May Jagger and Theodora and Alexandra Richards, hanging out and looking cool are just part of the job description. The three paired up with Sunglass Hut for their summer campaign: ninety-four pairs of shades for ninety-four days of summer. This way, you don't have to settle: one pair to hide the sunburn, one to be the Baywatch babe and one to drive into the Miami sunset.
Born into rock royalty, Jagger and the Richards sisters are taking over the fashion world, one runway at a time. Jagger just stomped the Rag & Bone runway in a (surprise) custom bomber jacket. Alexandra is a Diesel girl by day, and DJ by night (after the Sunglass Hut event, she's off to spin at Up & Down until 4 AM). Theodora is a chameleon, as comfortable glamming it up for New York galas as she is jamming out in cowboy boots at a music festival.
After a round of highbrow selfies in the GlamCam 360, I sat down with the three blonde beauties to find out what their obsessed with and how they relax amidst fashion week mania. (Hint: bacon?!)
You are all renaissance women with all these other interests besides fashion. What else are you obsessed with right now?
Theodora Richards: I'm obsessed with nunchucks, star diamonds, blades...any kinds of knives.
Georgia May Jagger: Alligators. I was just in Florida and I went to the Everglades and I saw a bunch of alligators, and it was really fun.
Alexandra Richards: I have been studying jewelry for a while. I went to school for it. I'm going to be working on a possible jewelry line in the next couple years. I'm back onto my gold. I was all into my silver before. Maybe I'll design a nice gold nunchuck for my sister.
During the craziness of fashion week, what do you do to relax?
TR: Lots of water and baths: lavender and rosehip.
AR: Catnaps.
GMJ: [pointing to the graffiti wall of options] Sunglasses!
How was the Rag & Bone show? Goergia, you got to have your own name on the jacket!
T: [To Georgia] I want one of them so badly.
G: It was cool! I didn't even know. I went for the fitting and I was like, "You have a jacket with my name embroidered, so that means you have to hire me!"
It looks like you guys were having an amazing time shooting the campaign. What was the vibe on set?
T: The vibe on the set was exactly what you are seeing--
A: Girlfriends hanging out, going to the beach. Girl summer!
Have you taken any other trips all together?
T: This was the first time we worked together like this, but on tour with our families we were around each other as much as they'd allow us to be.
A: Because we've all been working on other things, it's been a while since we've all been back together. This was such a great excuse to get us back together.
T: It was weird when we were in school. We were in Connecticut, they [the Jaggers] were in England, and for years we wouldn't see each other. And so much happens in between that time--hormones, puberty!
Any food obsessions right now?
A: My girlfriend just opening this restaurant called The Musket Room. It is a must-go to place. It's in Soho. It's my new favorite.
T: St. Ambrose just opened next to me. I've been going there daily.
G: Bacon and green juice.
Do you have specific music that gets you into the fashion week zone?
G: Beyonce.
T: She loves her Beyonce. Right now I'm loving the Noisettes and Janelle Monae.
A: I'm loving Foals. They're great. I'll be playing them tonight.
Tell me more about being a DJ!
A: I play lots of reggae, lots of pop, lots of classic rock, a lot of neo-disco kind of music. The point is to keep everybody dancing. Anything that can make you dance I'll play...I haven't done the nightclub scene in a while, so I'm going to put my hot pants on. Get groovy. Going to bring these two girls with me.
G: [shaking her head] She keeps saying that.
A: Because I want you guys to come! I need some beautiful girls there to dance. We'll take our catnaps, rejuvenate, and then we go!
T: I try to go to as many of her shows as possible, but sometimes they go until four in the morning. I cannot dance that long.
That's when you do the white girl shuffle...
T: Yeah, and the French goodbye, where it's just [falls onto couch] "bye!"