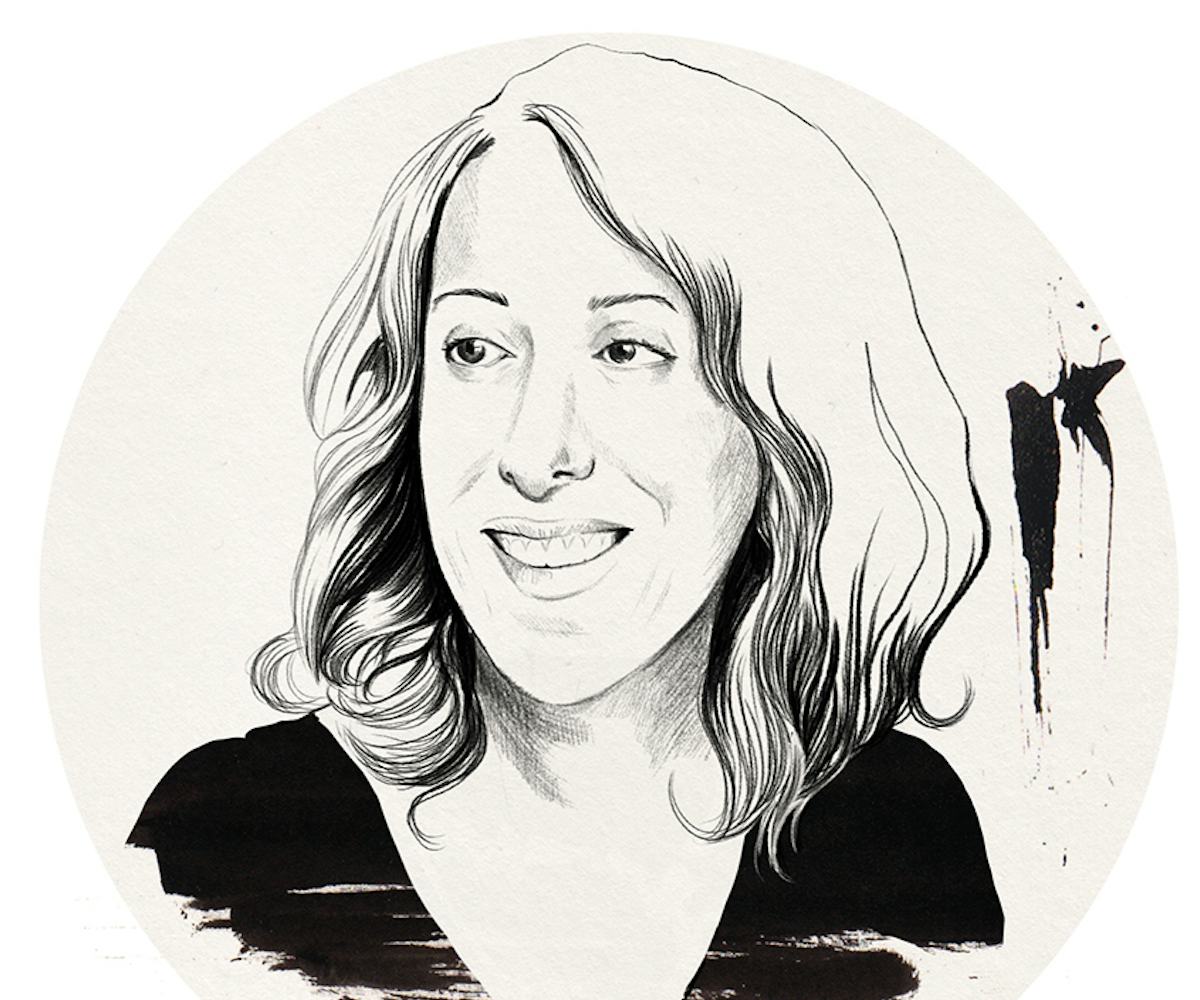 illustration by esra roise
the nylon book club questionnaire
get to know our february author, gina frangello!
Starting this month with the awesome Gina Frangello, writer of A Life in Men, we'll be asking our Nylon Book Club authors to answer a few questions so that we can get to know them better while we're reading their work. Find out Gina's fictional kindred spirit, favorite book-to-film adaptation, and more below!
What was the first book you ever loved?
I was a voracious reader as a kid, but the first "literary" work I ever became obsessed with was Arthur Miller's The Crucible, when I was fifteen.
What are you currently reading?
I just finished a galley of Roxane Gay's An Untamed State, and now I'm reading the Italian novelist Elena Ferrante's The Days of Abandonment.
Which famous fictional character is your kindred spirit?
Hmm, this is a trick question, you know? I spent my late teens and early twenties thinking of Sabina, from Milan Kundera's The Unbearable Lightness of Being, as my literary role model. I wanted to live an independent artistic life, collecting experiences and lovers, like a contemporary Anaïs Nin. There are a lot of women like this in literature, who are extremely compelling and attractive to young female readers. But in real life, of course, to lead a life like that, you have to give up a great deal in terms of other kinds of relationships, and other emotional depths. I also come from an Italian-American family and remain very connected to my parents, who are now ailing and elderly, and who live downstairs from me and rely on us. So between them and three kids not yet in high school, my life certainly doesn't much resemble the literary women I once saw as my models. I still love them for their strength and their spirit and their sexual and creative energy, and I still love travel and adventure, but my own heart demanded different intimacies and connectivity.  
What classic novel is on your reading list this year?
Slaughterhouse Five. I have it on my daughter's ratty old Kindle, which I'm bringing on my A Life in Men tour.
If you weren't a writer, what would you be?
I have a master's in psychology and I practiced as a therapist for a few years before defecting to go back to grad school in creative writing. I saw clients and ran groups at a battered women's organization, where I did a bit of everything, even bringing women to court to help them get their restraining orders against their batterers, and I also ran groups for teenage foster girls who had been taken out of their homes for sexual abuse. 
What's the desktop background on your computer?
It's one of the photos my father-in-law took in Kenya in 2010, of a wild blue and orange and purple sunset with the shadows of those gorgeous acacia thorntrees.
What are three things that helped you write your book?
Well, the Chicago Public School System, which has my children six and a half hours a day, would be the very first thing! And my husband's incredible generosity in terms of supporting my writing for nearly twenty years, while I've focused most of my professional energies on writing and editing in the nonprofit indie sector, and on adjunct teaching. I also couldn't have written A Life in Men without the experiences I've had traveling. It's a novel profoundly influenced by real places that have impacted my life and identity, even when the events themselves are strictly fictional.
If your book were a song, what would it be?
I just did a playlist for Largehearted Boy, actually, which was a blast. I said there that if I had to choose one artist to do the soundtrack to the novel it would be Tori Amos. The novel encompasses thirteen years and has a roving point of view among a number of characters of different ages, genders, nationalities...it'd be impossible to choose one song that would speak to them equally.
What's your procrastination method of choice?
Email. My emails are very old school. They are legendarily long. I treat emails like Victorian-era letters.
What's your favorite book-to-movie adaptation?
Probably The Unbearable Lightness of Being--though it'd be followed closely by Michael Cunningham's The Hours and Michael Ondaatje's The English Patient. I love it when a book seems like it would be virtually impossible to turn into a good--or even coherent--film and then somebody does it.
Marry/Fuck/Kill: Marcel Proust, Ernest Hemingway, Virginia Woolf:
Well, legend has it that Virginia Woolf didn't care for sex, but when I was in college, my best guy friend, Tom, and I wanted to start a press like Virginia and Leonard's Hogarth Press, so I suppose I can marry Virginia, since in fact I did end up starting and running an indie press, Other Voices Books. Obviously Hemingway is to be fucked, not married. I'm mercilessly killing Proust because I've never read him, so if I chuck him out of the boat then I don't have to feel guilty about that anymore.
Where can we cyber stalk you? 
Twitter: @ginafrangello I'm also very easy to find on The Nervous Breakdown and The Rumpus, both of which I edit for--I do a Sunday column at The Rumpus and curate all the Sunday content, and I've been writing for TNB since about 2008 and I run the Fiction Section there.