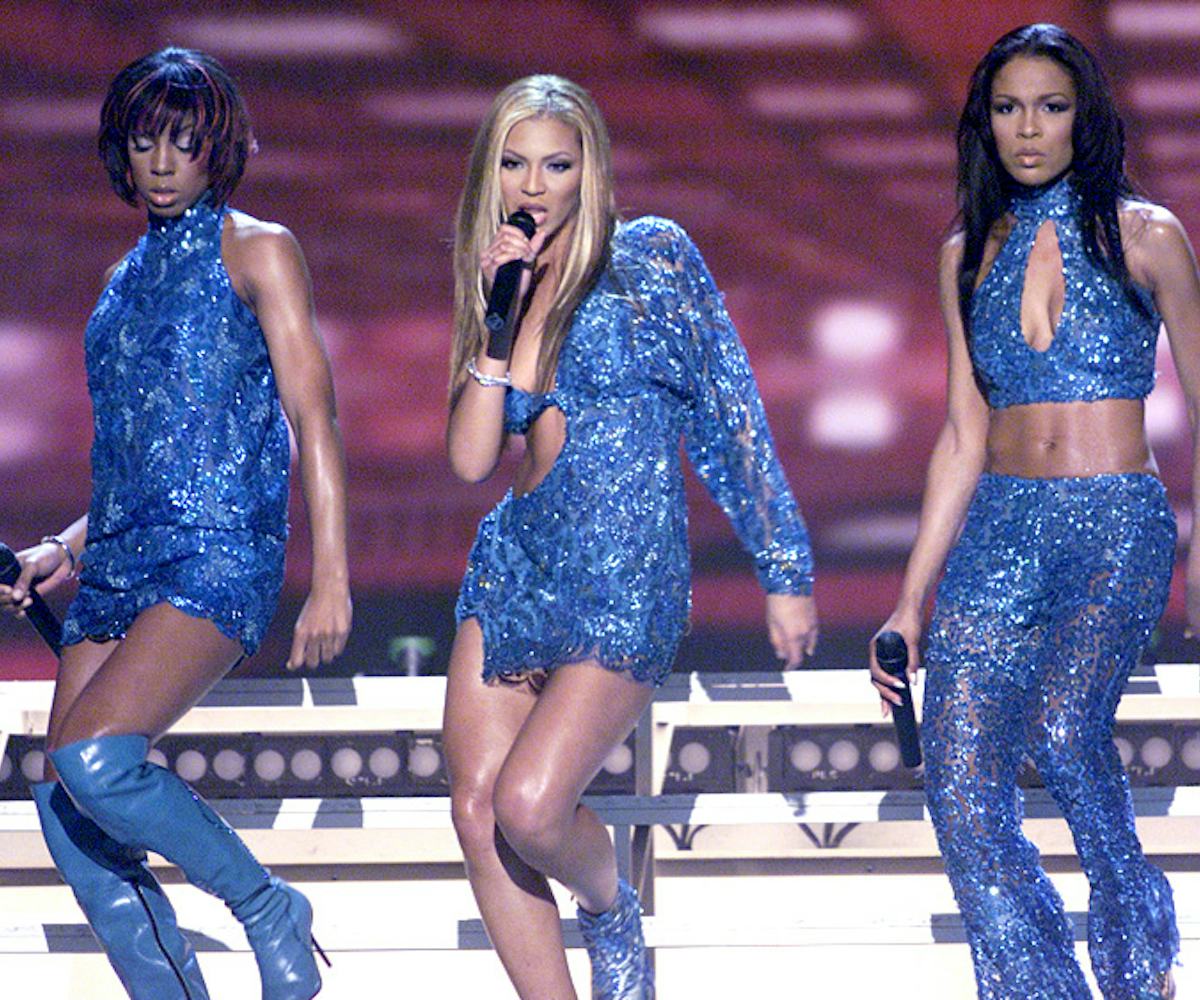 Photo By Frank Micelotta / Hulton Archive / Getty Images
the 12 best girl-power anthems of the aughts
Sure, the aughts was a decade filled with questionable styles and trends, but you can't deny that it was a major time for women in pop music. With the rise of Destiny's Child, Alicia Keys, and more major female groups and singers, the Top 40 charts was a surprisingly welcoming place for feminist anthems—whether or not they were called that at the time. Women sang about their success, dreams, and support for their fellow women, and trust us: There is nothing we love more than a good girl-power track.
Years before "***Flawless," our headphones blasted songs about being independent, loving ourselves, and fighting for our rights. These 12 tracks defined girl power in the new millennium—and their messages still hold true today.
Destiny's Child, "Independent Women, Pt. 1" (2000)
Before we knew her as Queen B, Beyoncé—along with Kelly Rowland and Michelle Williams—was serving up some major girl power vibes. "Independent Women, Pt. 1" gave us a jamming beat with lyrics about financial independence. When Beyoncé praises women who make their own money and "all the mommas who profit dollas," you listen and you take note.
India.Arie, "Video" (2000)
"Sometimes I shave my legs and sometimes I don't / Sometimes I comb my hair and sometimes I won't." With these opening words, India.Arie's 2000 track "Video" is truly a revelation. While the early aughts were particularly known for their glamorous music video looks, this songstress embraces natural beauty in the most eloquent way possible. With the help of this Grammy Award winning musician, we learned the importance of unconditional self love.
Madonna, "What It Feels Like For a Girl" (2000)
Throughout her career, Madonna has unabashedly advocated for the liberation of female sexuality, so it came as no surprise when she released a song addressing the double standards between men and women. Before she even starts singing, the pop icon makes a feminist statement, "Girls can wear jeans and cut their hair short, wear shirts and boots 'cause it's OK to be a boy. But for a boy to look like a girl is degrading 'cause you think that being a girl is degrading." The sentiment is something that society still struggles with today, even though this song was released 15 years ago. Not to mention, this music video takes things even further with some major Gone Girl vibes.
Tegan and Sara, "Proud" (2000)
We could probably list every song from this duo as a major girl power anthem, but the most beautifully feminist thing about "Proud" is its simple, clear message: "I'm proud to be, proud to be me." The openly lesbian sisters are all about self-love and acceptance, and it truly shows in their feel-good tracks.
Superchic[k], "One Girl Revolution" (2001)
Appearing on the Legally Blonde soundtrack, this song may just be the perfect complement to girl-power icon Elle Woods. With a confident outlook and empowering message, Superchic[k]'s track is just the thing we need to keep us going when life gets us down. Its simple pop structure and encouraging message simply never fail. You can find us jamming to this one in our bedrooms.
Britney Spears, "Stronger" (2001)
After making her pop debut with songs like "Baby One More Time" and "From the Bottom of My Broken Heart," Britney kicked things up a notch in the new millenium, embracing a more mature and independent attitude. Her early songs gave off a feebleness common in pop engenues, but "Stronger" showed the singer truly coming into her own, with lyrics like, "I'm not your property as from today, baby." Her loneliness ain't killing her no more—and it hasn't ever since.
Missy Elliott, "Work It" (2002)
One of the first major female rappers, Missy Elliott broke down doors with her confident and sex-positive lyrics. Addressing female sexuality without a male gaze is still something pretty revolutionary, and Missy did it flawlessly. Her nonjudgmental, sexually liberated attitude focuses on women doing what they want to do, in lyrics like, "Girls, girls, get that cash /If it's 9 to 5 or shakin' your ass /Ain't no shame, ladies do your thang / Just make sure you ahead of the game." 
Christina Aguilera feat. Lil' Kim, "Can't Hold Us Down" (2003)
The "Genie in a Bottle" singer got real with us in the early aughts, tackling the societal concept of a "bitch" head on. She sings, "Should I be quiet just because I'm a woman? Call me a bitch cause I speak what's on my mind." Through pop music, she encouraged women to raise their voices when men try to put them down. Lil' Kim also comes in later on the track, rapping about double standards between men and women's sex lives and number of sexual partners. It's clear that these two make a good team, especially working in an industry that's not always kind to women.
Cheetah Girls, "Girl Power" (2003)
OK, the band may have been started through a Disney Channel original movie, but how can you not love the Cheetah Girls when they're all about girl power and sisterhood? Not to mention, the band features the incredible talents of both Adrienne Bailon of 3LW and ever-cool Raven-Symoné. In their song "Girl Power," their message is sugary but still supportive of female friendships and bonds—something we're always down for. 
Kelis feat. Too $hort, "Bossy" (2006)
Years before the movement to #BanBossy, Kelis was embracing the word as a compliment. A woman singing about how much she's slaying encourages other women to take pride in their accomplishments. Not to mention, she also re-appropriates the word "bitch" as an honor—all the while supporting other women. "Tell that man you's a boss, bitch," she says. "Make some noise, raise your hand if you's a boss, bitch." Being bossy may not be such a bad thing after all.
The Pussycat Dolls, "I Don't Need a Man" (2006)
The Pussycat Dolls may have a bad reputation for their overtly sexual music videos and songs (remember "Buttons?"), but the message behind "I Don't Need a Man" could not be any more crystal-clear. Two years before Beyoncé dropped "Single Ladies," Nicole Scherzinger was talking rings herself, "I don't need a man to make me feel good—I get off doing my thing. I don't need a ring around my finger to make me feel complete." Can we get an "amen"?
Alicia Keys, "Superwoman" (2008)
Leave it to Alicia Keys to sing about feminism in the most poetic way possible. The R&B powerhouse delivers a powerful sentiment: "This is for all the mothers fighting for better days to come / And all my women, all my women sitting here trying to come home before the sun." At the end of the day, the most girl power thing to do is to support fellow women and believe in yourself. With just that, a revolution can begin.