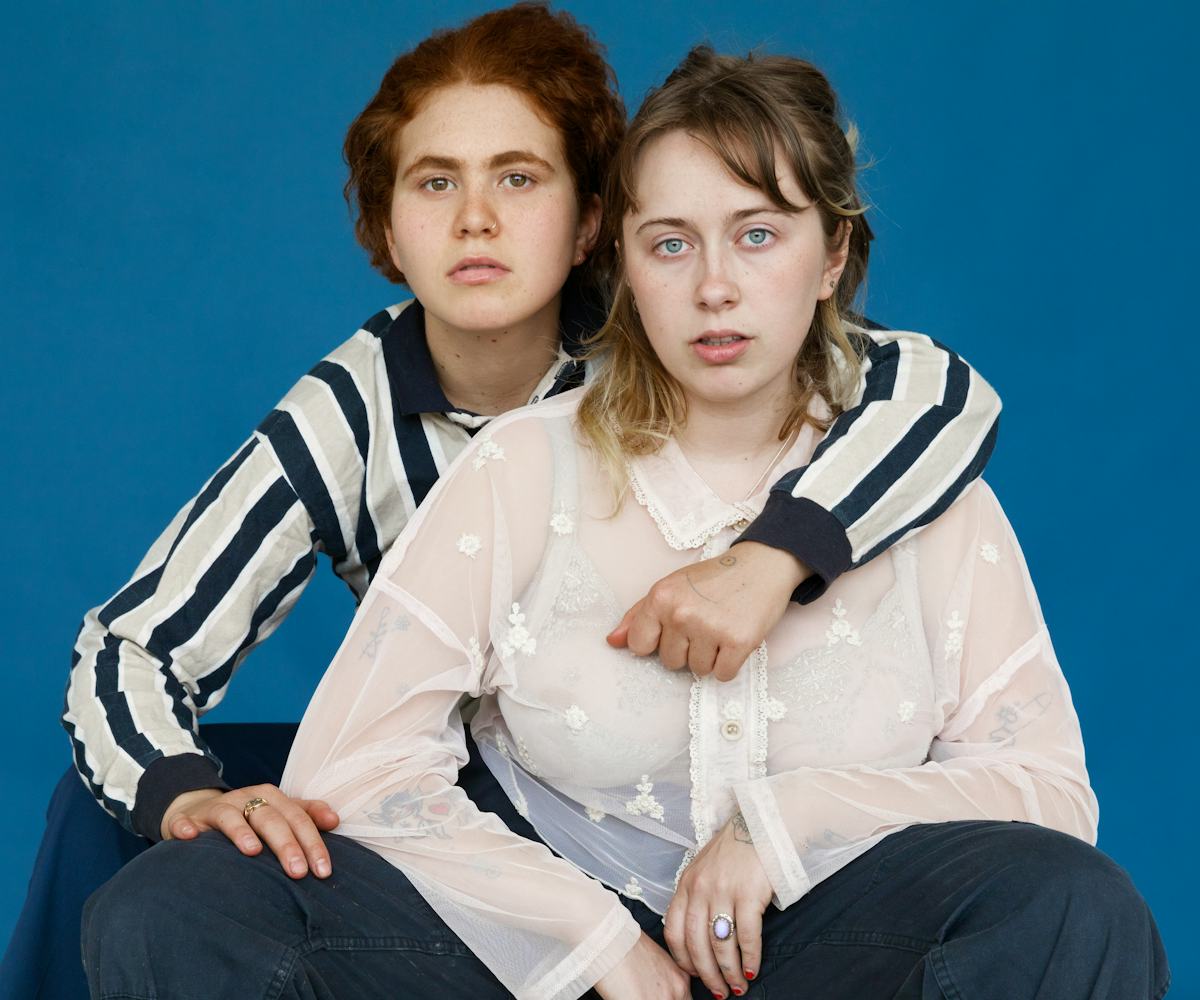 Photo by Kacie Tomita
The Power Of Friendship Continues To Sustain Girlpool
The best buds spill the beans about 'Powerplant'
Cleo Tucker and Harmony Tividad are weirdly in sync. When speaking to them inside the NYLON office, they naturally sit beside each other in the same corner of the room. Sometimes, while the bandmates take turns talking and flipping through a stack of issues on the table, they playfully reach their hands out to one another. 
On this particular day, Tucker, who is nonbinary, points out that their hands are orange because they've been eating an abundance of carrots; also, a piece of garlic recently flew into their eye. Tividad has only recently recovered from a "traumatizing experience" with garlic, after getting food poisoning from a Caesar salad. "We're not related, and we're really different, but sometimes we feel similar things at the same time," says Tucker. 
Before Girlpool was the duo's main priority, Tividad and Tucker were just high schoolers breaking into Los Angeles' DIY punk scene. Their friendship dates back five years, the starting point being a venue called The Smell. Tividad describes their closeness as being "wholly intertwined." Tucker adds, "We've sort of been married for five years... I like that." 
When Tividad isn't casually chatting about her favorite The Chainsmokers songs and Tucker isn't breaking down the art of burping, the pair goes into full detail about their sophomore album, Powerplant. The lo-fi record is essentially a culmination of feelings, angst, and harmonies backed by a full band that soundtracks their experiences with friendship, relationships, and personal growth. 
In a way, it functions as an outline of the never-ending search for truth. Girlpool has taken the time to make observations, fully digest them, and navigate accordingly. The music videos for the singles that have been released so far are firmly from the female gaze as the duo portrays a variety of female-fronted relationships, both romantic and platonic. It's not just a part of Girlpool's indie rock charm—it's a snapshot into their real lives. Tucker and Tividad continue to show everyone that they aren't afraid of vulnerability, and it works in their favor because it's authentic.
After taking a year off to finish this masterpiece, Girlpool is ready to get back into the swing of things, starting with a headlining tour that includes Snail Mail, Lexie, and IAN Sweet. (Tucker is really looking forward to the stops "in the middle of nowhere.") Learn more about the creative forces behind this dynamic record in the interview, below.
Your record is dropping this week. How are you feeling?
Cleo Tucker: Excited, but free inside.
Harmony Tividad: It feels really, really good. 
How long has this been in the works? 
CT: We recorded it over this past summer, but some of the songs have been written for a long time, so it's super exciting. 
Was making this record different than your other ones? 
CT: I think our process evolved from spending more time working on music together. We did add more instrumentation, which I guess is a distinct difference in sound, but I feel like nothing was particularly an intentional change other than our natural growth. 
HT: Yeah, agreed. I second that. 
You're releasing the album on a record label; what made you want to take that step? 
HT: [After] we recorded the record, we were trying to figure out where to put it into the universe; how to bring it out into the world and birth it. We met the people from ANTI- and felt like they were super down-to-earth, really passionate about music, and creating work in a really beautiful and palpable way. We felt really inclined to work with them. 
What would you say are some of the tracks that you have really strong feelings toward?
CT: Currently, mine is "Fast Dust." 
HT: The song I feel most actively is "Static Somewhere," because it's almost like a question I feel like I answered in some ways. That song's pretty old, so it feels like there's been some resolve internally since it was created, which I feel nice about.  
CT: I actually feel the same way about the one that I picked, which is interesting. 
Powerplant is out now on ANTI- Records.