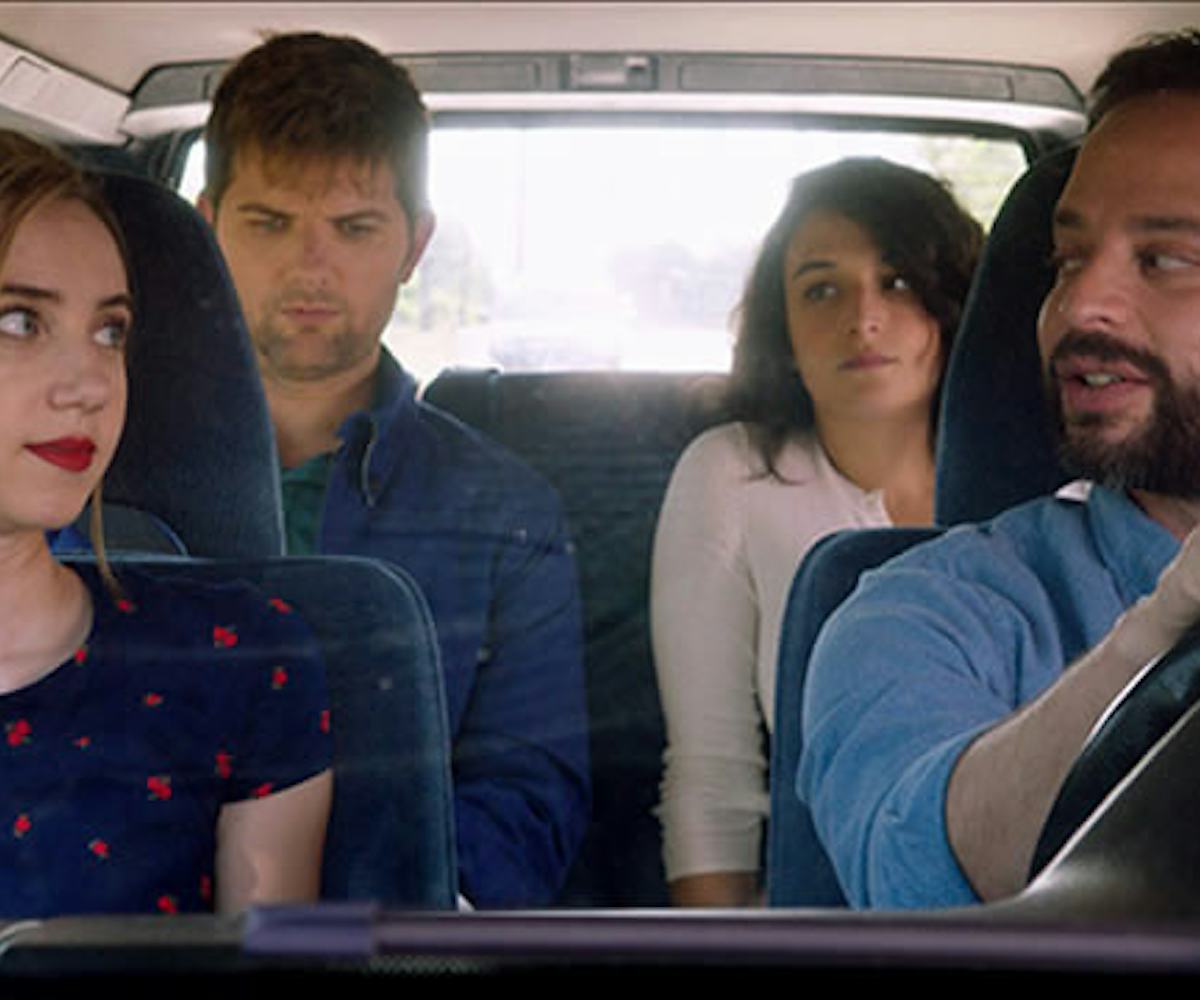 Director Sophie Goodhart's Girl's Guide To Making Your First Movie
The director of 'My Blind Brother' shares the wisdom she's learned on the way
Over the course of the last decade, Sophie Goodhart has had four of her films greenlit for production. But because of the fickle nature of show business, movie after movie fell through. Then, last month at SXSW, something miraculous happened. Goodhart, who is 45, watched as her debut feature, My Blind Brother, premiered on a big screen in front of an actual audience. The comedy, which also screened at last week's Tribeca Film Festival, tells the story of two brothers, one of them blind, who fall for the same woman, and stars literally four of your favorite actors in Hollywood: Adam Scott, Jenny Slate, Zoe Kazan, and Nick Kroll. Now Goodhart joins the small but growing list of women who've directed films through a combination of talent, ambition, perseverance, and in her words, just a touch of delusion. Here, Goodhart shares ten essential maxims to keep in mind when trying to get your movie made.  
Have a point of view and something you want to say, and decide you are entitled to say it.
When I started working on the script for My Blind Brother, some readers felt very uncomfortable with my portrayal of the blind character as an asshole. My feeling was that it was deeply patronizing to presume that the disabled are God-like and Christian because of their disability. I feel like we all have the same exact right and chance of being egotistical maniacs seething in shame and resentment.   
Use the fact that people might have lower expectations of you. It means you can surprise them.
I was heavily pregnant when I shot my feature and had a four-day-old baby when I began the rough cut. I actually think it made the whole thing easier as no one expected much and I was able to be impressive just by turning up.
Denial and delusion are your friends. Just presume you are going to be able to make a film and then keep on trying to make that happen.
I have had four films greenlit in the past 10 years. At the beginning I'd find out I was greenlit and have celebratory drinks at bars buying strangers rounds. I realized quickly that this was an expensive mistake. It's taken me over 10 years—I'm not saying how much over 10—to make my first film. If I were more realistic, I would have given up years ago. I am now glad I am delusional.
It might take longer to do. That's okay. It's not a race. And we live longer than men so can carry on doing it longer.
I'm 45 and making my first film. I don't care as I plan to make films till they have to pry my wisened grasp off the slate.
Don't try to hide what's great about being a woman. We don't need to mimic a man and how a man might direct in order to be good at what we do. We may do it differently. Differently is great.
I am not that comfortable with aggression or conflict. I like being friendly, nurturing, and collaborative. I don't think this is a problem. I think it makes my work better. And sorry for bringing it up again but having a belly full with a baby makes it very hard for people to be mean to you. I recommend wearing a fake bump for all productions.
Be nice to the people you work with. Apparently a lot of people don't do that and I'm not sure why. People work better if they aren't deeply unhappy.
I adored my crew. They were immensely generous and patient. Because I said please and thank you every day, they worked incredibly hard and our shared experience was a happy one. Also as a director, you get to work with people who are experts at what they do. It's important to know that you are the only one without a specific expertise and to realize how much you need everyone else.
Know that women are funny. 
Ideas take time to form. If something doesn't seem good, let it breathe and then revisit it.
My film My Blind Brother began as a short back in 2003. I then left it for about four years. I wrote, left it, rewrote, and rewrote slowly for over eight years, and I think it's better for it.
Be prepared to live with the fact that it's never going to be perfect. And if you think it's perfect, you are wrong.
Enjoy and appreciate the fact that we are doing something that few women get to do, and then when you get to a position of power, hire more women.