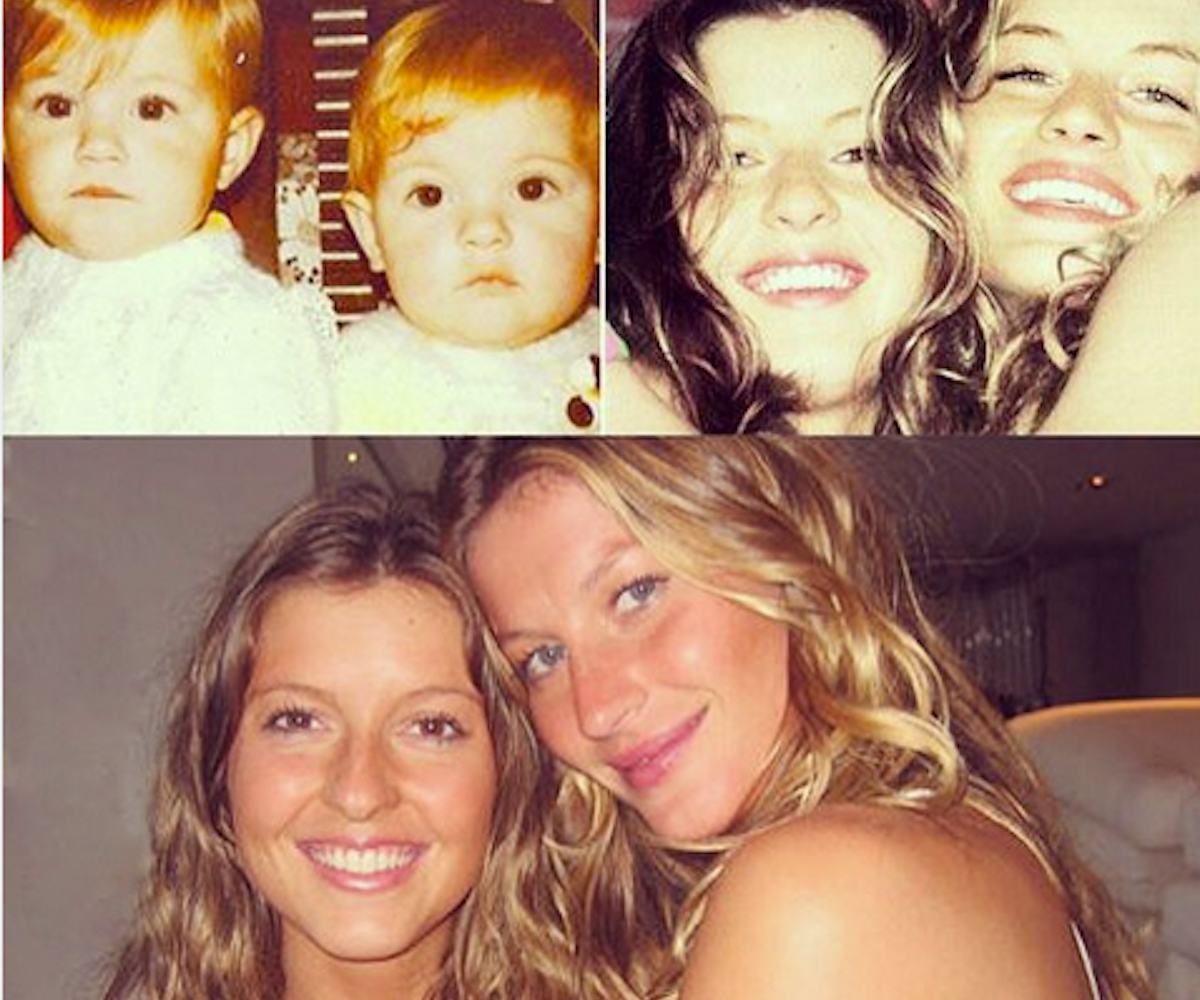 photo via @gisele on instagram
icymi: gisele bündchen has a twin
as if one gisele wasn't enough
There are times we think we live in a just world. Good things happen to good people, bad things happen to bad people, etc. Well readers, I'm here to tell you we do not live in a just world and, instead, we live in the kind of world where one incredibly beautiful Gisele Bündchen is not enough. That's right—she has a twin.
The supermodel reminded us all of this little-known fact when she posted a photo collage of her and twin Patricia (or "Pati") to Instagram this weekend to celebrate their 35th birthday. We have to admit, we're shocked this bit of Gisele trivia is catching people by such surprise considering that the model Instagrams photos of her and Pati fairly regularly. But, at the same time, we see how so much beauty in one set of sisters can be overwhelming.
Flip through our gallery to educate yourself about Gisele's "mysterious" twin Pati.
more celeb sister news, this way:
10 Stylish Celeb Sisters On Instagram
Watch Kendall + Kylie Jenner's Latest Ridiculous Video
"Feliz aniversário super Pati !!! Te desejo as coisas mais maravilhosas desse mundo. Obrigada por estar sempre ao meu lado, desde o início. Eu te amo muito. #aniversário #irmãgêmea #anjodaguarda #melhoramigadomundo #amor ❤❤❤"
"Parabéns pai!!! Te desejo tudo de melhor que possa existir nessa vida. Obrigada por ser essa pessoa maravilhosa que está sempre disposta a ajudar a todos. Obrigada por ser nosso conselheiro e por, com tuas ações, tornar esse mundo um lugar melhor. Te amo muito. Feliz aniversário!"
"Thank you mom and dad for giving me five best friends. #tbt #1984 #family ❤️❤️❤️ Obrigada pai e mãe por me darem cinco melhores amigas. #1984 #família"
"Feliz aniversário para a melhor mãe do mundo! Te amo muito!"
"Memories #Christmas #love #family1987"
"Pati the Queen #childhood #twin-sisters #bff #love"
"I feel so lucky to be born with my best friend . I love you Pati . Happy birthday !!! ❤❤❤ Tive muita sorte de ter nascido com minha melhor amiga. Te amo muito Pati. Feliz aniversário !"
"The three musketeers, Gabi, me and Pati! As três mosqueteiras Gabi, eu e Pati #1982 #sisters #bestfriends #bff #throwbacktursday #tbt #irmas"