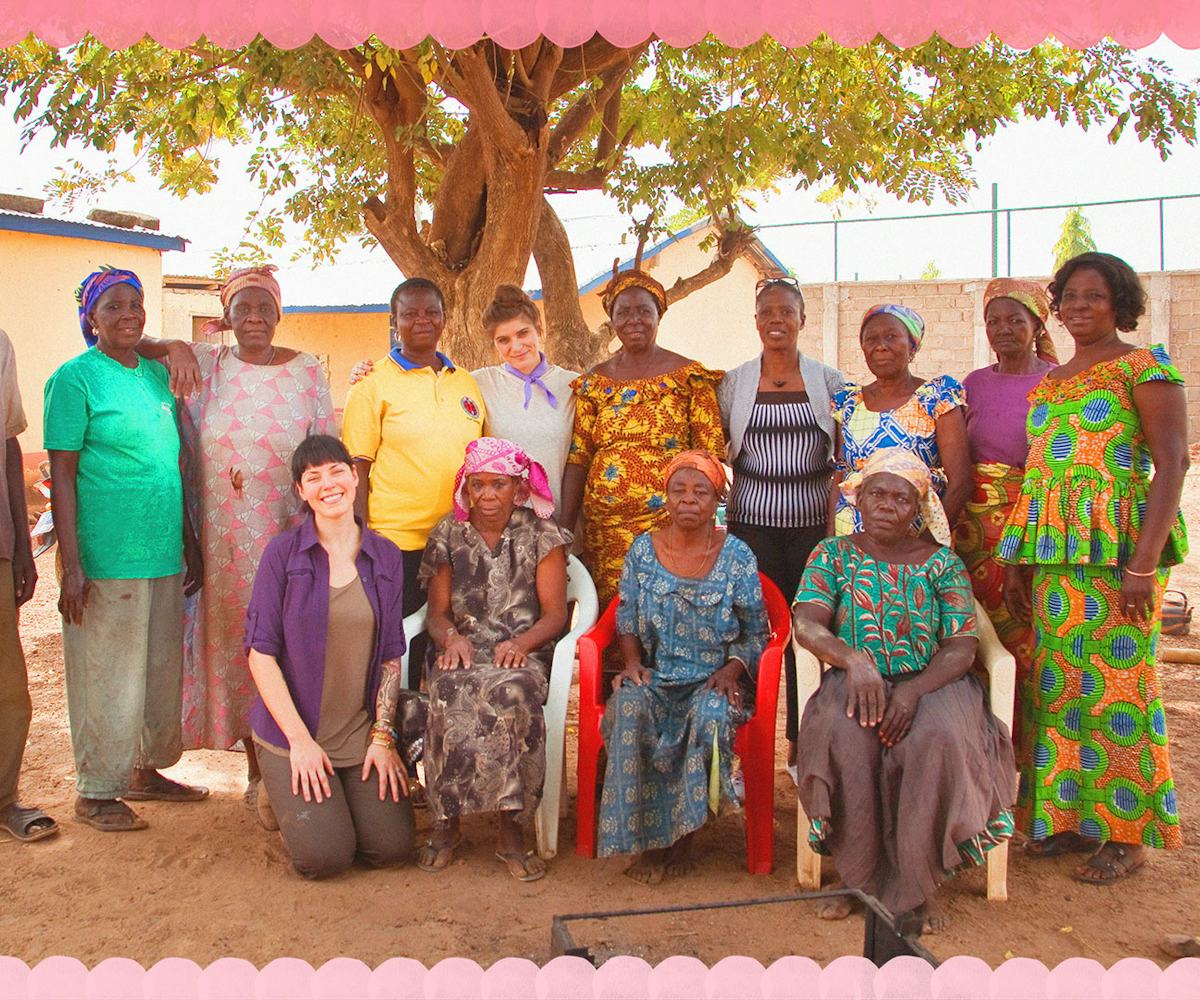 Photos courtesy of Alexis Krauss
Bethany Cosentino + Alexis Krauss Tell Us How They Are Empowering The Women Behind Their New Beauty Brand
Introducing Global Beauty Butter
by Alexis Krauss and Bethany Cosentino
When we traveled to Ghana earlier in the year to learn about shea butter production, we had no idea what would come of our trip. After spending hours with the hardworking women of the CMA Shea Butter Cooperative—who harvest the karite (shea) tree nuts and process them into a nutrient-rich, moisturizing butter—it became clear that we had to do our part to tell the women's stories and help them sell their products for a fair price. After months of brainstorming and working with our partners in Ghana—Global Mamas and Ele Agbe—Global Beauty Butter was born.
Global Beauty Butter is much more than just another shea butter-based skin-care product. It is created by women and for women. Seventy percent of the sales of each product directly empower the workers who harvest the nuts, process the butter, and package the product. Every time you purchase a container of Global Beauty Butter, you ensure that a living wage is paid to the women of the CMA Shea Butter Cooperative.
One of the unique things about the production of shea butter is that it's predominately performed by women. In traveling to Ghana, we learned that this process is something that has been handed down by mothers to their daughters for generations. It's a beautiful community where women are working together to create a product that is celebrated by other communities of women worldwide. And the sisterhood created between these women has been strengthened as they are forced to protect one another from the dangers that can arise while in the fields picking the karite tree nuts. When you purchase Global Beauty Butter, you are not only helping these women directly, but you are also supporting a field of work that is run by women. It's truly girl power in its strongest form!
To ensure that the women really benefit from all sales in a meaningful way, we launched the Shea Helps Empower (SHE) fund, which supports specific, group-driven projects to improve the CMA Shea Butter Cooperative's workplace and local community. Our partners Global Mamas are administering the fund, leveraging more than a decade of experience as a fair trade nonprofit empowering women in Ghana.
By buying Global Beauty Butter, you are also supporting a product that is 100 percent made in Africa. Once the butter is produced by the women in Northern Ghana, it is shipped to the capital (Accra), where it is processed and packaged by the women of the Ele Agbe Shea Shop.
Global Beauty Butter meets the Beauty Lies Truth standards of clean beauty and is free of chemicals and preservatives. In addition to Unscented Shea Butter, we offer a Moringa and Lemongrass Shea Butter that is made with ethically cultivated, sourced, and processed True Moringa oil and locally produced lemongrass oil. It has the moisturizing and healing benefits of shea butter. Our containers are made from plastic produced in Ghana and can be reused and recycled.
Every new Global Beauty Butter customer means that the women we work with are producing butter more often and earning fair wages on a more consistent basis. Join us in celebrating and supporting this wonderful community of women and become a part of the Global Beauty Butter sisterhood. All-natural skin care never felt this good!
Love,
Bethany and Alexis
Bethany Cosentino is the songwriter, guitarist, and vocalist of Best Coast and Alexis Krauss is the singer, songwriter, and front woman of Sleigh Bells.