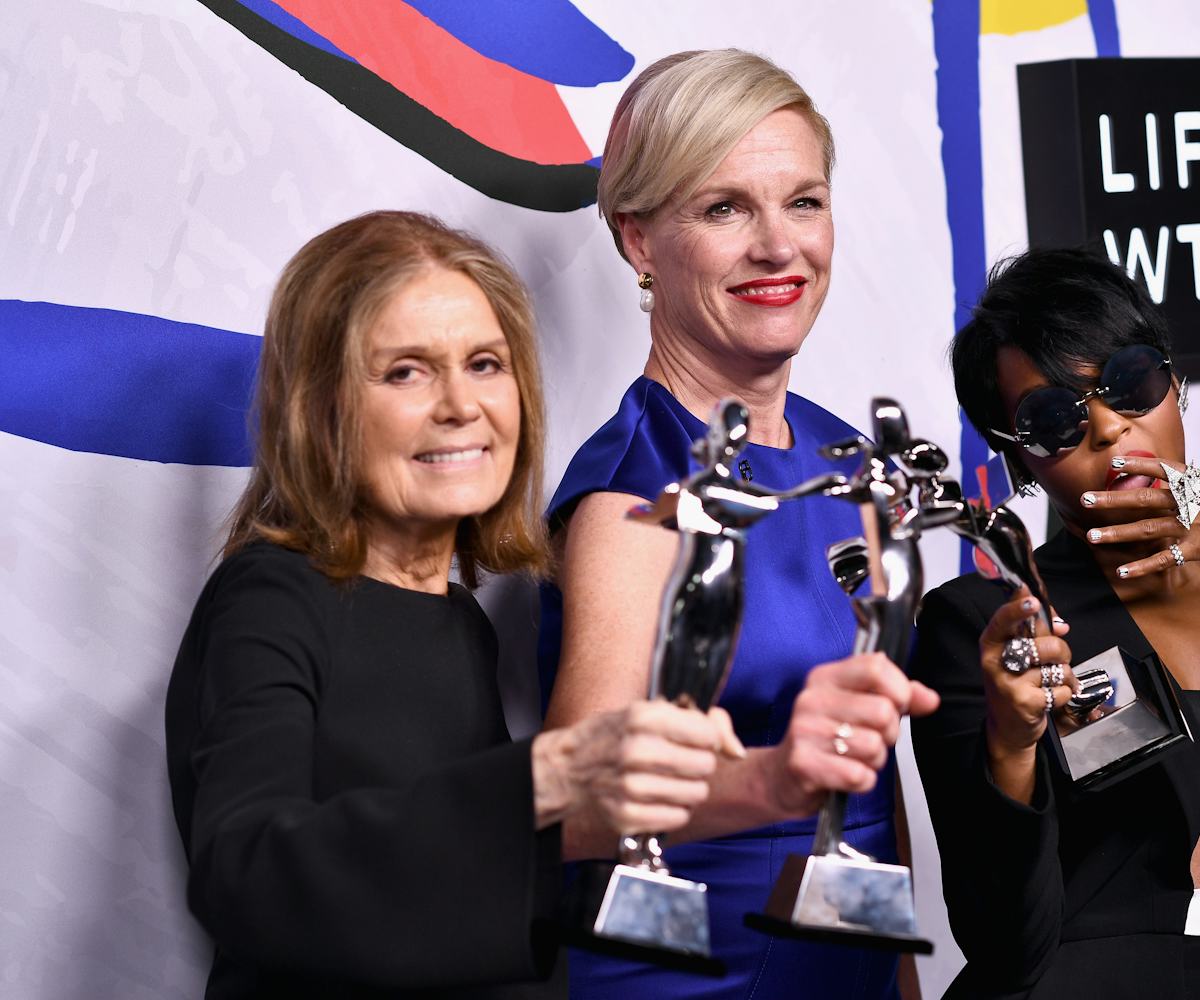 Photo By Dimitrios Kambouris/ Getty Images.
Fashion Insiders Got Political At The CFDA Awards
Gloria Steinem, Janelle Monáe, And Cecile Richards were honored and gave some empowering speeches
If the Met Ball is known as the Oscars of fashion, the CFDAs are the Golden Globes equivalent. Industry insiders, fashion designers, and celebrities all come out for one special night to honor the most acclaimed and respected in the industry. Calvin Klein's Raf Simons took home the award for Designer of the Year in both womenswear and menswear. Celebrity makeup artist and beauty mogul Pat McGrath took home the Founder's Award. And Vogue's Anna Wintour honored the late Franca Sozzani with a posthumous Fashion Icon Award. Fashion was very much at the forefront last night, but activism wasn't very far behind. And with a field run mostly by women, it felt right.
Cecile Richards, Janelle Monáe, and Gloria Steinem were presented with the Board of Directors' Tribute Awards by designer Diane von Furstenberg, an honor, as Vogue states, given to women who "are suiting up to take charge, to stand up, to speak out, and to resist." While accepting, all three women gave tremendous speeches, reflecting on the past couple of months and a future that seems uncertain while also looking forward at what needs to be done. 
Steinem started out by looking back, to a time before "patriarchal Europeans were here" and "people were people," pointing out that knowing the past helps to inform the future. "Now that we're trying to transcend race and gender roles, it helps to know we invented them and we can dis-invent them," she said. "So why not learn from our communal past when we were linked not ranked, we will be helped as we learn by both new technology, which helps us connect, and the old truth that human beings can only empathize when we're together, as we are tonight with all five senses."
She expanded on the importance of being woke (yes, Steinem used "woke" not once, not twice, but three times in her speech), noting that it's our duty to look out for each other. "Now, there is more activism than I have ever seen in my lifetime," she reflects. "And maybe, just maybe, thanks to all of you in this room and billions more around the world who are woke, we are not the richest but we are the majority and we are woke and maybe we are about to be free."
Cecile Richards spoke about the motto of Planned Parenthood ("care no matter what") being a threat or a promise, depending on where it's said. She stressed that, regardless of gender, sexual orientation, refugee status, or income, the doors are open to everyone. "And that's because health care isn't a privilege, it is a fundamental human right," she said. "The fashion industry has long celebrated bodily autonomy and free expression and the right of every person to live their life on their own terms… There has never been a more important time to be bold, and to be fearless, and to take a stand and make a statement."
Monáe not only looked stunning but gave an incredible speech, which started off with her relationship with fashion. "As a kid I had to get very creative because my parents could not afford the latest fashion, so as you know in the video, my mother was a janitor, my father was a trash collector, and my stepfather, just like my dad, worked at the post office and they worked really hard to provide for my sister and me, and they wore those uniforms proudly, they helped build this country," she said. "They served their community with such great pride, and I stand here in my black-and-white giving honor to them."
She went on to say that she started a foundation called Fem the Future, which helps provide mentorship and opportunities for young girls in the arts, but also made sure to note that she's still young herself and figuring things out as she goes. She recalled her experience at the Women's March in January, the range of people who came out to support, and what that day meant to her. "I'm reminded that human beings, as human beings, it is going to be our responsibility to take care of one of another," she said. "Women's rights are human rights. LGBTQ rights are human rights. Poor folks' rights are human rights. Immigrant rights are human rights. Minority rights are human rights. So as human beings, let us never forget that none of us are free until all of us are free."
Toward the end of her speech, she put out a call to action, to all of the "dreamers, students, and artists" present, stating, "I ask you guys tonight to stand with me, let's continue to speak out against the sexism, the racism, the homophobia, the Islamophobia, and all those things that are constantly trying to divide us. And in these moments of turmoil—I know we see it, and we're tired of it—remember we must choose freedom over fear."
You can (and should!) read all three speeches in their entirety over on Vogue.