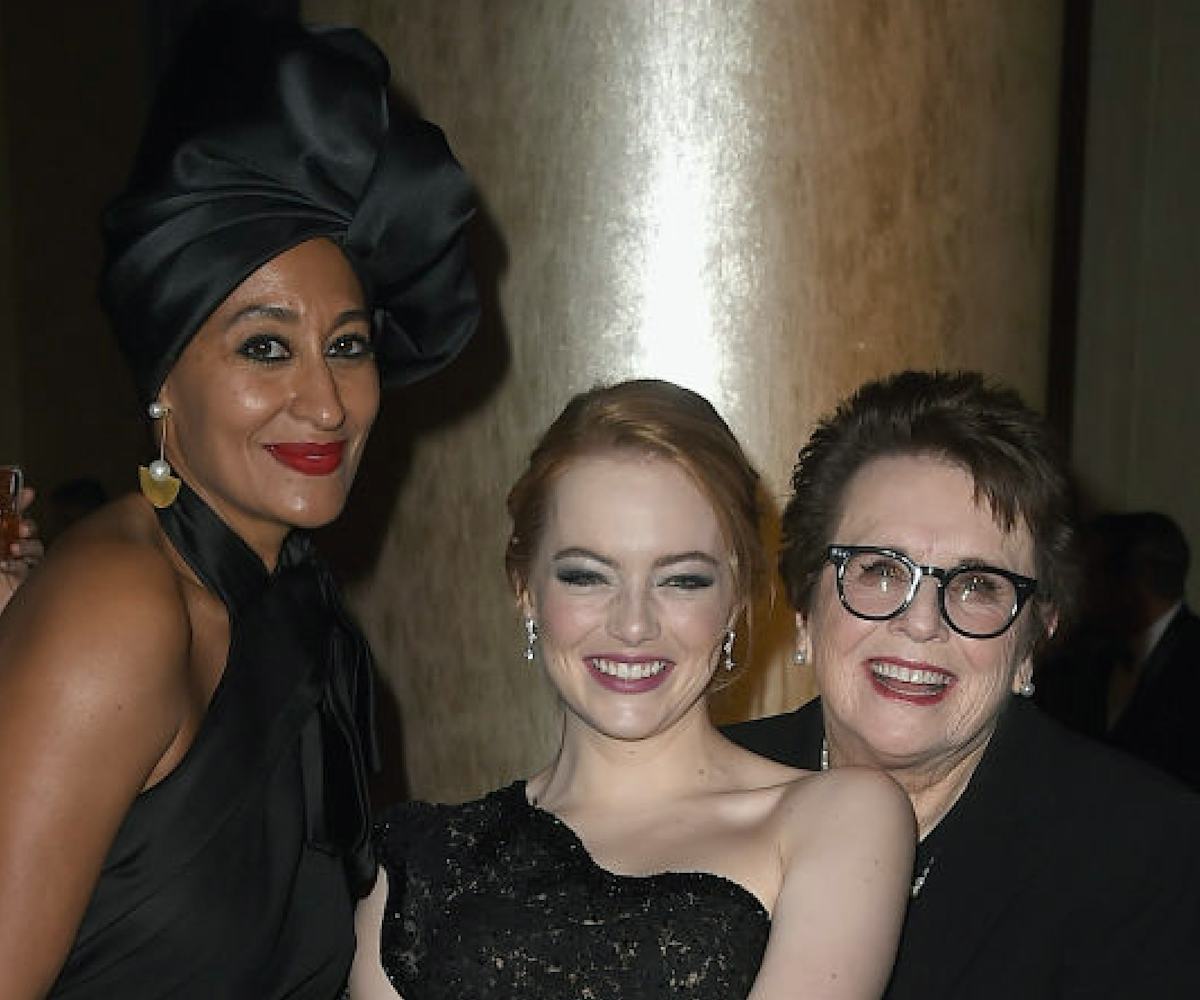 Photo courtesy of Kevin Winter/Getty Images
Women Of Hollywood Bring Famous Activists As Their Golden Globes Dates
These amazing women aren't keeping the crown for themselves
The women of Hollywood are committed to the cause of Time's Up—but they don't want to take all the credit. At least eight Hollywood stars brought prominent activists as their dates to the 75th Golden Globe Awards, communicating to viewers everywhere that fighting harassment and power imbalances is a cause that involves all of us.
Meryl Streep is attending the event with Ai-Jen Poo. Poo is a founder of Domestic Worker United, an organization which advocates for the rights of nannies, housekeepers, and other domestic caregivers whose labor rights are few and far between. 
Calina Lawrence, musician, member of the Suquamish tribe in the Pacific Northwest, and activist for Native American rights, attended with Shailene Woodley, who is herself known for her dedication to water rights at the Dakota Access Pipeline. 
Billie Jean King is attending with Emma Stone. King, a world-famous tennis player, hardly needs an introduction. She was one of the first openly gay athletes in American sports and has for years fought for pay equality in her industry. Stone is nominated for her portrayal of King in Battle of the Sexes, which depicted King's famous match against noted chauvinist Billie Riggs.
Amy Poehler brought Saru Jayaraman, the founder of Restaurant Opportunity Centers United [ROC]. ROC United came into being after 9/11, to bring support to World Trade Center employees and other workers displaced by the September 11 terror attacks. ROC United now campaigns for the rights of all workers in the restaurant industry. 
Emma Watson arrived with Marai Larasi, an activist who fights to end violence against women of color in the U.K. Larasi is executive director of IMKAAN, a foundation working to end violence against "black and minority ethnic" women. 
Rosa Clemente, a Black Latinx activist, community organizer, and journalist, arrived with Susan Sarandon. Clemente's activism is broad, including environmental issues, voter engagement, immigrant rights, and third-party politics—she was also the vice president nominee for the Green Party in 2008. 
Laura Dern, our queen, attended the event with Monica Ramirez. Ramirez, co-founder of Alianza Nacional de Campesinas, has dedicated her career to fighting for farmworker women across the U.S. The organization is "particularly concerned with ending workplace exploitation against farmworker women and all farmworkers, including sexual harassment."
Michelle Williams is attending with Tarana Burke, who, by now, likely also needs no introduction, but in case you need a refresher: Burke is the original founder of #MeToo, who started the phrase in 2007 after hearing a 13-year-old girl discuss her own experiences of sexual abuse. The groundbreaking activist is currently senior director of Girls for Gender Equity, which devotes itself to the general rights and well-being of young women. 
Here's to more actresses following in these women's footsteps for the rest of awards season.
h/t New York Times