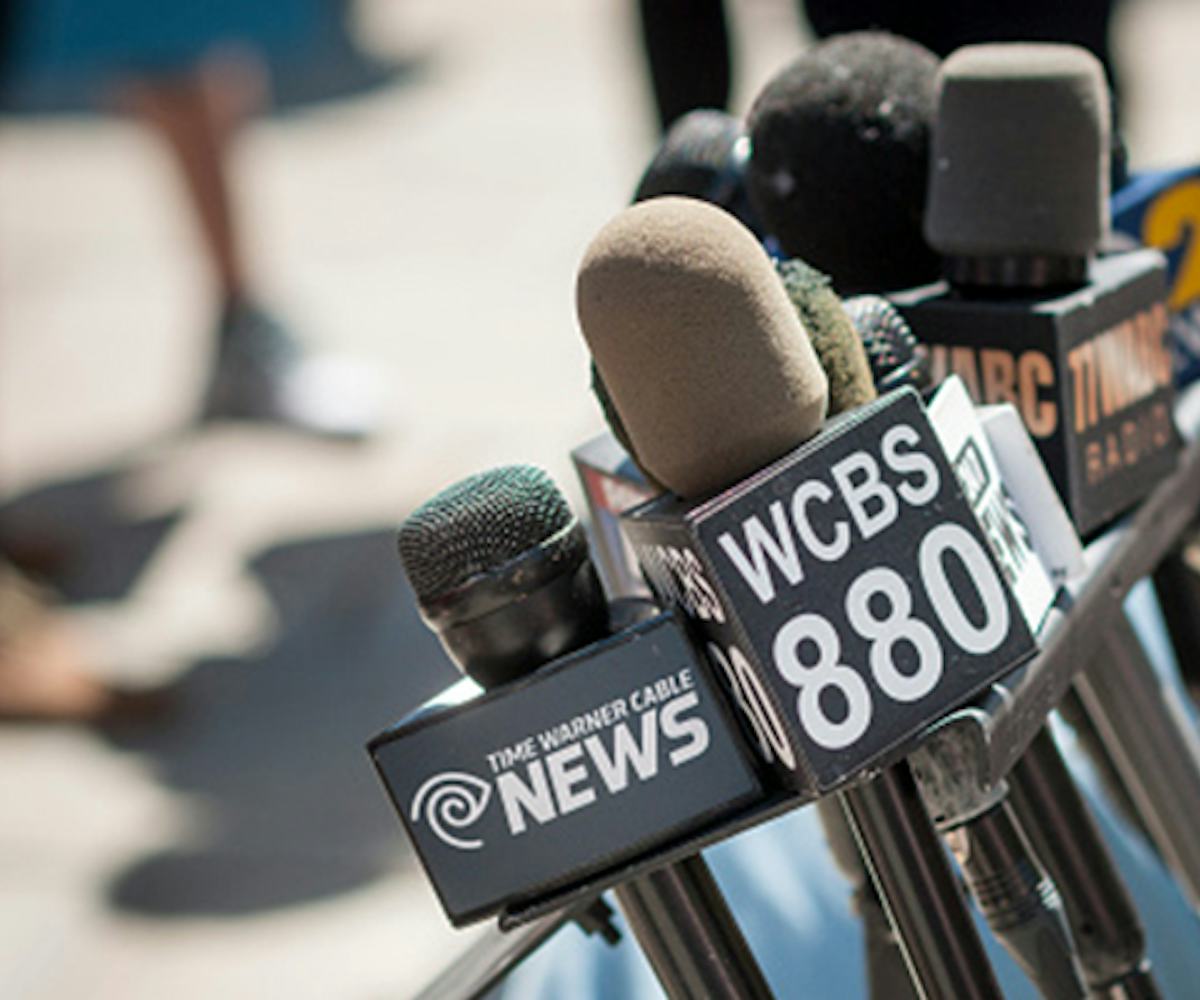 Photo by Richard Levine/Corbis via Getty Images
Why You Should Be Worried About The Decline Of Local News
Gothamist and DNAinfo have been shut down
Yesterday, two local New York City news sites, Gothamist and DNAinfo, were abruptly shut down and tens of thousands of articles were removed. In their place is a letter from Joe Ricketts, the billionaire who owned the sites. "I've made the difficult decision to discontinue publishing DNAinfo and Gothamist," he wrote. "Reaching this decision wasn't easy, and it wasn't one I made lightly." This move comes just one week after reporters and editors at the sites voted to unionize.
Gothamist and DNAinfo covered local politics, community board meetings, public school district updates, and vital information that held local people in power accountable. Their closing comes a little more than a year after Gawker.com was shut down and a few months after the Village Voice ended its print edition after 62 years. All of these were independent media companies which covered news at the local level. Losing them could have serious repercussions.
Without local media organizations, we're left with "news deserts," areas that aren't being covered by reporters. "A shortage of reporting at the local level manifests itself in invisible ways," journalist Tom Ashbrook said on his NPR podcast, On Point, "stories not written, scandals not exposed, government waste not discovered, health dangers not identified in time, local elections involving candidates about whom we know little."
For the past several years, we've seen a decline in local news coverage across the United States. Local media companies are financially struggling, and end up having to cut staff to make ends meet. "There is now a recognition that the crisis in local journalism threatens our democracy and must be addressed," said Steven Waldman, who wrote an FCC report in 2011 about the demise of local reporting. 
What's especially vindictive about the way Ricketts, who only acquired the sites in March, handled the closing of Gothamist and DNAinfo is he immediately deleted the archives. That makes it impossible for those writers to then use their work to obtain a new job. One reason for this might be that Ricketts was adamantly opposed to the reporters joining a union. The founder of TD Ameritrade and big Trump donor wrote to them at the time, "As long as it's my money that's paying for everything, I intend to be the one making the decisions about the direction of the business."
"No one's trying to bankrupt anybody," Katie Honan, a former DNAinfo reporter, told the New York Times. "We just want to have an ability to negotiate things, and not necessarily money. If this is the future of journalism, it should be a career for people, not a postcollege hobby."
News of Gothamist's and DNAinfo's shutdowns comes on the heels of Condé Nast announced it's shuttering the print edition of Teen Vogue, which has gained a lot of attention for its political coverage as of late, and rolling back the number of print issues for other brands. The company, which is on a hiring freeze, will cut more than 80 jobs.
Every day there seem to be less and less ways to get information and more reporters finding themselves without jobs. It's important that we support our local news organizations and stand up for the writers and editors that are working to maintain our democracy. It shouldn't be this easy for a billionaire with a vendetta to shut down a news organization, and it's scary that it is.