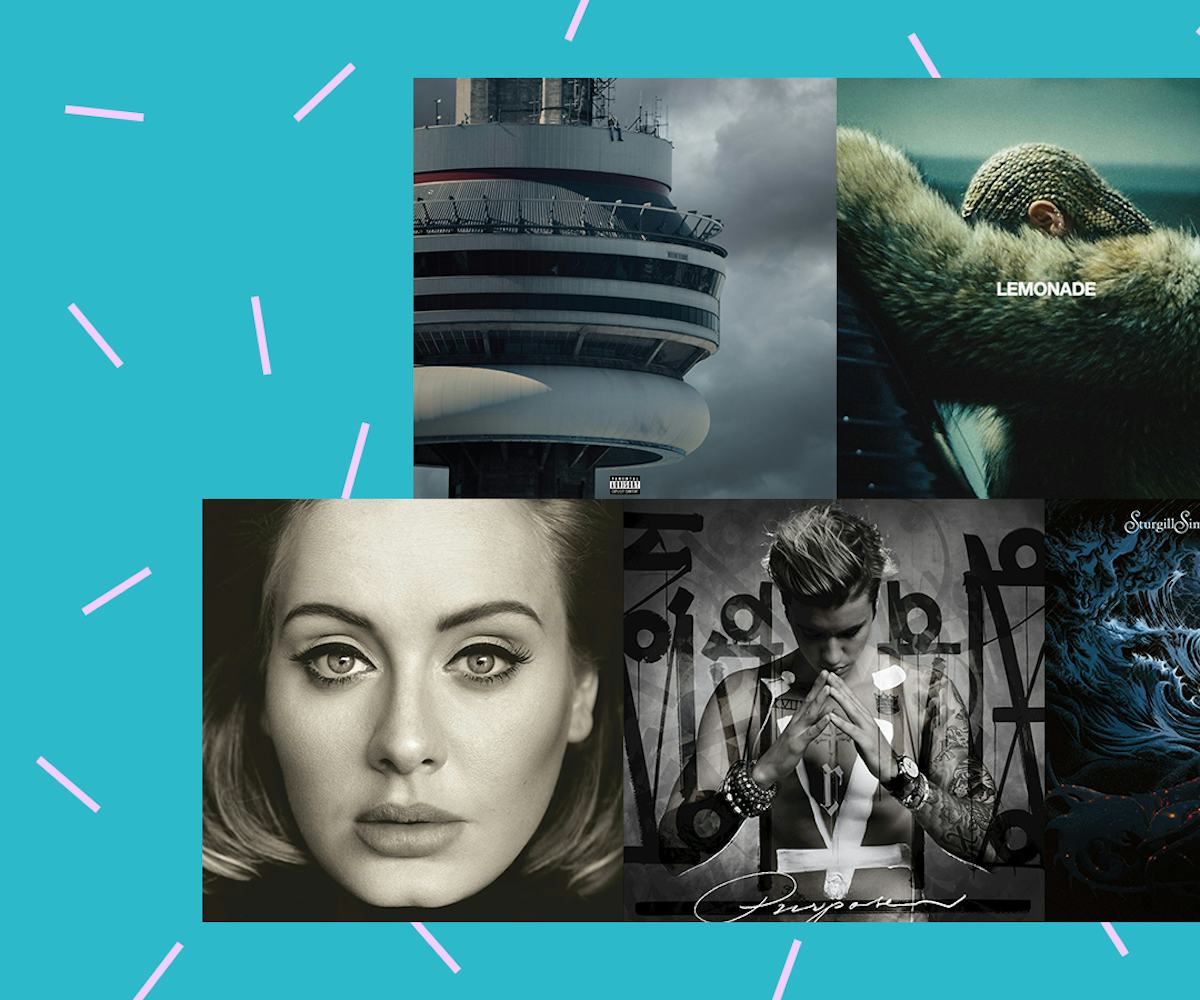 What A Win For Each Grammy Album Of The Year Actually Means
Don't hurt yourself thinking about it
What's in a Grammy win? To some, not much. Many argue that, since the music industry moves so quickly, the award ceremony is out of touch with what's truly influential. Traditions die hard, though, and a little pomp and circumstance are never unwelcome. Just like Best Picture, the big Grammy awards have clout, and you'd be hard-pressed to find a musician who doesn't dream of winning one.
After the cluster-you-know-what of a year 2016 was, choosing an album that truly captures its essence is going to be divisive. Will the Recording Academy award consistency for Album of the Year? Virility? Sheer badassery? Or throw a wrench in the system and blindside the pop world with a country music upset? And what does that say about who wins and who loses? Let's explore that in the pages ahead.
The Grammys will air February 12 on CBS.
25 by Adele
Adele has 10 Grammy awards under her belt already, including Album of the Year for 2011's 21. To say the world was waiting for her follow-up would be a vast understatement. With three simple words ("Hello, it's me...), Adele set herself on the fast track to what will likely be an outstanding awards season for her. Though 25 doesn't break new ground for the singer musically, Adele's consistency is vital to her success and, in this case, if it (award-winning productions, lyrics, and compositions) ain't broke, don't fix it. An Album of the Year win for 25 is a win for emotional vulnerability, traditional marketing, and sheer musicianship. It's well deserved, indeed.
Lemonade by Beyoncé
In an ideal world, 25 and Lemonade would tie. Beyoncé and Adele would walk to the stage together, hand in hand, and accept their awards, giving speeches about women supporting women. Lemonade is a full-on sensory experience; between its movie, separate music videos, merch, endless promotion, and Formation World Tour, Beyoncé brought us into her world whether we liked it or not. It is a love letter from Bey to black women. Personal, raw, and uncompromising, Lemonade is worthy of every award and accolade it will receive. An Album of the Year win would do more than give Bey's magnum opus and story of personal redemption the recognition it deserves, it would be the Recording Academy finally and properly honoring Beyoncé with her first-ever Album of the Year.
Views by Drake
A Billboard poll asking readers who should win Album of the Year found that less than 2 percent of its audience want Drake's Views to win. And rightly so: Views is a fine album, but how it captures the essence 2016 above others, like A Seat at the Table, is beguiling. Sorry "Hotline Bling," but a meme does not an Album of the Year make. If Drake takes the Grammy home, the Recording Academy's going to have a lot of explaining to do because Views is safe. It does not make any bold social or political—hell, even personal—statements. Its rollout was run of the mill. It's a fine album, but a win would do 2016 a disservice. Yes, time for escaping in music and a little turn-up is fine, but an album of the year should progress music and challenge both its listener and artist. Views does not.
Purpose by Justin Bieber
The Bieber forgiveness tour was a long one. With Purpose, Bieber sought to put his enfant terrible days behind him by embracing a more EDM-meets-pop sound, turning his introspection and self-reflection into bona fide dance floor bangers. It worked! It really worked. It's unfair of audiences and fans to expect their artist to churn out the same sound over and over again. A win for Bieber would be an act of humility. It would be the olive branch Bieber sought from the world with his album, acknowledging the artist's purpose is to grow and change and make mistakes.
A Sailor's Guide to Earth by Sturgill Simpson
Many may cry, "Who?" but Sturgill Simpson is something of a big deal in the country music scene. True, Simpson's name isn't as much a staple in the media and tabloid world as the other four nominees, but quality music is quality music, and A Sailor's Guide to Earth is quality. The Recording Academy could very well throw in an upset win by giving Simpson the Grammy, which signal three things: album sales, unique marketing, and popularity doesn't make an album of the year winner; country music still has its place within pop culture; if we ease off the synth-heavy Top 40, some clarity may be found.