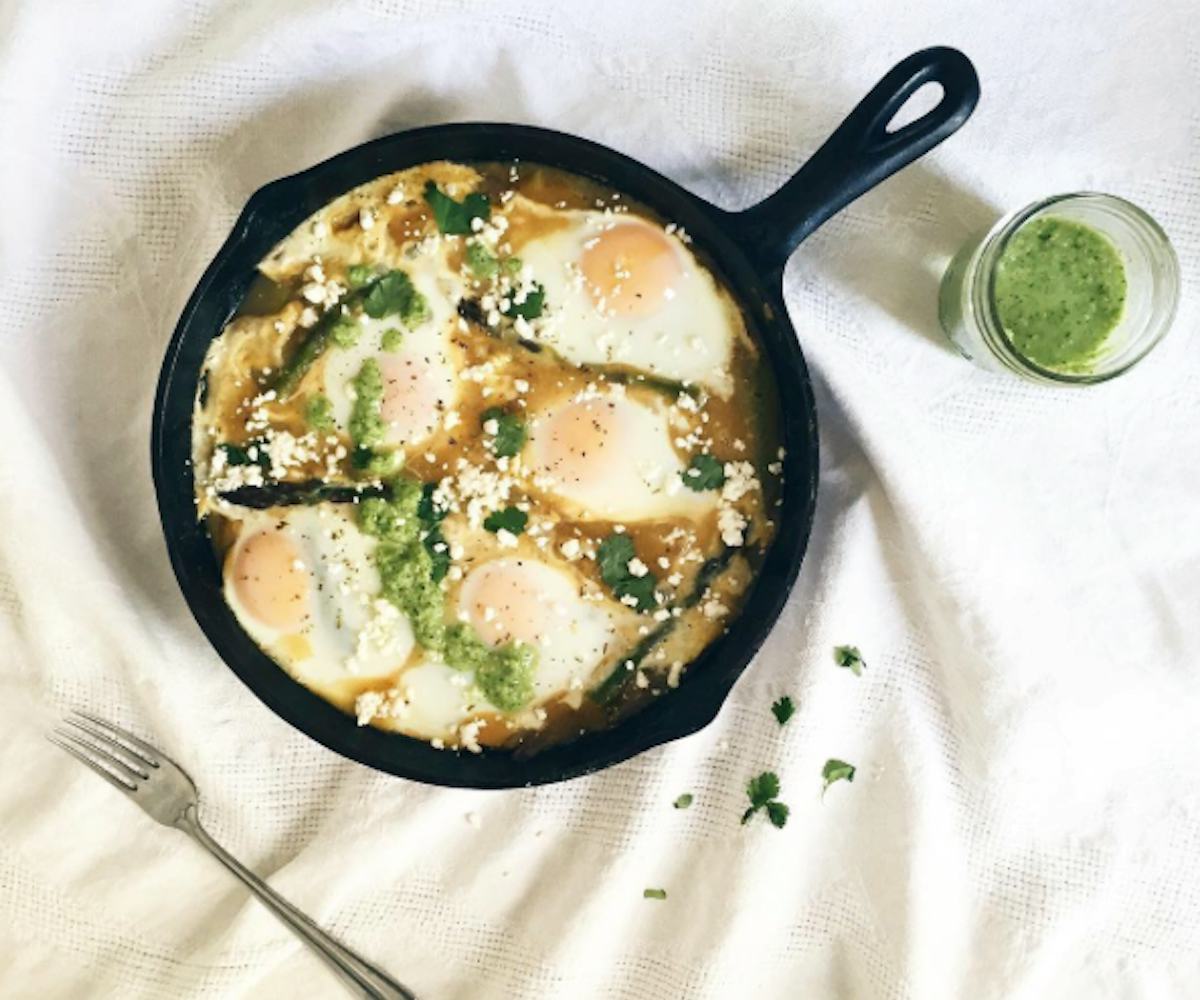 Photo by Brittany Bennett
The One Green Shakshuka Recipe You Need To Wow Your Brunch Crew
Shake-shuka up your ordinary brunch
If you've ever craved a breakfast from a Dr. Seuss nursery rhyme, you're kinda, sorta a little bit in luck. While we couldn't figure out green eggs and ham, we did make green shakshuka, and we think you'll still like it on a boat and you'll like it with a goat. The best part is that you don't have to travel to Whoville to enjoy this unusually hued dish. Just head to your grocery store and pick up green peppers instead of red peppers and swap red tomatoes with yellow tomatoes for a Samiam-approved egg plate.
With green shakshuka, you can skip the brunch line without skipping brunch and split the skillet instead of splitting the bill. Transform your dining room into the most envied (and Instagram-worthy) eatery in town. It won't take you much time to assemble the ingredients before you throw everything in the oven to bake.
Get your squad in the kitchen this weekend with the recipe below.
Green Shakshuka
Serves 4 to 6 people
Ingredients:
2 tbsp olive oil
1 large onion, sliced thin
1 green bell pepper, sliced thin
½ lb asparagus, chopped
2 cloves of garlic, chopped
1 small jalapeño, sliced thin
1 tsp paprika
½ tsp cumin
½ tsp salt
¼ tsp pepper
1 can yellow peeled tomatoes, coarsely chopped
6 eggs
Flat leaf parsley, to top
Feta or goat cheese, to top
Directions:
Preheat oven to 375 degrees F.
In an oven-safe skillet, heat olive oil over medium heat. Add onion, pepper, asparagus, and saute until tender, about 10 to 15 minutes.
Add garlic and jalapeño and cook for 3 minutes more. With a wooden spoon, stir in paprika, cumin, salt, and pepper.
Add the tomatoes with juices and let the liquid simmer until thick, about 12 to 15 minutes.
Crack eggs over the sauce in the skillet and sprinkle more salt and pepper over them for a nice seasoning. Place in oven and bake until egg whites are set, about 8 minutes.
Top with parsley and cheese, and serve!