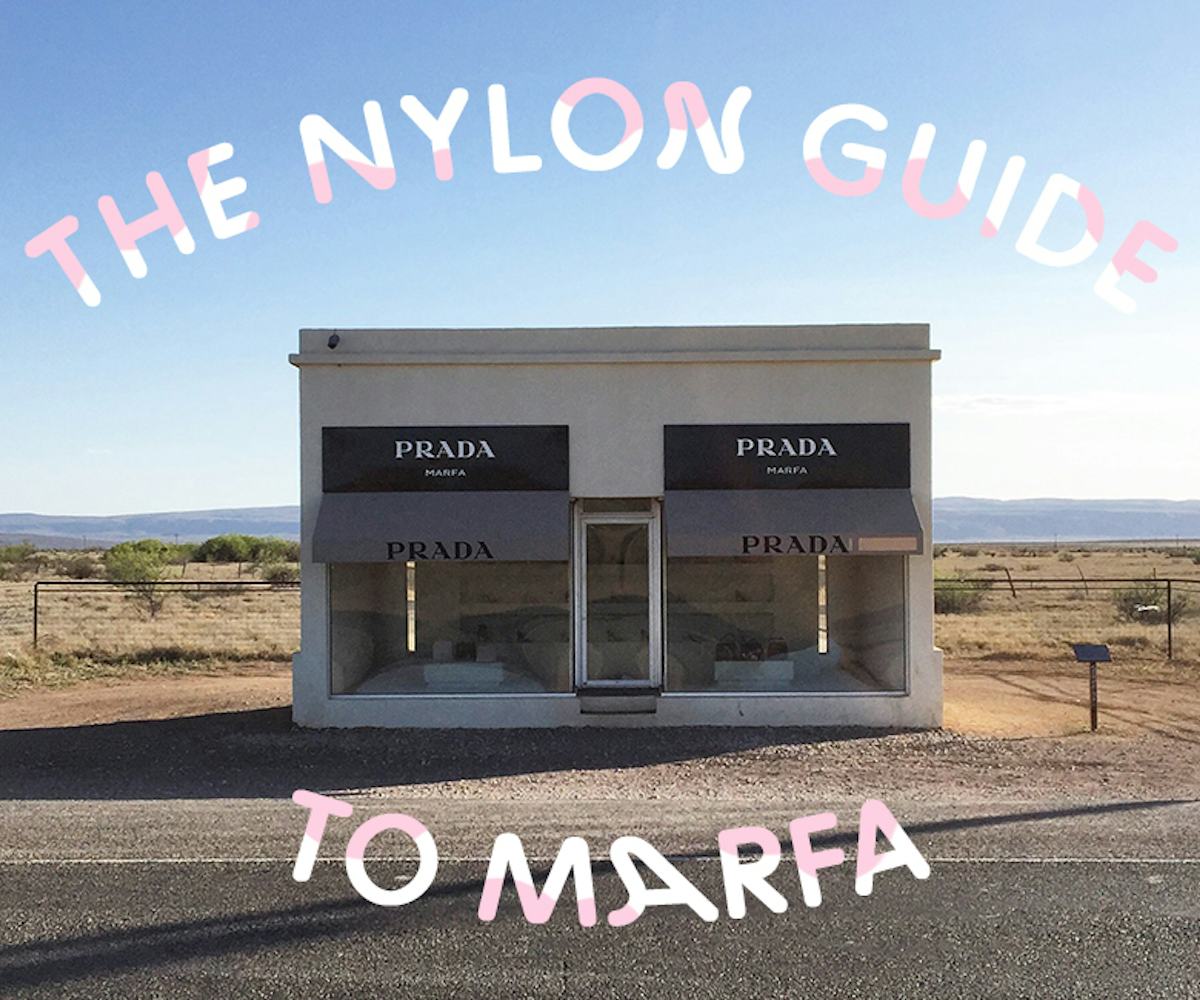 Photo by Laura Itzkowitz
The Ultimate NYLON Guide to Marfa, Texas
Where to eat, where to drink, and where to shop
Let's just get one thing straight: There's no easy way to get to Marfa. The closest airport, in El Paso, Texas, is a three-hour drive away and most airlines don't even fly there directly. If you're coming from New York, like I did, it'll take longer to get to Marfa than L.A. or even Europe. Though the epic journey can be daunting, it's part of the town's strange, mythic appeal. You travel for 10 to 12 hours, flying halfway across the country, driving through the Chihuahuan desert, to find yourself in a little enclave with one of the unlikeliest art scenes in the U.S., if not the world.
It may have been minimalist artist Donald Judd who put Marfa on the map back in the '70s, but this tiny town of 2,000 people has enjoyed a major resurgence in the collective consciousness in the past couple of years. Beyoncé visited with her crew, a sleek new hotel opened, the Chinati Foundation got its first new installation in more than 10 years, and—most recently—Jill Soloway filmed the brilliant show I Love Dick there. So if you've got your sights set on Marfa, pull the trigger and go! Here's what to do when you roll into town.
Where to Stay
Hotel Saint George: Opened last year, this boutique sleep is still the cool new hotel on the block. Its design is a subtle homage to Judd, who espoused functionality and loved the Alvar Aalto chairs populating the lobby. Owned by Tim Crowley—a major player in Marfa's cultural community—the hotel features works by artists with strong ties to the town, like Christopher Wool and Mark Flood. New this summer: the outdoor pool and Bar Nadar, which serves chips and guac, Mexican street fruit, and tacos—exactly what you want to be eating in the Texas heat.
El Cosmico: Perhaps the world's most Instagrammable campground, El Cosmico is a collection of teepees, tents, yurts, and refurbished vintage trailers spread across 21 acres. The brainchild of hip hotelier Liz Lambert (the woman behind Austin's uber-cool Saint Cecilia and the new Hotel San Cristóbal in Baja), this place aims to fulfill all your psychedelic, flower child, music festival fantasies. There's a communal kitchen, bath house, and bike rentals to help you get around town. Plus, it hosts the annual Trans-Pecos Festival of Music + Love every September.
Hotel Paisano:Opened in 1930, this old-school hotel played host to Elizabeth Taylor, James Dean, and Rock Hudson when they filmed Gianthere in 1955. It still exudes the Spanish colonial-meets-Wild West charm found throughout Texas thanks to a renovation that restored it to its original glory. This place is not trying to be hip—it's a classic.
Where to Eat & Drink
LaVenture: Tucked inside the Hotel Saint George, this is Marfa's sleekest restaurant. A sophisticated space with exposed brick, cantilevered Brno chairs, and original art is the perfect backdrop for talented Texan chef Alison Jenkins' elevated menu featuring classics like hand-cut pasta, Wagyu beef tartare, and king salmon with summer vegetable succotash. Some of her dishes are also served in the lobby bar.
Lost Horse Saloon:Come nightfall, it seems like all of Marfa is gathered at this dive bar owned by a one-eyed cowboy named Ty. There's a pool table, bonfire outside in the backyard, and on weekends bands perform on a little stage draped with the Texas state flag. Plus, it just launched a menu of burgers, burritos, and other late-night grub.
Planet Marfa: Come here to drink beer and eat nachos in a teepee—that's right, an actual teepee. Oh, and there's a school bus parked in the yard. It pretty much encapsulates Marfa's quirky charm.
The Capri: A newcomer to Marfa's food scene, this design-forward restaurant is the perfect marriage of the town's laid-back attitude and artsy edge, with a menu foodies will love. Virginia Lebermann—the co-founder of Ballroom Marfa—runs the restaurant and the hotel it's in, while her husband Rocky Barnett—an alum of the Inn at Little Washington—is behind the pre-Colombian cuisine that's heavy on wood-fired cooking.
Food Shark: Beyoncé posted an Instagram shot at this popular food truck that serves Middle Eastern-Mexican mash-ups, and we don't take Queen Bey's recommendations lightly around here. Order the Marfalafel, a yummy falafel sandwich served in a tortilla. Just be prepared to wait—lines can be long and service is slow.
What to Do
Chinati Foundation:This place is the reason art lovers make the pilgrimage to Marfa, and it's worth the trek. Chinati originated in the '70s, when Judd bought a disused army base, converted it into a permanent home for his larger-than-life sculptures, and invited his friends Dan Flavin and John Chamberlain to install work there—a model that paved the way for Dia:Beacon, Mass MoCA, and other contemporary art institutions. Unlike normal museums, you can't just show up and buy a ticket; you need to join a docent-led tour. Don't miss the new installation by Robert Irwin, which resides on the blueprint of the army base's old hospital.
Judd Foundation: For a deeper dive into Judd's idiosyncratic mind, take a tour of his home and studios through the Judd Foundation. When he moved here from New York, he bought up a handful of buildings, leaving an indelible imprint on the town. The Block—which comprises his house, studio, and library—displays his sculptures, furniture he designed, and his collection of books and works by artist friends.
Ballroom Marfa: This nonprofit art space is a driving force in the contemporary art scene in town. It's also behind the famous Prada Marfa installation by Berlin-based duo Elmgreen & Dragset, which is actually 35 miles outside of Marfa in Valentine. Check the schedule, as this spacious gallery hosts rotating exhibitions, film screenings, musical performances, and talks.
Museum of Electronic Wonders & Late Night Grilled Cheese Parlour: Marfa has more than its fair share of quirky places, but this one is downright trippy. Come by after hours for grilled cheese served on a tray covered in Astroturf and take in the surreal vibes created by a collection of old TVs and computers playing static or games from the '80s and '90s.
Where to Shop
Freda: This pint-sized shop sells exactly the kind of boho-chic jewelry, clothes, sandals, and artisanal beauty products you want to bring home as souvenirs from your trip. 
Marfa Book Company: The town's long-standing bookshop feels right at home in its new digs inside the Hotel Saint George. Art tomes, prints, ceramics, and T-shirts emblazoned "West Texas Cloud Appreciation Society" mingle on tables and shelves in the bright airy space. It also hosts poetry readings, trunk shows, concerts, and other events.