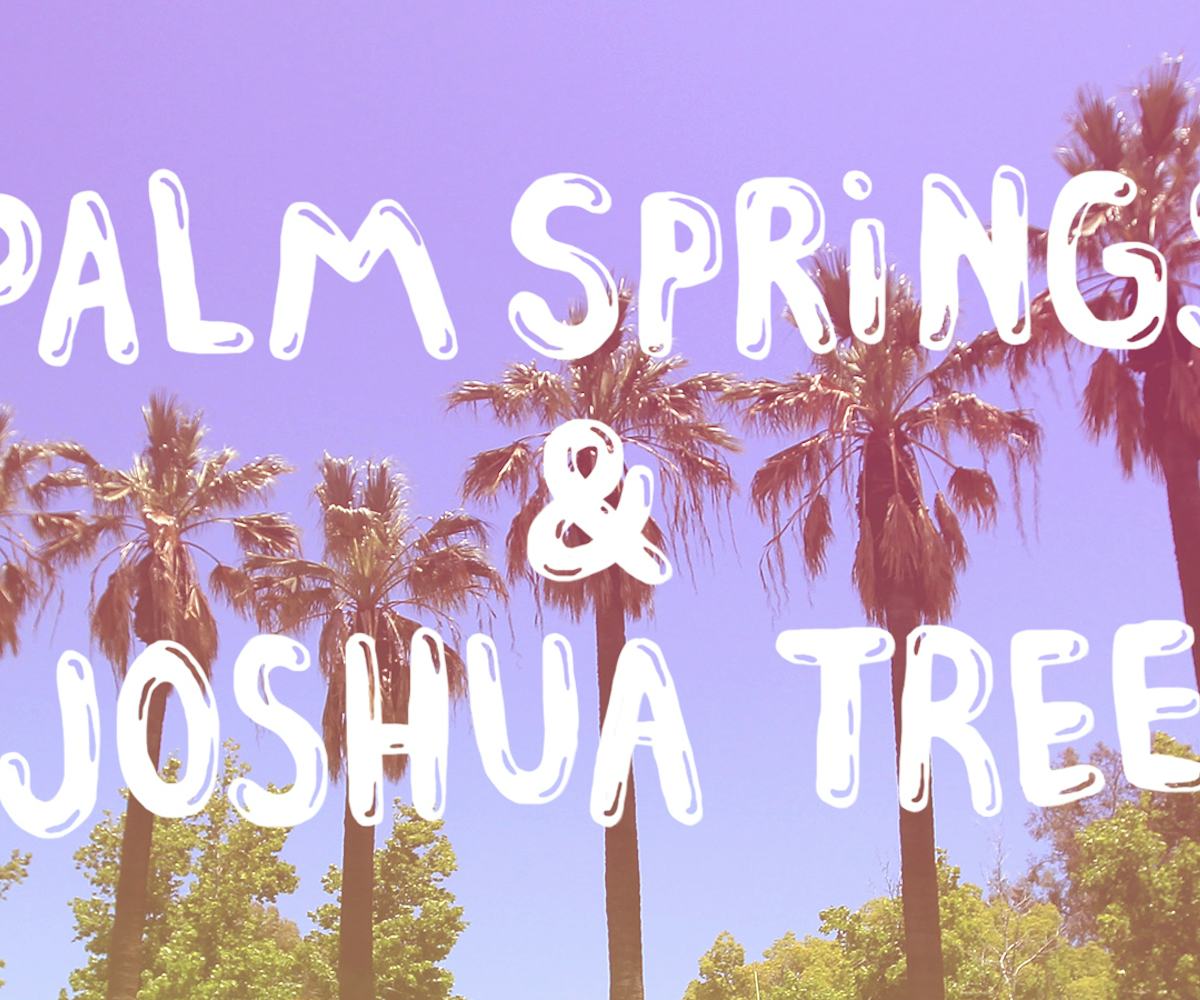 The NYLON Guide To Palm Springs And Joshua Tree
Where to eat, where to drink, and where to stay
If you just go by your Instagram feed, it seems like everyone you know (and, like, all their friends too) is partying in the California desert right now. Sure, lots of them are there for Coachella, but others are either lounging poolside in the glorious dry heat of Palm Springs, taking in the massive outdoor art installations at Desert X, enjoying the beauty of this year's glorious desert bloom, or hiking through the natural beauty of Joshua Tree National Park. It's enough to make anyone stop what they're doing and book a vacation out in the desert ASAP.
But where to begin? Don't worry, having just come back from our own Palm Springs-Joshua Tree sojourn, we've got plenty of tips for you (the first one is: don't book your trip in August; temperatures rise to about 108 degrees at that time of year). While Palm Springs proper is about a 45-minute drive from Joshua Tree (the town, yes, but also one of the main entrances into the park), we figured we'd group them together, because as long as you're out there, you should really experience both places. In some ways, they're polar opposites, with Palm Springs still retaining a retro-kitschy vibe, centered around incredible architecture and great vintage shopping, and Joshua Tree being a funkier, hippie haven, that's all about awe-inspiring natural wonders; but in the most important ways, they complement rather than contradict each other, since anyone with an appreciation for laid-back places with positive vibes and all the sun the sky can hold will definitely love both spots.
Read on to find out where to eat, drink, and stay on your next California desert vacay.
Where to Eat: Palm Springs
Cheeky's: Okay, so the lines for this breakfast place can get insane on weekends, but that's only because people know what's up—Cheeky's is insanely delicious. The menu changes weekly, but the waffles and chilaquiles are always good bets. The drinks are notable, too, because Cheeky's makes their own agua frescas and açai smoothies; we're partial to the white peach mimosas, though. Oh, and there's a bacon flight. Try the bacon flight.
King's Highway: You'll totally feel like you've time-traveled back to the coolest part of the 60s from the moment you step into this restaurant located in the Ace Hotel. The food, though, is decidedly modern and elevated, even if King's Highway is supposed to be modeled on a roadside diner. This means you can chow down on an incredible fried chicken sandwich, featuring avocado, refried beans, an herb salad, and the crunchiest buttermilk-fried chicken you've ever tasted. You can also get the excellent Desert Highway burger, which is everything In 'n' Out wishes it was, but really isn't. (Sorry, In 'n' Out fans, but it's true.)
Peninsula Bakery: Craving something sweet while in Palm Springs? Stop by this hidden gem of a bakery, which has some of the best, flakiest croissants we've encountered.
Birba: Owned by the same team behind Cheeky's, Birba offers Italian fare, from meatballs and pasta to dishes like roasted chicken. The thing to make sure not to miss, though, is the excellent pizza. We're partial to the Braised Greens and the Roma Roma, which comes with romesco sauce, gorgonzola, and brussels sprouts. Pair it with a super-refreshing Hello Nancy, made up of vodka, lemon, grapefruit, elderflower liqueur, and soda.
Where to Eat: Joshua Tree
Crossroads Cafe: This casual joint might be no-frills, but the food is ultra-delicious. Things not to miss include Mike's Mess, a massive egg scramble with potatoes, bacon, mushrooms, cheese, tomatoes, and more, and the Piggy Pancakes, which come with bacon and green onions baked in. To drink alongside, get an Arnold Palmer, which is made with freshly brewed iced tea and house-made lemonade. Delicious.
Natural Sisters Cafe: This hyper-healthy spot offers towering sandwiches and salads plus delicious smoothies (try the Killer Bee, which comes with a stimulating dose of bee pollen) for ridiculously fair prices. What's not to love?
Kasa Carniceria y Taqueria: This low-key taqueria is hidden away in a Yucca Valley strip mall, and is the perfect place to refuel after a long day of hiking in Joshua Tree. Try the tamales and the tacos al pastor, and wash it all down with a perfectly sweet Mexican coke.
Where to Drink: Palm Springs
El Jefe: The food at El Jefe is excellent (OMG, try the nachos), and that's a good thing, because it allows you to indulge in even more of the spot's on-point margaritas (OMG, try the watermelon) or one of the other many incredible cocktails, like the refreshing Paloma or the aptly named Mexican Firing Squad.
Bar: This spot boasts an amazing backyard and an even more amazing drinks menu, with a huge assortment of whiskeys (including our personal favorite, Angel's Envy) and a combination of beautifully made classic cocktails, like the Penicillin and Old-Fashioned, and newer boozy choices, like the Naked & Famous with mezcal, Aperol, and yellow chartreuse. Yes, please. 
Bootlegger Tiki: We're pretty big fans of tiki drinks no matter what, but there's kind of nowhere better to indulge in the retro goodness of tiki bars than Palm Springs. So go check out Bootlegger Tiki and drink a Mai Tai or two. You'll be glad you did.
Koffi: This is a Palm Springs institution (well, institutions, since there are three locations), and no wonder: The coffee (which they roast themselves) is delicious, and is just what you need to help you wake up—especially with a house-baked muffin on the side.
Where to Drink: Joshua Tree
Joshua Tree Coffee Company: Their website states that they offer "the best coffee ever," and that's not hyperbole. This coffee is unbelievably delicious and we became pretty addicted to it while we drank, like, way too much of it over the course of our vacation there.
Pappy and Harriet's Pioneertown Palace: This iconic local spot is home to an incredible music venue, as well as some kick-ass barbecue and margaritas served in Mason jars. The musical acts range from local bands you might never have heard of to those you've heard of but not everybody you know has, like Jagwar Ma, to, like, Future Islands. It's a magical place, and did we mention how good the barbecue is? It's good.
What to Do and Where to Shop: Palm Springs
Palm Springs Aerial Tramway: Maybe this sounds to you like a straight-up touristy thing to do, and you're not into that? Well, get over it, because this glorious ride up to the mountain top from the valley floor will give you spectacular views of all of Chino Canyon, and a newfound appreciation for the gorgeousness of this spectacular part of the world.
Vintage Oasis: This is an incredible place to find vintage treasures for your home, from excellent lighting options to neon signs to old Eames chairs to, we don't know, pinball machines, should your nostalgia-loving heart desire?
Desert X: Running from mid-February through the end of April this year, Desert X is an enormous art undertaking, with more than a dozen artists contributing massive works that are integrated into the landscape of the Coachella Valley. Of particular note, perhaps, is Doug Aitken's "Mirage," a mirrored house set up in the hills above Palm Springs, which glows like a beacon in the light of the setting sun.
Salvation Mountain: Okay, so this is a bit of a drive out of Palm Springs, but it's totally worth it so that you can see this wild (and enormous) example of outsider art, which stands as a testament to the idea that god is love and god is all, so all is love. It's trippy and beautiful and absolutely not to be missed.
What to Do and Where to Shop: Joshua Tree
Joshua Tree National Park: We mean, obviously. But also, there's nothing obvious about the wonders that can be had within; don't miss boulder scrambling in Rattlesnake Canyon, or the glowing glories of Cholla Cactus Garden at sunset. And make sure you do at least one overnight in the park because the night sky is like nothing you've ever seen before. We also recommend hooking up with the Joshua Tree Climbing School to better experience all the park has to offer. Not only can the guides walk you through the basics of climbing, but they're also bound to give you expert advice on all activities available in the park.
Noah Purifoy Outdoor Desert Art Museum: This incredible outdoor museum is comprised entirely of found objects, and was the final work of celebrated sculptor Noah Purifoy. Visiting it is also something of an existential experience since the sculptures are all meant to weather and eventually disintegrate in the harsh desert elements. They're transitory, and so are we. Ahhh!
Integratron Sound Baths: This building looks like a grounded UFO, and that makes sense because it was founded by a UFO believer named George von Tassel, who said that "the structure is based on the design of Moses' Tabernacle, the writings of Nikola Tesla and telepathic directions from extraterrestrials." So while the Integratron isn't currently used for its original intent (time travel), you can go experience a sound bath, and those are pretty damned incredible, too!
Smith's Ranch Drive-In: This just proves that retro isn't only for Palm Springs—go check out the most old-school way possible to see movies at this classic drive-in, which will make you nostalgic for a time before you were even born. Plus, it's only $5 to watch the double feature, so you're also getting a hell of a deal as you hang out beneath a canopy of stars, watching the stars on the screen.
Sky Village Market Place: This massive swap meet is home to, well, pretty much everything, from "junk to gems" as their website puts it. It's the ideal place to round out your crystal collection, as there's always plenty of gorgeous options for sale, as well as being a great place to find vintage jewelry and cowboy boots.
Where to Stay: Palm Springs
The Parker: This hotel is crazy charming and has pretty much everything you want: fire pits, oasis-like pools, beautiful gardens replete with winding paths and hidden nooks, hammocks, and some of the most beautifully appointed guest rooms anywhere (thank whimsy designer Jonathan Adler for that).
The Ace Hotel: We love this spot for its decidedly mid-century retro vibe and incredible, massive pool. Plus, there are ping-pong tables! What's not to love, really?
Airbnb: We love a hotel (no, really, they're among our favorite places on earth), but it'd be sort of silly not to check out the Airbnb options while in Palm Springs because there are so many amazing houses (with pools!) in which you can stay. This is definitely the perfect option if you're going with a group.
Where to Stay: Joshua Tree
Mojave Sands Motel: While tiny, this revamped roadside motel is impeccably designed, though still low-key enough to be emblematic of its desert surroundings. As would be hoped for, there are cactus gardens and fire pits, and even a reflecting pool to kick back near. It's a magical little place, right there in the high desert.
The Joshua Tree Inn: Well-located for anyone who wants to spend most of their time hiking in the nearby National Park, the Joshua Tree Inn is a lovely spot and features a pool, which can feel awfully nice on those super-hot days. Be aware when booking, though, that the reason Room 8 costs a bit more than others, is because that's where musician Gram Parsons died from an overdose in 1973; a guitar-shaped shrine faces the room's entrance.
Airbnb: See our Palm Springs reasoning on this one. Lots of people have second houses in the Joshua Tree area, so there's usually an abundance of awesome places to stay for not all that much money.