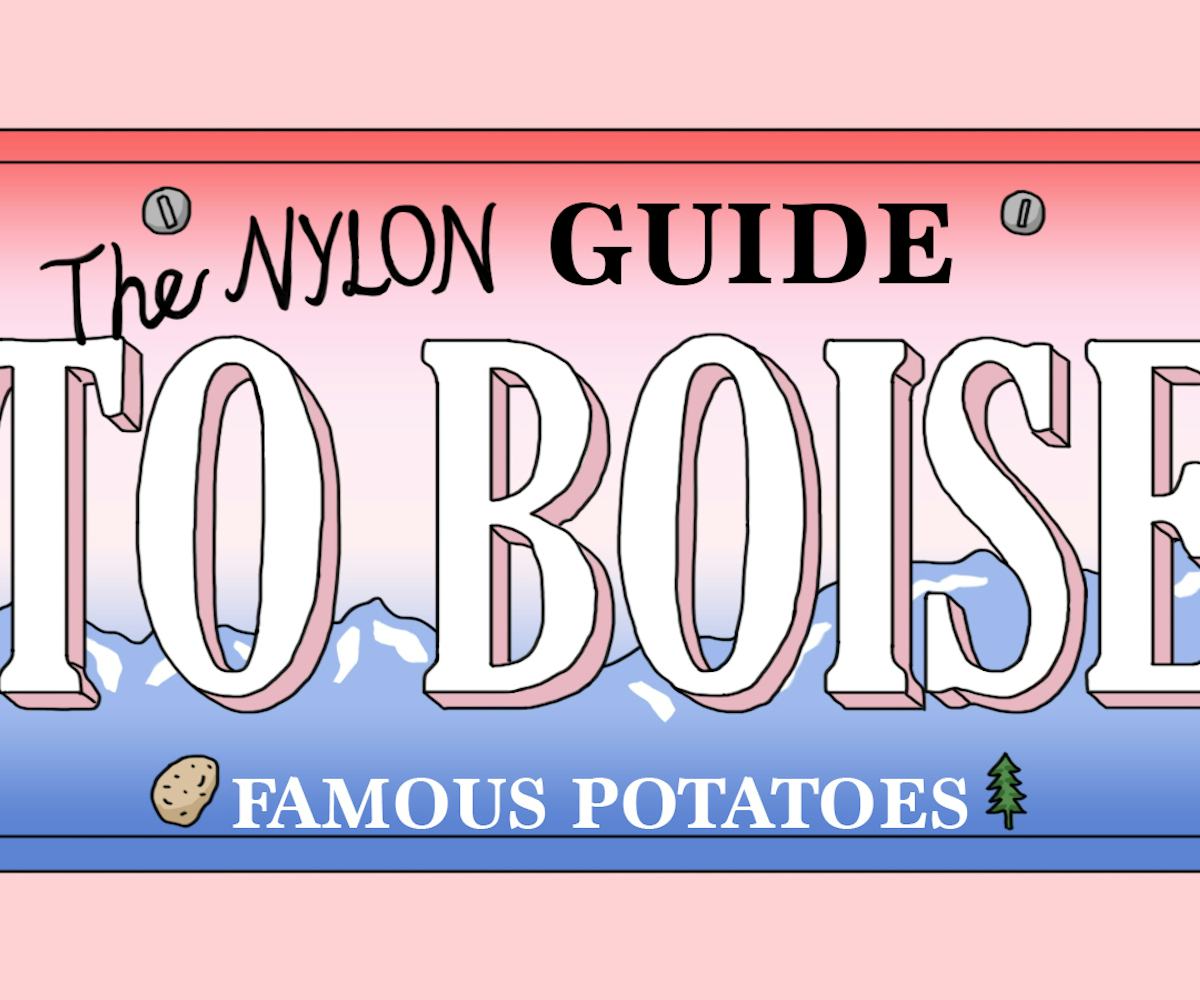 Illustrated by Jihyang Lim
The NYLON Guide To Boise, Idaho
17 hot spots to put on your list
When you think about Idaho, the first thing that probably comes to mind is potatoes. Of course, there's so much more to the state than what comes out of its soil. It's a place of real natural beauty, where it's impossible not to be in complete awe of the mountains, rivers, and parkland. Plus, breathing in all that clean air will really change your perspective on the world around you. I recently had the opportunity to spend five glorious days in Boise for Treefort Music Fest. In between all of the indie rock showcases that were spread throughout the downtown area, I had some free time to explore the heart of Treasure Valley. I was lucky enough to have had the advantage of being shown everything that this pleasant city has to offer from local residents, and now I can share that wealth of information with you. Here, then, are 17 must-see spots you need to hit when you visit the City of Trees.
WHERE TO EAT: Bleubird
This is the best sandwich shop in downtown Boise, hands down. But New Yorkers, brace yourselves: You will not be able to rush in and out of here like you're used to. If it's crowded, it will take around 20 minutes to wait to place your order and then another 10 minutes to receive it. It's totally worth it, though, because the sandwiches are huge and delicious. I devoured the turkey and brie one, but I've been told that they have the best Reuben in town. You'll be full for half a day after you eat here. I also highly recommend sipping on the homemade pomegranate and sage soda.
WHERE TO EAT + DRINK: Bittercreek Alehouse 
Locals say that this is where you get the best burgers in town, and I am inclined to agree. The french fries are served fresh out of the fryer and are finger lickin' good. You also know you're in good hands when there's kombucha on the beer menu. If you can, request a tour of the cellar and basement—you absolutely cannot leave without peeping the worm farm where everything in the restaurant is composted as well. Bittercreek is the first-ever green restaurant in the continental U.S. to vermicompost.
WHERE TO EAT: Wild Root
Breakfast sandwich lovers, this place was made for you. Reading the menu will make your mouth water, so you might want to stay away from scrolling through the restaurant's yummy Instagram page. The best part is that the menu is created to complement seasonal and local produce, a trait we love in restaurants.
WHERE TO EAT: Basque Market
This is the hotspot at lunchtime on Wednesday and Friday when you can come on by at noon for a huge helping of seafood-studded paella and warm, crusty bread. This spot also hosts several events during the month, like monthly breakfasts and tapas evenings. You might be in Idaho when you visit this restaurant, but you'll feel like you're in the heart of Spain's Basque region.
WHERE TO EAT: High Note Cafe
This is another solid option for breakfast with a hospitable staff that really takes care of you. No surprise that this destination slides in live performances in the evening. Twice a month, they have karaoke if you're into it.
WHERE TO GO: Idaho State Capitol Building
It never hurts to squeeze some culture into your trip. You can casually stroll through this landmark without the hassle that typically surrounds the capitol buildings in other cities. If you're lucky, you might even be able to pop into a real meeting happening in the House or the Senate. Don't forget to capture the moment with a picture by the bell mounted out front; it's a replica of the Liberty Bell in Philadelphia.
WHERE TO GO: Idaho Black History Museum
I did not expect to stumble upon this while staying in Boise—it's a city that's very white—so it was all the more wonderful of a surprise to find this treasure at the Julia Davis Park. In all honesty, this might be Boise's best-kept secret! It's a small exhibit with a series of displays placed inside the St. Paul Baptist Church, but it outlines the little-known history of this nation's "Black Idahoans." It's no Smithsonian, but, at least, it exists.
WHERE TO GO: Neurloux
At some point, you have to catch a show at this dive bar. It only costs $5 for a glass of wine, and the rest of the drinks at the lounge are also on the cheap side. If the music isn't enough to keep you entertained for the evening, there are arcade games in the back. It's the ideal spot for some quality chilling time.
WHERE TO GO: Jack's Urban Meeting Place (JUMP)
This nonprofit creative hub is the coolest place to pop by for events, classes, or just to hang out. While you wait in the lobby, you can play with all of the games and equipment that are at your disposal. 
WHERE TO GO: Boise River
Take in the view as you walk on the bridge over the river, or ride a bike alongside it via the constructed path while whistling the chorus of Lykke Li's "I Follow Rivers." While I was in Boise, the water was higher than normal, so I could pretend I was chasing waterfalls.
WHERE TO GO: The lady's bathroom downstairs in El Korah Shrine
Not only is it pretty, but it's perfect for creating content to post on Instagram. You're welcome, digital influencers. Did I forget to mention that it is an award-winning bathroom?! It would be rude to not take a selfie at the powder counter.
WHERE TO SHOP: The Record Exchange
Does your local record store have all of the music your heart could desire, plus a cafe and gift shop? Didn't think so. Music lovers could practically live inside this place; it has everything you need to survive in this cruel world. The gift and coffee shop inside is called The Edge, and they make the best chai lattes in town. Sometimes, artists will do pop-up performances in the back of the store, which is also pretty cool. We gave this place a shout-out on our site a few years back, and we stand by that praise.
WHERE TO SHOP: Serendipity Boutique
This consignment store is a keeper of rare gems. You can find plenty of designer clothing and even costumes here, all for a total bargain. Pretty much anything goes with these vintage clothes. Say goodbye to all of your money.
WHERE TO SHOP: Mixed Greens
Good gift shops are hard to come by these days, but this spot goes above and beyond. The selection of items is almost overwhelming—there are jewelry, bath and body products, homeware, paper goods, plants, and more. No need to waste your coins at the airport gift stands!
WHERE TO SHOP: Swank Boutique 
Boho will never be out of style, and this is sort of the mecca for all the free-spirited shoppers in Boise. You can get your hands on popular clothing brands like Free People, Hudson, and Good HYOUman. Should you identify as a cozy girl, you'll find much-needed comfort in this store.
WHERE TO SHOP: SHIFT Boutique
This sister-owned store is described as a "scrappy retail boutique," but it carries some of the highest quality clothing in the area. The environment is super-inviting, something that the founders envisioned because they wanted the store to be a place where women could come together and engage. 
WHERE TO SHOP: Idaho Made 
All of the art and crafts sold in this store are made by local, independent artists. They have an assortment of goods from jewelry and bath, body, and hair products to knits and recycled and upcycled items. If your eye is drawn to unique pieces, make sure to stop here so you can stock up on some stuff.