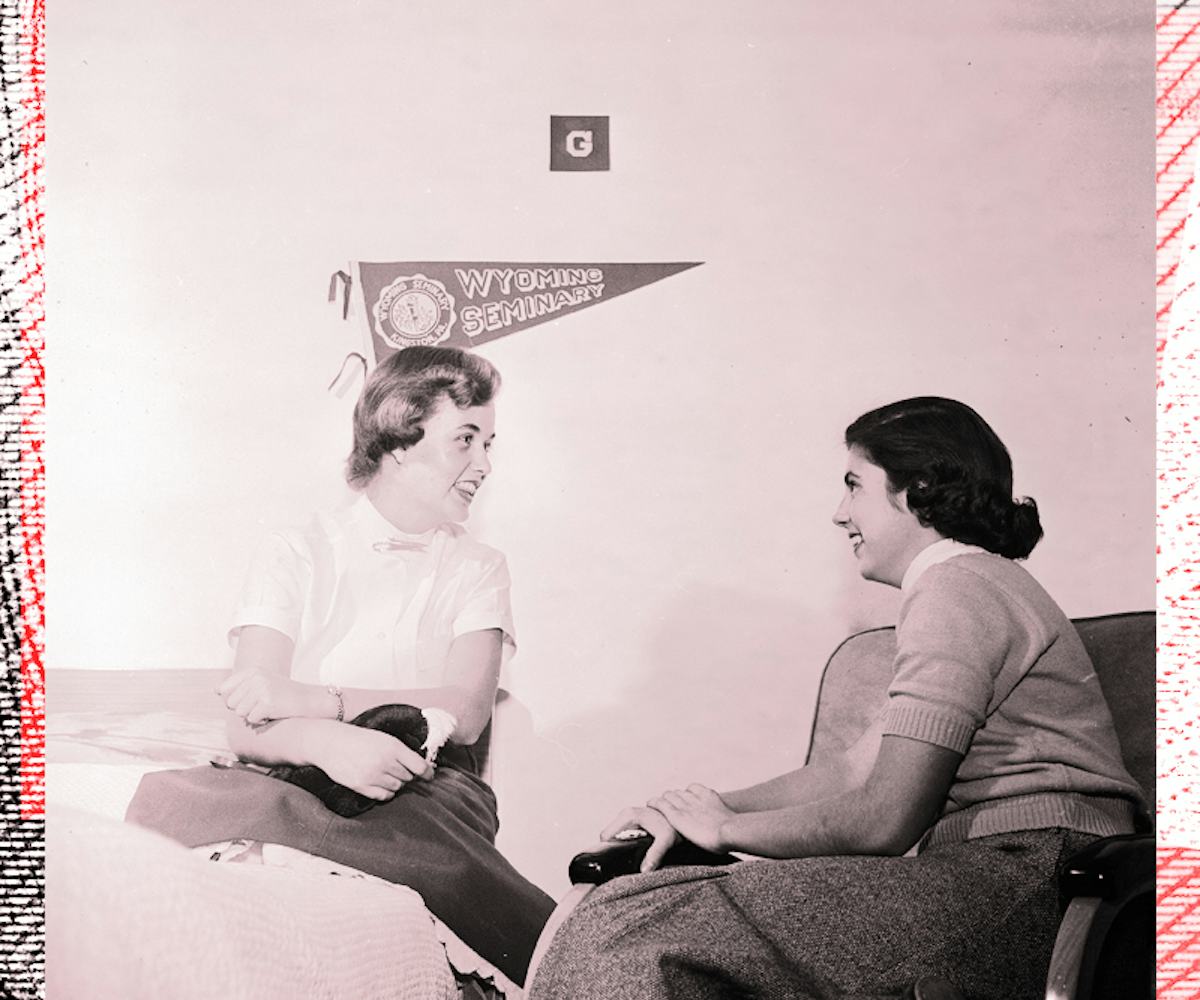 Photo via Getty Images
How To Have The Best Dorm Room, Ever
We turned to experts for tips on making the most of a small space
College move-in day is quickly approaching, and, if you haven't already started, it's time to start getting your dorm in order.
While you may be picturing your post-high school life as running from class to class and party to party, the truth is you're going to be spending a lot of time in your room. Whether you're working on homework and projects, hosting group study sessions, or squeezing in some time to relax or nap in between classes, your dorm is going to be your new home away from home. With that said, figuring out your decor and making the most of a (most likely) small space is crucial.
It's a lot more than buying yourself a cool duvet and pinning photos of friends and family to a bulletin board. Developing your dorm room into a creative space you love being in will improve your overall college experience. We chatted with expert interior designers Ashley Darryl and Ashley Bussell of Laurel + Wolf on how to kick off the school year with a strong dorm game.
Click through the gallery below to read on.
Just because your dorm room is laid out in a particular way, doesn't mean it has to stay like that. Instead of living in a cookie-cutter space that looks like everyone else's room on the floor, take the time to reorganize. "Dorm room layouts are rarely an example of efficient space planning," says Bussell. "By taking matters into your own hands, you can make your room feel much more sizable and unique. We recommend moving the beds into an 'L' shape with one bordering a window and one bordering a wall."
If your dorm gives you the option to loft your bed, Bussell says to go for it. "A raised bed will clear up floor space, making your room feel much bigger," she says. "Move your desk or comfy cushions and blankets underneath to create a cozy study space. Come finals week, when everyone's in the library, you'll truly appreciate your quiet little nook."
"Cramped quarters don't have to cramp your style," says Bussell. "Finding space to store your stuff just requires a little creativity. Our motto? Build up! Raise your bed off the ground, and put a set of drawers underneath to free up floor space. Stack your microwave on top of your mini fridge or television on top of a storage container. Look at every nook and cranny—desk drawers, closet floors, corners between furniture—as an opportunity to conceal unsightly objects."
Darryl suggests investing in stackable storage units, such as the space-saving cubes from The Container Store. "My favorite are the boxes you can stack in any configuration to make a shelving unit," she says, "You can even use them to display books or even decorative items." Floating shelves are also a good investment, as they're a fun and useful alternative to art. In addition to using shelves as open storage for your things, Darryl suggests leaning picture frames and small plants on them "for an added touch of color and whimsy."
Dorm rooms normally come with barren white (sometimes cinderblock) walls and the plainest of furniture—pretty dismal sight, if you ask us. There's no better way to make your space unique than by adding colors and prints into the mix, but there's a way to go about it.
"When setting out to create a productive work environment, it's important to keep the color palette simple," says Bussell. "For example, incorporating blues and greens while keeping the walls white creates both a calming and productive space."
But how does one bring in color without painting the walls? Darryl suggests adding a splash of bold color with your bedding. "My favorite color to work with is teal—it's bright enough to create a fun environment, yet still understated and mellow," she says.
Bussell also strongly suggests focusing on your bedding, but bringing in prints and textures in addition to color. She recommends "getting wild" by playing with mixed and matched prints in your pillows, duvet, and throws, but also moving on to the rest of your dorm decor. "Cover up an unattractive carpet with a fun area rug," she says. "If you like having friends over, use poufs or floor cushions for extra seating and added color. It's incredible what a few additional textures and textiles can do to make a space feel like home."
We like to think there's nothing a cute terrarium can't fix.
"Dorm rooms tend to err on the side of sterile, but plants can breathe new life into your space," says Bussell. "Go vertical with a hanging planter—succulents are great because they require little care—or make your room feel as lively as a jungle with a large potted tree."
Depending on how much space you have left after move-in day, we recommend going for it. Add as many plants as you can, especially if your campus is in a big city. Make your room your personal escape to nature. 
Lighting and scent can greatly impact the mood of your room, which affects your overall mood.
"Harsh lighting can make even the prettiest rooms look rough," says Bussell. "Change the entire mood of your space with softer lighting. Put a new spin on twinkle lights with a custom marquee sign or create a party in your room with a fun neon piece."
Since you likely can't burn candles in your dorm room, natural room sprays and essential oil diffusers are a great way to add a mood-boosting scent to your small space without filling your room with chemicals (just make sure your roomie is also down with it). Whether it's calming lavender or energizing and focusing grapefruit, it's incredible what tweaking the smell of your room can do.