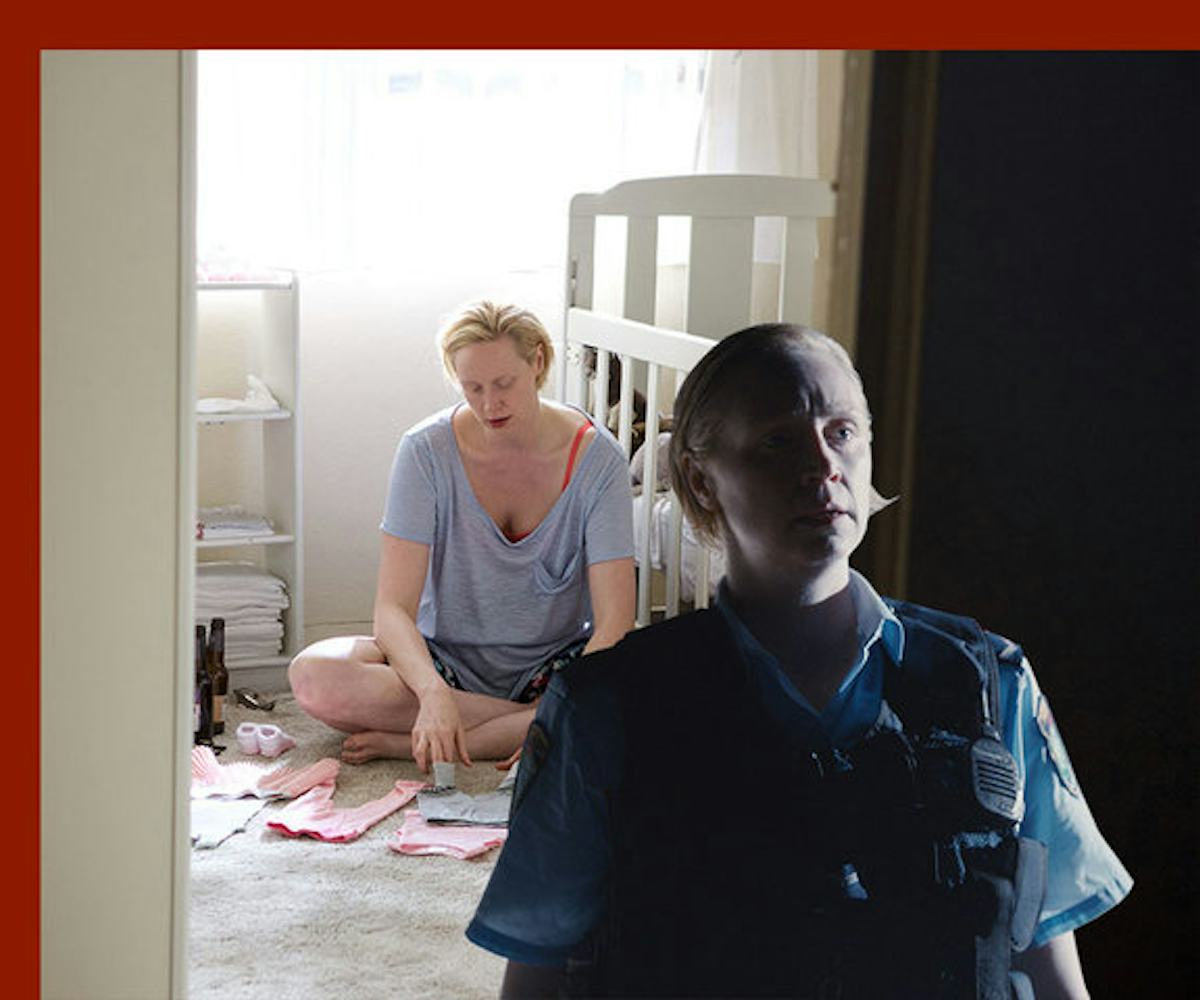 Collage photos courtesy of See-Saw Films
Gwendoline Christie Is Here For Three-Dimensional Feminist Roles
The Brienne of Tarth actor contains multitudes
Gwendoline Christie is best known as Brienne of Tarth, or Captain Phasma if you're a Star Wars stan, but it's her new role in Top of the Lake: China Girl that gives the 6-foot-3 stunner a shot at playing a modern woman, existing and exemplifying life in the real world as opposed to fantastical scenarios alongside ewoks, wookies, or white walkers. As policewoman Miranda Hilmarson, Christie works closely with mini-series star Elisabeth Moss who reprises her role as Robin Griffin, an emotionally closed-off detective whose own history with sexual assault weighs heavy on her work in sex crimes, specifically as it relates to young women being the victims.
Set in Sydney, Australia, award-winning filmmaker Jane Campion is at the helm of this dark thriller, giving both Christie and Moss (as well as co-stars Nicole Kidman and Campion's own daughter, Alice Englert) complex characters to inhabit, and, as a fan of the first, that's exactly why classically trained Christie was dying to be a part of this second installment.
"Ever since I watched The Piano when I was about 13 years old—the timing was so interesting because there was a woman who had a blossoming, unfurling sexuality with a sense of self and there was I, 13 years old watching this with my own adosdence unfolding before me and being able to see that beautiful film," Christie told NYLON. "To see the world through a woman's eyes—was incredibly powerful and had a huge impact on me. Holly Hunter's wonderful strong yet delicate performance—it was very inspiring and we need more of that."
On the case to find the murderer of a young girl found dead in a suitcase in the ocean, Miranda maintains strength while also exhibiting highly emotional sensitivity. Off the job, she's highly sexual, and unafraid of judgment, free of self-imposed shame. She's a true foil for her partner, and Robin isn't interested in having anyone as a teammate, much less a boisterous newbie who hasn't yet learned how to command respect from suspects or the general public at large. But Christie said she "fell in love" with Moss (whom she affectionally calls Lizzy); that she's admired her work for years, and was nervous before their first meeting at rehearsals.
"She was absolutely delightful and so charming and we did this improvisation together and that improvisation has ended up in the show," Christie said. "Obviously Jane and Gerard sculpted it with their genius, but almost word for word what we did that day—and we were on the floor and crying, everything—everything—went on in that scene. It was electric and I thought, 'Wow, this is fantastic. This is exciting to me. This is the kind of work that really invigorates me!'"
Christie has had the luck of playing women who are just as comfortable wielding weapons or slinging insults as her male counterparts are, but what she loved about Miranda, specifically, was her imperfection.
"I absolutely love and adore the role of Brienne of Tarth and feel hugely fortunate to have played that role and feel really enormously fortunate—what I've loved about it is she is an outsider; she's someone who has been maligned for the way that she looks, and she's overcome that obstacle," Christie said. "What was interesting about the character of Miranda is that she struggles—she isn't very god at anything; she isn't very successful at life, and that's probably closer to the reality that many of us feel, actually. So it was thrilling to me to play an intensified drama to explore real themes of humiliation and to be also to enjoy the humor of the character; to enjoy her enormous open heart and her wonderful sense of fun and spirit that she has. That was really interesting to me, to be able to use those acting muscles again. And to also be encouraged by [co-director Ariel Kleiman] and by Jane to go further and to explore her in all of her gawkiness and strangeness and emotional, emotional, deeply emotional nature in an emotional way in which she approaches every single situation."
Christie said she doesn't want to speak on behalf of the directors, but she does see Miranda "in the feminist realm," just as she does Brienne, largely because she sees them as fully-fleshed in a way so many women characters are not.
"It's something George R.R. Martin said when asked about his characters," Christie said. "When asked about 'Are you are a feminist writer? Is that why you put your women at the forefront?' And he said, 'Well, I always thought of women as being humans.' And so for me, these are characters we are being allowed to explore in a three-dimensional way.
"It's no secret we've lived in a patriarchal society and there is a trend now for strong female characters and I really hope that develops," she continued, "and if any of the parts that I play are considered feminist, then I am delighted and I hope that breeds more of those roles—more women we see in a three-dimensional way; we see their vulnerabilities, their strengths, their cracks, their shortcomings, their power, their softness—and their drive and intellect. I hope we see more of what it is to be a human as a woman."
And not just one kind of woman, either. Top of The Lake: China Girl is an anomaly in the way that it puts several women at the center and asks viewers to identify with parts of all of them; their secrets, their sly manipulations, their complicated, shifting feelings, their co-existing wants and needs, their sexuality. Christie says there's not enough of these kinds of roles available, still, and she's hoping that shows like hers, and the current movement for gender parity in front of and behind the camera, will inspire much-needed change.
"[At the Drama Centre London], I was taught 'Always be in service of an idea larger than yourself,'" Christie said. "It's always been important to me to examine what it is to be human."
Top of the Lake: China Girl premieres Sunday night on The Sundance Channel.