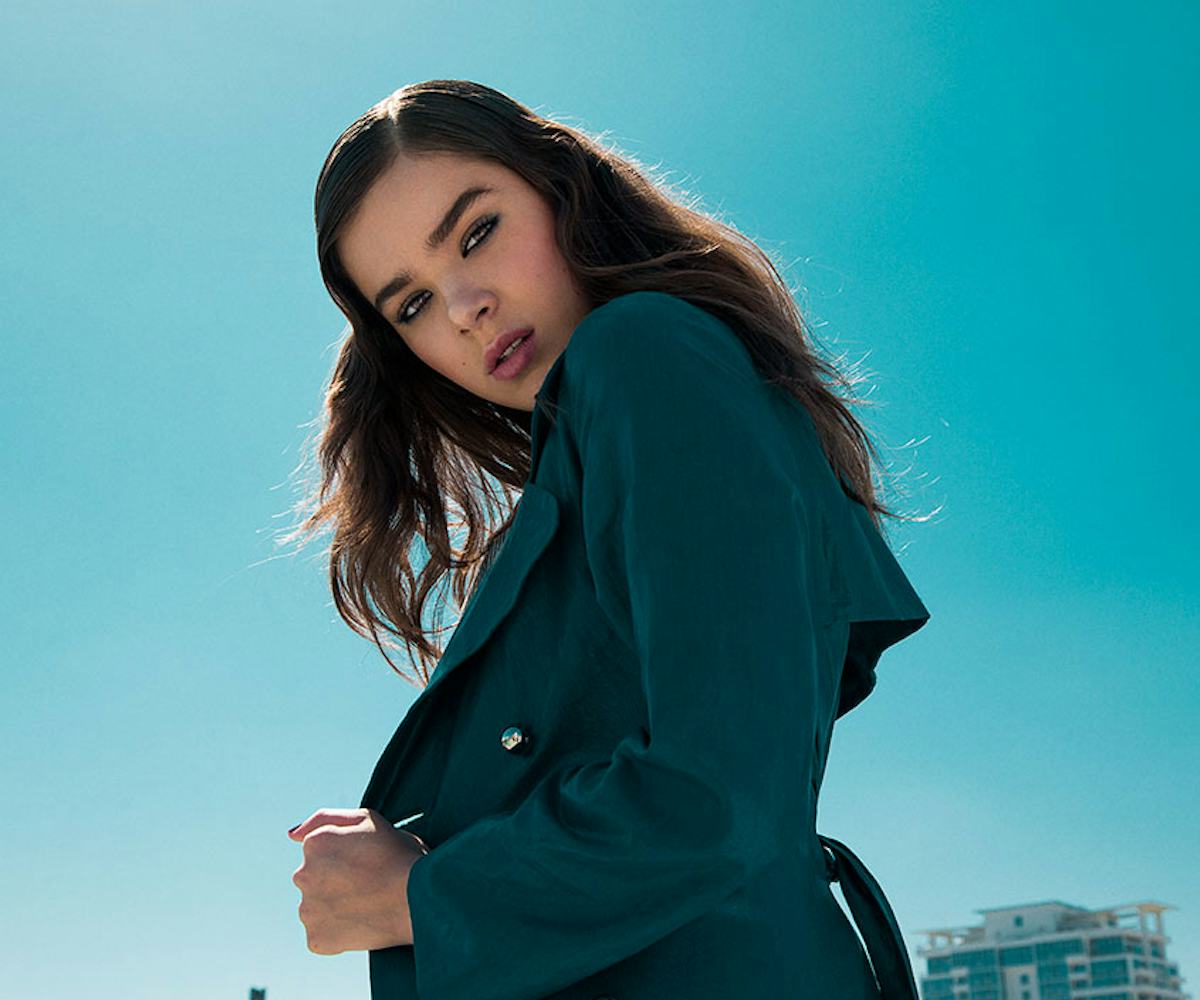 Photographed by Steven Taylor.
It-Girl Hailee Steinfeld Is Loving Herself In A Whole New Way
…now that she's made a career turn of epic proportions
Slouched over a bistro table in a white T-shirt, jeans, and sneakers, with an almost-bare face and her long brown locks dusting her shoulders, Hailee Steinfeld blends in with the patrons at a Calabasas, California café, just a 15-minute drive from the Valley community where she grew up. For once, the 18-year-old starlet, best known for her Oscar-nominated performance in 2010's True Grit, isn't playing a role; instead, she's been busy finding her voice in another side of the entertainment industry, pop music.
At the tail end of summer blockbuster season, Steinfeld's attention was focused on making her pop debut with "Love Myself," a bold self-love declaration à la Beyoncé and Nicki Minaj's "Feeling Myself," which serves as another reminder of how much she's grown up since first hitting the red carpet at 13 years old. "I wanted the first single to be strong," says Steinfeld, beaming at the chance to discuss her music, which she'd been sitting with for months since signing to Republic. Her explanation of the euphoric song—which, in case you haven't closely listened to it, is about masturbation—is just as empowering as its message: "It's nothing to be ashamed of," she says, unflinchingly. "Own it. It feels like people are gaining the confidence to say 'I love myself.'"
While Steinfeld speaks modestly in conversation—she's quick to give props to her "amazing team"—the confidence you hear in her voice on record is well-earned. Music isn't a whim for the sparkling-brown-eyed teen. She began writing songs around the time she was filming the Coen brothers' beloved Western, and has been actively working toward this shift, having recently starred in a film that bridged the two worlds, Pitch Perfect 2. "It was like, 'As an actor, this is what it's like to be a recording artist,'" says Steinfeld of the experience. 
That role as freshman wannabe songwriter Emily Junk was a crash course in music education for Steinfeld. "It felt like I was in school, and my homework was a packet of all my parts and each song," she remembers. Plus, not only is a cappella singing the most unforgiving of music genres, with no backing tracks or vocal manipulation to hide behind, it's also key in understanding the anatomy of a song. "It's the best practice you can get," says Steinfeld. "In Pitch Perfect, sometimes I was the bass notes, the synth, or the lead—and I hear that in songs now on the radio. So I have new respect for everything that goes into a song, just as I did when I did my first movie and realized how many people are involved in it."