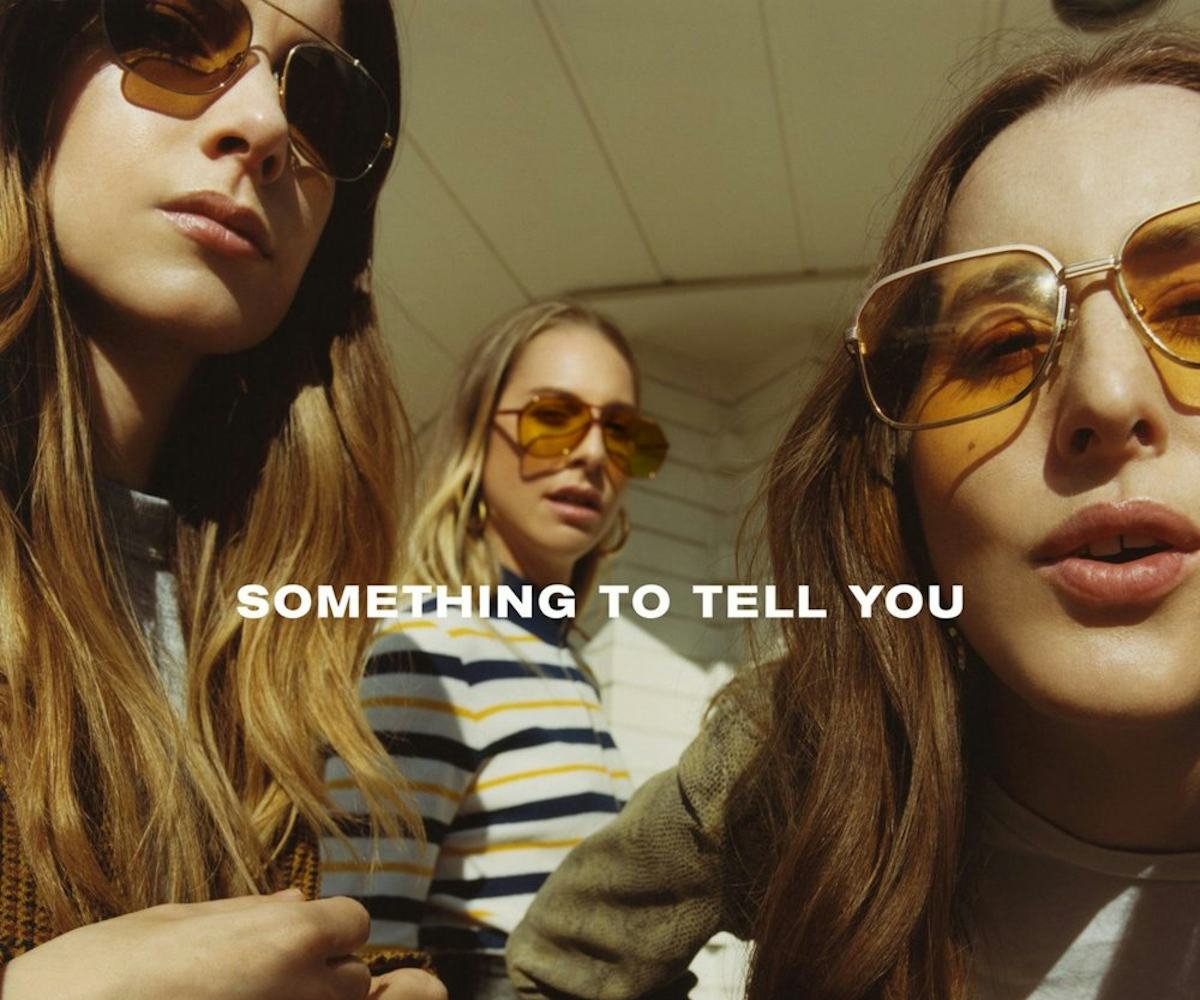 Photo courtesy of Columbia Records
What Is Haim Trying To Tell Us On 'Something To Tell You'?
Este, Danielle, and Alana Haim are cool girls. They effortlessly embody the free-spirited yet biting West Coast cool so many clothing brands just wish they could. The sisters Haim are two parts '80s babies, one part '90s kid, yet all somehow feel ripped from the '70s, while still being completely modern. Or maybe we should just call Haim what they are: timeless. Their debut album, 2013's Days Are Gone, sounds just as fresh today as it did four years ago, after all. And now, Haim is back with Something To Tell You, their sublime sophomore album that looks at the complexities of 20-something romance through yellow-colored glasses.
"Was my love too much for you to take?" they ask on "You Never Knew," about halfway through the album. "I guess you never knew what was good for you," is the reply. But who's doing the talking now? It's ambiguous, really; it could either be read as Haim talking to an ex or to themselves. It's the latter possibility, the one rooted in self-reflection, that knits Something To Tell You together. Throughout the album, Haim explore the push and pull of romance in adulthood's infancy. There's the blissful courting stage ("Little Of Your Love"), the doubtful stage ("Kept Me Crying"), the irritation stage ("Walking Away"), and the second (or third... or fourth) attempt to get back together stage ("Want You Back"). Something To Tell You tells us how messy relationships are; though clarity is found through chaos.
The heaviness of "Right Now," in which a former lover comes back begging for another chance, is unmistakable. As the album's first preview, it paints a picture of strength, sadness, and pity. In terms of the album, though, it's a revelation: It comes soon after "Found It In Silence," Something To Tell You's breaking free anthem all awash in sweeping strings and 20/20 hindsight. "Right Now" could be the album's closer but that would be too romantic an ending. Cool girls, as strong as their character may seem, are still vulnerable beings. "Night So Long" ends the cycle of love lost and found—for now, anyway. A repeat listen proves the cyclical tendencies of relationships; Haim goes back to the beginning of wanting to start again, though the possibility of history repeating itself is something of which they're fully aware. Something To Tell You is Haim's way of telling us that everything that happens once will happen again—and maybe that's not such a bad thing. Maybe that's just life.