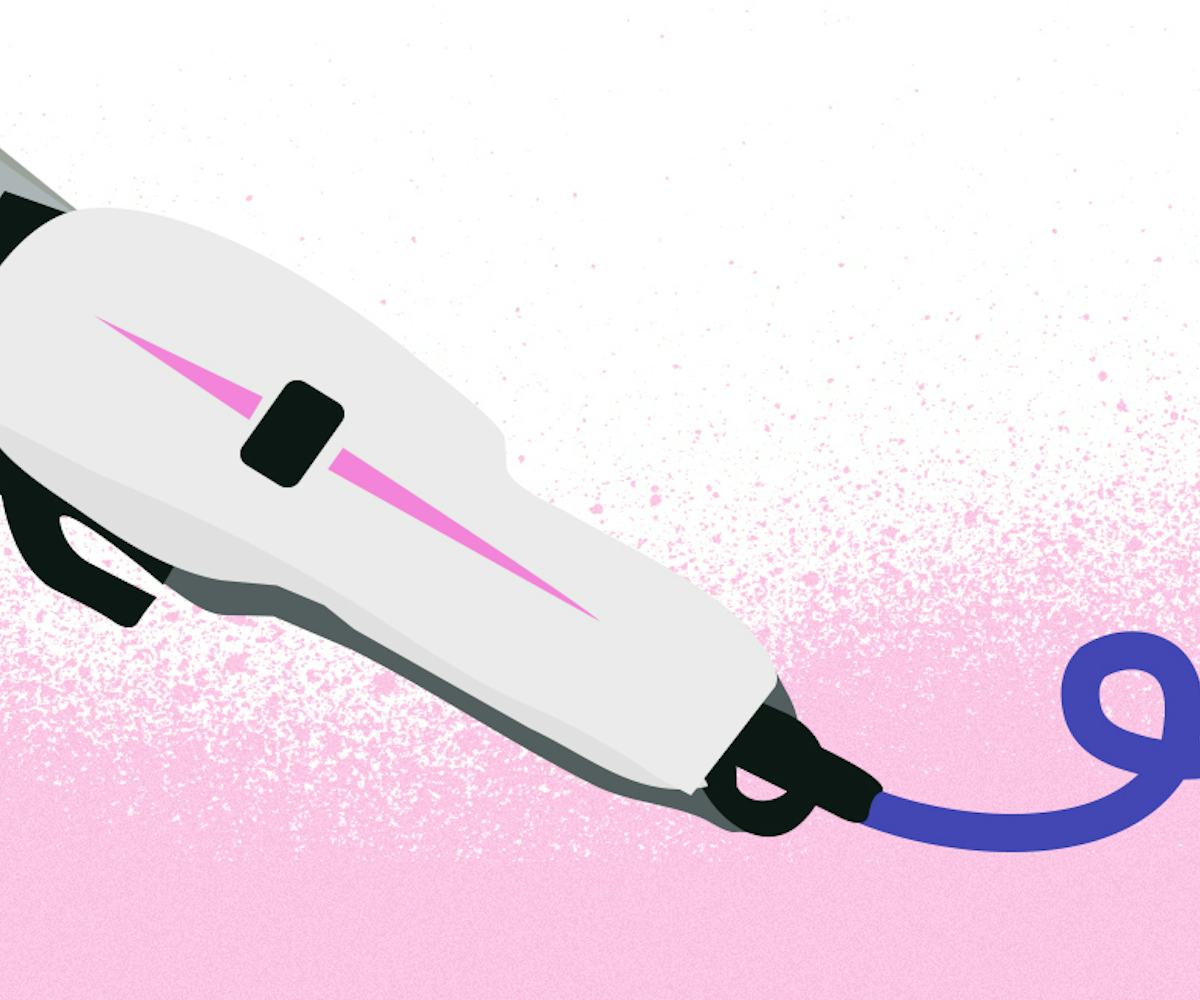 Illustration by Lindsay Hattrick
These Gender-Neutral Barbershops Offer A Safe Space For All
Changing the culture, one androgynous buzz cut at a time
Our hair—the way we cut it, color it, style it or don't—is a crucial part of our self-expression and plays a major role in our self-care routines. That's exactly why NYC-based barbershop Hairrari knows the importance of being not only a destination for a really great cut but also a safe space for all.
Queer Polish immigrant Magdalena Ryczko opened her first gender-neutral barber shop, Manetamed, in 2011 in Williamsburg, Brooklyn. She then went on to open Hairrari in Bushwick, Brooklyn, in 2013 and Hairrari East Village in 2014. Just a month ago, she opened a fourth location, Hairrari West, located right next to her East Village location. In other words, even in the competitive small business landscape of New York City, the brand Ryczko built has been pretty successful. And why is that?
According to Ryczko, it's because she has made sure to stay far away from the ultra-masculine atmosphere that can be associated with barbershops. Rycsko trains her staff to create a range of feminine, masculine, and androgynous styles and educates them on how to make people feel comfortable. "We always strive to put clients first and be a welcoming space for everyone, and through that, we've become queer-friendly, LGBTQ-friendly, pronoun-conscious, and anyone-friendly, really."
Whether it's by understanding how people choose to identify, being sensitive to transgender people who might come in during a transitioning period, or being mindful of pronouns, Ryczko works to ensure that her staff knows how to make all clients feel at home. "As a business owner, I think it's important to set the tone of the shop, and if something is off, to confront that. I think to have your vision come to fruition, one must really define what that vision is and not settle for less. Dream big. In my dream, everyone is equal and treats one another with respect and strives to do their best," she says.
Many of Hairrari's clients had been turned away from other barbershops or salons in the past, whether it's because they're a woman wanting a masculine haircut or vice versa. And that's the exact behavior that Hairrari is trying to stop—making the barbershop a safe space for not only just LGBTQIA+ community but for literally anyone. When speaking of her clients, Ryczko says they're "people from all walks of life, living or visiting NYC, all ages, sexes, and genders. Usually, they want something different, and we have a lot of creative barbers who deliver and are up to the challenge."
And Hairrari is only continuing to grow. The brand also has its own hair care line featuring Mane, an all-natural beard oil, and Dust, a non-sticky texture powder used for styling. Soon, products will be sold outside of its e-commerce site and shops, and the team is working on creating clothing and hats.
But above all, Ryczko and her team are working to define what Hairrari stands for and spread the message of inclusivity. "I think it's important to be conscious of the environment and aware while doing whatever it is we are doing. It's very important to me as a business owner to have a positive influence on society and so far, it has, and that makes me happy."