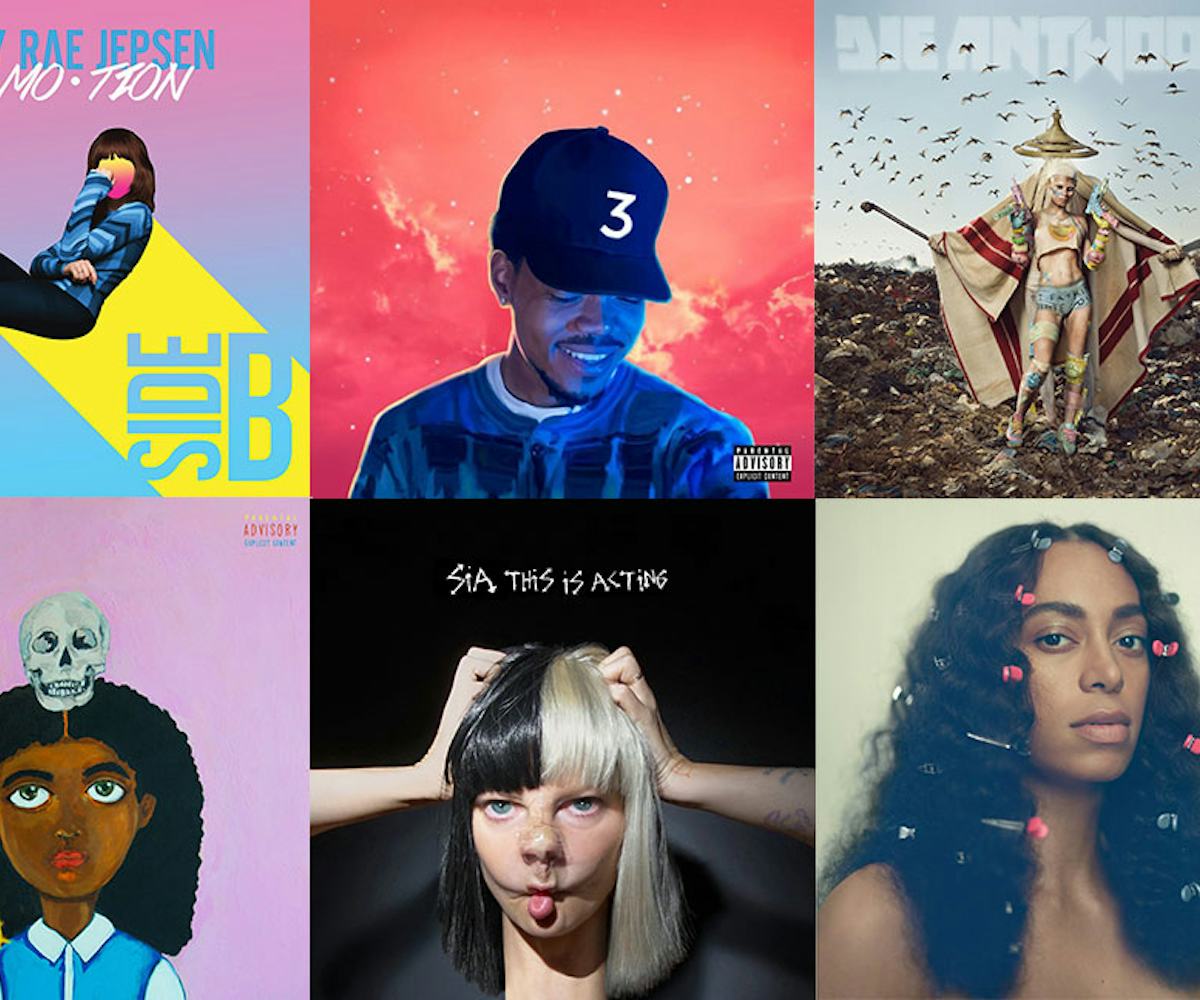 Photo courtesy of Republic; Schoolboy; Chance The Rapper; Interscope; Roc Nation; Interscope; Noname; RCA Records; Columbia; Warner Bros.
10 Halloween Costumes Inspired By 2016's Coolest Album Covers
Halloweeny season approaching. What the what are y'all gonna wear?
This year, forgo the clichés and turn your sights to 2016's coolest album covers. There are plenty and, thankfully, most of them don't require more than two items. What's more, most of the pieces can be worn again. It's an investment in your sartorial future, really. You could very well need a bondage bunny mask one day and, for that, you'll have dangerous woman Ariana Grande to thank. So go ahead and let the rest of the world be one of Beyoncé's many characters in Lemonade. But you, be like Rihanna and do your own thing, darling. Happy Halloween'ing.
Dangerous Woman by Ariana Grande
Ariana Grande traded her cat ears for bunny ears, so you're trading your cat ears for bunny ears.
Adorox, Sexy Bondage Masquerade Bunny Rabbit Mask Adult Halloween Costume Accessory, $13.98, available at Amazon; Zonewetwo, Black V-neck Semi-sheer Chiffon Back PU Cami, $16.99, available at With Chic; Claire's, Crystal Swirl Ivory Fabric Wrap Around Choker Necklace, $19.99, available at Claire's; ASOS, Halloween Lace Up Lace Gloves, $10.99, available at ASOS.
Coloring Book (Chance 3) by Chance the Rapper
We hear you gotta wear this to snatch the Grammy.
New Era, Chance 3 New Era Cap, $45, available at Chance Raps.
Telefone by Noname
Okay: 1) If you haven't gotten into Noname, please do so. 2) This cover is stunning and can really translate into a great everyday look, minus the skull thing. So splurge a little on the actual outfit and then find yourself a skull headband, remove the excess stuff, and you're left with a plain ol' dome. Now you are Noname.
& Other Stories, Panel Detail Dress, $95, available at & Other Stories; Oversized Shirt, $85, available at & Other Stories; Party City, Skull Veil Headband Couture in 'Black & Bone,' $14.99, available at Party City.
Joanne by Lady Gaga
Put a pink cowboy hat on your head and suddenly the Koons is you you are Joanne.
M&F, Western Felt Cowboy Hat, $33, available at Zappos.
Anti by Rihanna
Run to your nearest party store and get yourself one red balloon. The secret here is making sure the crown is oversized enough to cover your eyes. It is probably best you venture out into the night with a buddy for eyesight reasons.
American Apparel, Cotton Spandex Deep Cut Bodysuit in 'Nude,' $34, available at American Apparel; Halloween Costumes, Adult Jeweled Crown, $4.99, available at Halloween Costumes; Shop Style Raiders, Mermaid Shell Hair Tie, $8.90, available at Shop Style Raiders; Thalia Sodi, Handkerchief-Hem Maxi Skirt, $39.99, available at Macy's.
This Is Acting by Sia
This is how your night will go when you rock this wig:
Friend, leaving for the party: See ya soon!
You, post-snapping him a shot of you in your wig: More like Sia soon, amirite?!
AliExpress, Blonde Sia Wig, $19.50, available at AliExpress.
Love You to Death by Tegan and Sara
Grab your sharpest black blazer and smear on the colorful eye makeup. You are now Tegan AND Sara.
Sephora Collection, Ombré Obsession Eyeshadow Palette, $21.00, available at Sephora.
E•MO•TION: Side B by Carly Rae Jepsen
Carly Rae Jepsen is a legend and why you wouldn't want to go as anything but a legend is mind-boggling. Good thing this legend doesn't go too over the top with her looks.
Luxury Divas, Chevron Striped Lightweight Summer Sweater, $18.49, available at Luxury Divas; Simply Vera Vera Wang, Sheer To Waist Tights, $9.99, available at Kohl's.
Mount Ninji and da Nice Time Kid by Die Antwoord
Yolandi Visser will make you feel banana brain and also protect you from whatever fall you may or may not experience.
Soffe, Authentic Soffe Low-Rise, $7.99, available at Soffe; 187 Killer Pads, Lock-In Pink for Knee Pads in 'Pink,' $18.95, available at Warehouse Skateboards; Overstock, Fun Colored Assorted Kids Bandages, $5.29, available at Overstock; 187 Killer Pads, Fly Black Knee Pads, $36.95, available at Warehouse Skateboards; YRU, Tune Pastel Hi, $90, available at NYLON Shop; Sharpie® Permanent Markers, Fine Tip in 'Black,' $1.99, available at Staple's; P TEX, Pro Wrap, $3.99, available at Dick's Sporting Goods; Destroyer, PRO Pink Elbow Pads, $39.95, available at Warehouse Skateboards; MKP Crop Top, Women Fashion Falling In Love Mood Emoticons Sleeveless Crop Top, $5.01, available at Amazon.
A Seat At the Table by Solange
Put duckbill clips in your hair. Boom! You are Solange.
Ckeyin, Multicolor Plastic Hair Clips, $4.57, available at Amazon.