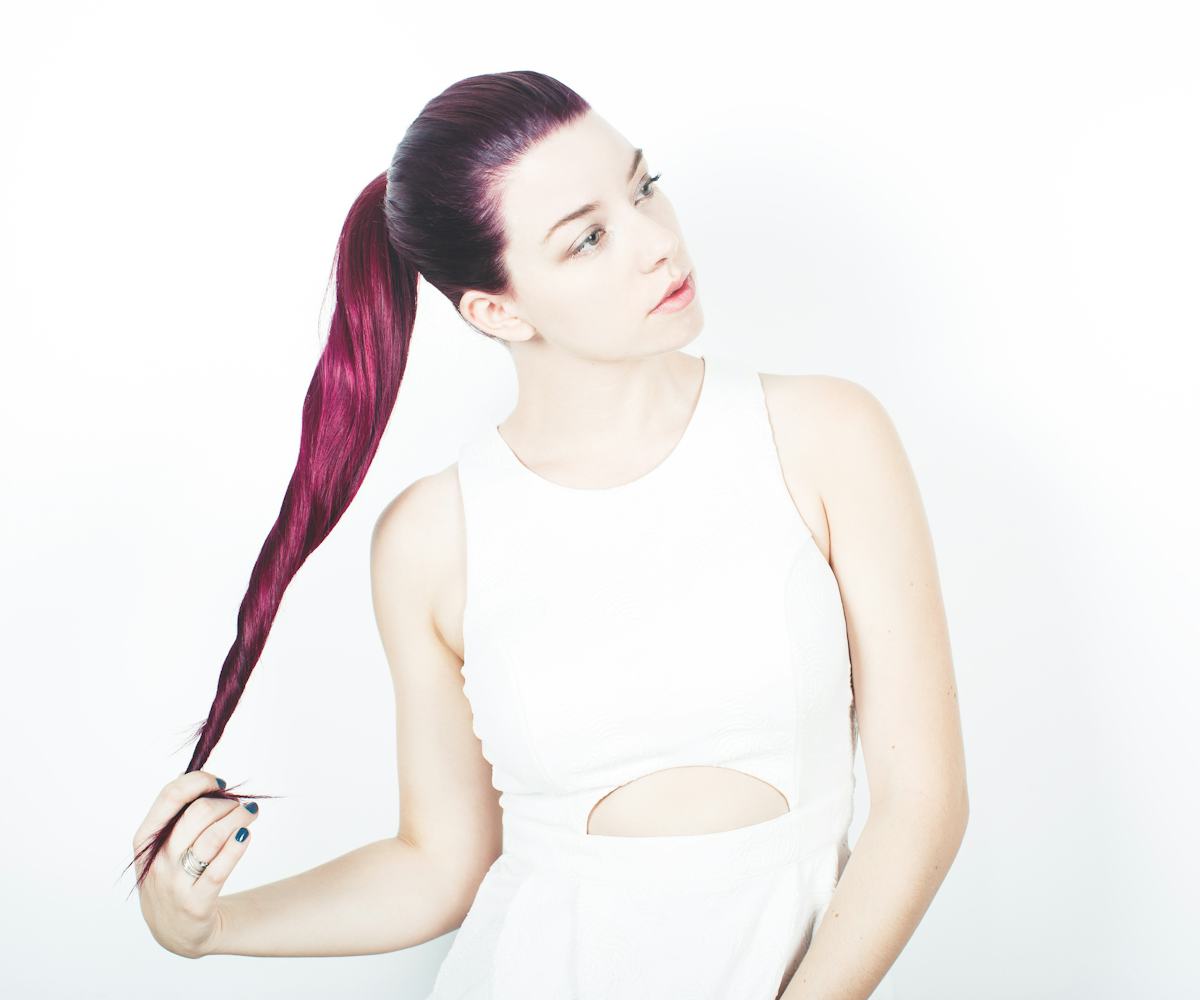 photo by Jasmine Safaeian
premiere: hana's "avalanche"
meet the internet's newest music obsession
This past May, a song called "Clay" by a mysterious singer named HANA suddenly appeared on Soundcloud. When Grimes tweeted the track and told her followers that HANA will be singing backup with Lana Del Rey for on on her Endless Summer tour, people started paying attention. It helped that "Clay," which was produced by Grimes collaborator Blood Diamonds, was an intimate, stripped-down piece of synth-pop perfection, with a hook that burrows itself into your head and refuses to get out. And after Lorde tweeted that "Clay" was "too beautiful for words," HANA became one of those next-big-thing curiosities the Internet spits out every once in a while, with everyone wanting to know who she was and where she came from.  
It turns out that HANA isn't a new artist at all. Hana Pestle, a Montana native who moved herself to California at 17, began as a singer-songwriter who performed on the street. She drove herself across the country, playing show after show on college campuses with nothing but an acoustic guitar and songs that she liked, but didn't love. After meeting Blood Diamonds back in Los Angeles, Pestle reconsidered her career and her sound, learned how to produce music, and gave birth to HANA. Through Blood Diamonds, Pestle befriended Grimes, who invited her on the Endless Summer tour and let her perform "Clay" in front of a live audience on the tour's final two stops (the video for "Clay," which Grimes shot, features footage from these performances).
Since Pestle had yet to set up the kind of industry apparatus that usually comes with all this hype, we contacted her on Twitter, hoping to find out more. Not only did she write back, but the now 25-year-old Pestle offered us the premiere of her follow-up to "Clay," the equally cryptic, vivid song "Avalanche," which Pestle told us is about learning how to say no. 
Here, Pestle talks about how she became HANA, her friendship with Grimes, and what we can expect in the future. And you can listen to "Avalanche" below.
When did you move from Montana to California?
I moved to L.A. when I was 17, like a week after I graduated high school. I packed up my crappy car and drove. I was very excited to get going. I had been dreaming of moving to California my entire childhood. I actually had a map of California up on my wall and had a sign next to it that said "destination."
Did it live up to your expectations?
Well, the first year was rough. I didn't expect it to be, which just shows how naïve I was. I was overwhelmed by how many people are there, and I was used to seeing people I knew at the grocery store. But the more that I got out, made friends, and spent time in the smaller neighborhoods, you kind of figure out how to get by.
What does a 17-year-old do when they first get to Los Angeles? 
I had some friends that lived here, so I was living with them and most of us played music. We would go around and take notes of where to put up fliers for our little shows that were so crappy. I would go by the 3rd Street Promenade in Santa Monica, play there, and make money.
What kind of music were you playing at that time?
I was playing a mix of my own songs and covers. I used to play so many Radiohead covers that it's almost embarrassing. Then, I kind of stumbled upon the college circuit. I was just touring around the country in a van by myself, going from campus to campus, playing around 600 shows.
How did the turning point happen?
About two years ago, I met my now boyfriend, Michael Diamond, who produces under Blood Diamonds. We got matched up for a session, and the first day that I met him I was giving him the spiel of what I do and who I am. And he was like, "Are you happy with what you're doing? Do you want to do that for the rest of your life?" And I was like, "Yeah." But, he was like, "Are you fulfilled with where your music is at?" I really had never been super-stoked with my recorded music, so in talking to him I kind of had a realization of, "Okay, if I truly want to do this forever, I want to grow." So, I took a break from going on the road, sold my van, and Mike helped me. He gave me the tools to learn how to produce music. So for about the next year and a half, I was cooped up making music.
When "Clay" dropped online and everyone freaked out, there was no information about you. Was the mystery intentional?
I really had no idea how it was going to go. When we put it up, our plan was just to have our friends who wanted to tweet about it to tweet about it, so that first day was quite nerve-wracking. I'm sitting at my computer, about to press send on the tweet, and I'm like, this could go nowhere. I'm used to my whole career [consisting] of just putting stuff up—I've never really calculated anything. But that day, we had this slight plan that we're all gonna tweet about it and see what happens. So, Claire tweeted about it and Purity Ring tweeted about.
And then Lorde tweeted about it. What was it like when you first saw that?
I was actually on the phone with Mike in the car when my phone buzzed. It said, "@lordemusic tweeted…" And I was like, "Wait, wait, wait—hold on." And I had to check to make sure that it was really Lorde and not a fan site. So I checked, and I was like, "Oh my god. Lorde just tweeted about it." We were both just screaming. After that, the song got shared even more, and clearly I couldn't have asked for anything better. I actually cried. It's just been eight years of working so hard and not really getting anywhere. I've never had anything as satisfying as that moment.
Did you have a feeling that "Clay" was going to be this popular when you wrote it?
When I wrote ["Clay"], it was a huge breakthrough because I hadn't written a song that so thoroughly expressed what I've been through and how I feel about it. For me, the song was a huge success in that way. The great thing about meeting Michael, Claire, and the guys in Purity Ring is that I've been welcomed into this community of amazingly talented people. So right when I wrote it, I sent it to those people, and they all were like, "Oh my god. This is so catchy. It's been in my head for three days." So I knew I had something that was special, but it wasn't until it went out and Lorde fans were saying, "Yes!" That was kind of the point where I was like, "Okay, this is special to other people, too."
Can you expand on what "Clay" is about? 
Basically, I just had a relationship with a person who was a bit controlling with some slight emotional abuse, and it took a lot for me to get out of it. I am a pretty loyal person and I can be nice to a fault, so it took everything in me to get out. The song is really just about the relationship, but it's also about getting out of the relationship—because getting out of the relationship was almost harder than the actual relationship. 
Can you talk about how you met Grimes and became close to her?
I met Michael about three years ago, and he's so close to her. She came to L.A. for a show early last year and we hit it off, just being musicians who like similar things. We got into it about Harry Potter trivia, and she told me a couple of times, "That's when I really started to respect you. You know more about Harry Potter than me."
How do you feel about some sites, this one included, referring to you as Grimes' protégée?
Claire actually has more of an issue with that than even I did. I kind of just rolled my eyes about it and was just like, "Whatever." She was the first one that texted me and said, "It's ridiculous to call you my protégée." She was like, "I think you've played more shows than I have, actually." But I think that's something that comes along with the territory. It's not like she has mentored me or has much to do with my music, other than sending each other music to get each other's opinions and feedback. Other than that, I'm not really her "protégée." 
What was touring with Lana Del Rey like?
It was so much fun. I really have only toured by myself, so being able to be on a bus that was mostly girls, and mostly my best friends, was really fun. And also me and Claire are both huge fans of Lana, so being able to see her show every night was so much fun. We made a point to try to go out to see it. I was really blown away by her show, and so inspired by it. And she was nothing but gracious and kind every time we hung out with her.
When you came out and performed "Clay" on the last two stops of the tour, did you get the sense that the audience knew who you were and knew the song?
The first night that I did it, it was all kind of a blur. My family was there and I saw my first concert at that venue. I saw the Spice Girls there. It was at Lakewood Amphitheatre, now it's called Aaron Amphitheatre in Atlanta, which is where I was born. I think that fact alone made me so excited, and I really wasn't nervous. I was just overwhelmed by how incredible the moment was. So, I don't really remember much of that one. But the Florida show, I actually got a little choked up a few times because I did see a couple of people out there singing along with me, and I was blown away by that.
How did Grimes tell you that you were going to sing on your own?
When we were on the road up pretty late, she asked if I could do "Clay." And I was like, "Would you let me? I would love to!" And she was like, "I've always thought that it would be so cool to see the background singer break out into their own song." I guess she went to see Beyoncé and she kept looking at the background singer with and thought, "It would be so cool if the background singer [broke] out into their own song." So she was like, "I just really want to see that happen." And then the video came into play, and I was brainstorming what I wanted the video to be like. And she was like, "I can shoot you singing in front of 20,000 people, and I think that would be an insane visual, for a virtually unknown artist to be singing in front of so many people."
What's happening in terms of record labels? Are you getting offers? How you are you handling the business aspect of this industry?
Basically, I'm just focusing on the music. I have gotten emails from many people, and I was just taking meetings to get a feel for their vibe. But I would want it to be the right feel for me to sign. So I'm focusing on just getting more music out, and then I'll take it as it comes. Eventually, I think it would be nice to get support for some bigger music videos and stuff like that, but at the moment I really have an incredible network of friends who would love to help. As of now, I'm just going to focus on working hard, getting my live show together, and seeing where it takes me.
Does the idea of your profile getting larger excite or scare you?
It excites me just to get my music in front of more people. That's really what I've been wanting for the last couple years. The fact that it's something that can happen now is very exciting. Since I do love to perform live so much, I think it's just going to make that even more fun and make my live shows that much more rewarding and exciting.
Do you have enough music to put out an EP?
Yeah, that's what I'm thinking. Right now I do have enough songs for an EP. I don't want to put that in concrete, but I'm probably 90% sure that that's going to happen.
Can you tell me about "Avalanche?"
It's kind of in the same world as "Clay." I love the song so much, just because I was experimenting with using my voice as the main basis of the song—my voice is what is making the chords of the song. That's really exciting, because I think the voice is such an alien instrument; we all have one and they all sound different. The song itself is about my inability to say no and learning about becoming a more assertive person. I'm a people-pleaser to a fault, so this song is about saying no if I don't want to do something, and becoming a more powerful person.