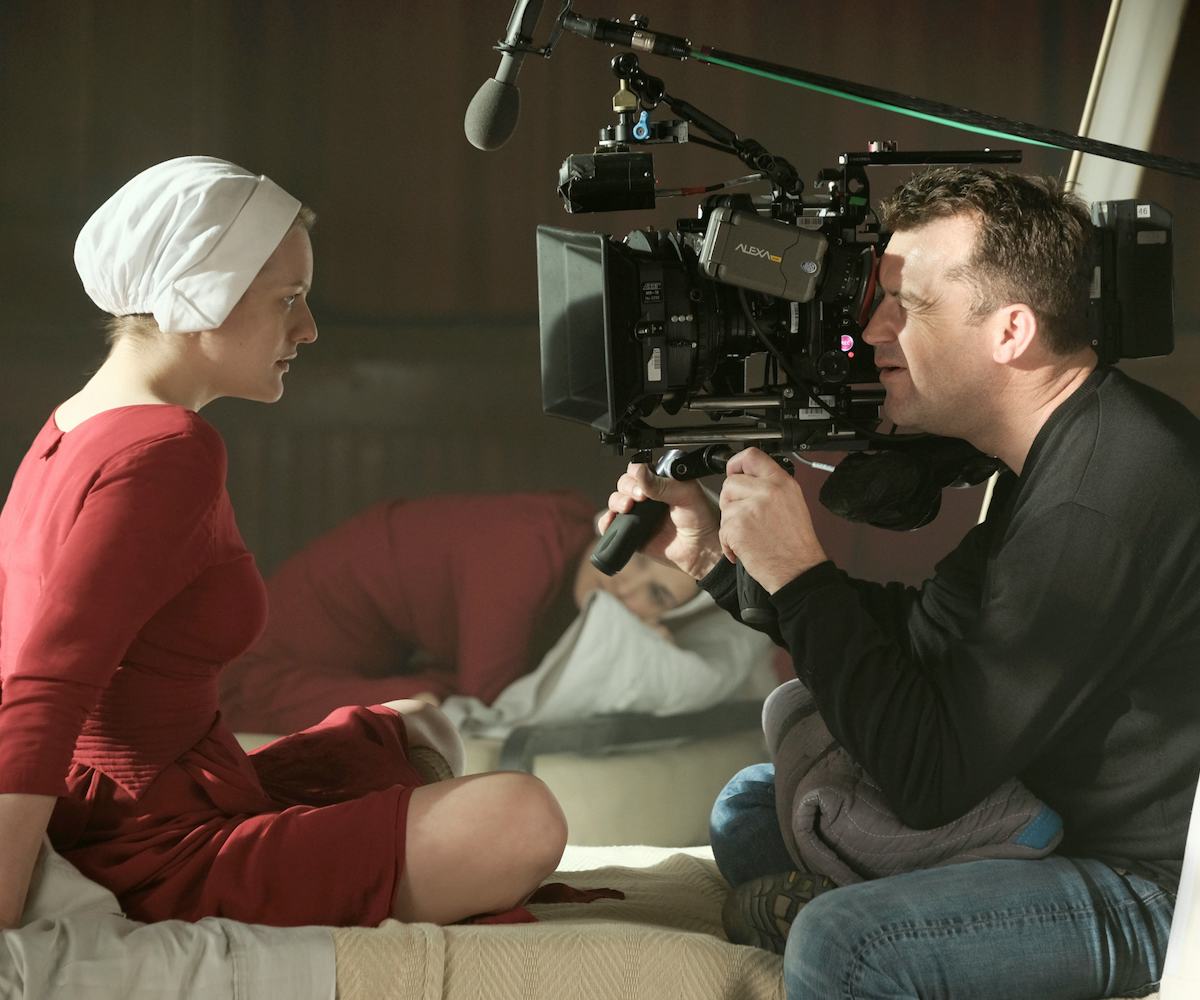 Moss is ready for her close-up.
Here's What We Learned On The Set Of 'The Handmaid's Tale'
The following feature appears in the April 2017 issue of NYLON.
On a dreary January day in Toronto, when the sky and snow are equal shades of gray, a woman draped in a billowing scarlet cloak stands on a remote bridge, ready to jump into the icy river below. Her reasons vary from having had her eye plucked straight from her skull for being disobedient to experiencing a broader, suffocating oppression at the hands of a puritanical patriarchy known as the Gilead. Death, it seems, is her only way out. 
Elisabeth Moss—also wearing that same cloak—cautiously approaches the woman on the bridge. Nearby, a group of producers huddle around some monitors and watch the scene play out while a camera crane looms above. What's unfolding is a climactic scene in Hulu's new series The Handmaid's Tale, based on Canadian author Margaret Atwood's work of dystopian fiction. The jumper is played by a young actress named Madeline Brewer (whom you might remember as Tricia, the doomed heroin addict from Orange is the New Black), and the hollow gash where her eye once was is a prosthetic. But despite the inherent sense of playfulness that tends to inhabit a group of adults who are being paid to engage in make-believe, there's a pervasive feeling among the cast and crew that maybe we're not as far off from this nightmarish vision of the future as we ought to be.
Atwood's novel was first published in 1985, at a time when conservative politics and religious fundamentalism all but stopped the women's movement dead in its tracks with Ronald Reagan sharing tales of  "welfare queens" and anti-abortion rhetoric on the campaign trail. It's no wonder a book set against the backdrop of a parallel world—in which birth rates are plummeting, the American government has been overthrown by a totalitarian theocracy, and women's rights have been totally stripped—struck such a chord with readers upon its release.
Flash forward three decades and women once again find themselves on the political battlefield, fighting for basic rights and equality in the age of Trump. When Hulu green-lit the second onscreen adaptation of Atwood's book in the summer of 2016 (the first was an ill-fated 1990 film starring the late Natasha Richardson), back when there was no way that anyone could have predicted its newfound relevance. "It's a very unique experience, to start filming this thing that you really believe in, and then to start believing in it even more and in a stronger way as you continue filming," explains Moss.
Since rising to fame as Peggy Olson on AMC's Mad Men, Moss has established herself as prestige television's secret weapon, following up six seasons as Don Draper's foil in a pencil skirt by playing a hardscrabble cop in the Sundance Channel's haunting crime saga Top of the Lake. When showrunner Bruce Miller approached Moss with the chance to play the The Handmaid's Tale's central heroine, Offred, she didn't hesitate. Like the book, the series is told entirely from her perspective, after she's taken from her husband and daughter and forced to join a class of women who act as surrogate wombs for the Gilead's ruling couples.
Miller, a veteran showrunner who's reread The Handmaid's Tale ad nauseum since first discovering it in college, admits that Moss was his first and only choice for the role, and fires off superlatives like "astonishing," "remarkable," and "unlike anything I've ever seen before" when describing her performance.
In fact, everyone I speak to on set, from head costume designer Ane Crabtree to co-stars Max Minghella, Yvonne Strahovski, and Joseph Fiennes—who plays a high-ranking Gilead commander and the patriarch of Offred's household—openly marvel at Moss's achievement. "She's in pretty much 99 percent of every episode, and it's a grueling schedule, but you wouldn't know it, because she's always on her game," Fiennes gushes. "But what I found truly inspiring is her ability to find humor in the darkest of places, and the humanity and wit she brings amid all of her character's abuse. To see her character survive is inspiring, and it's why we want to keep watching."
It's Moss and Miller's hope that Offred's survival instinct serves as a source of strength for anyone who may be feeling helpless in our current political climate, woman or man. "If you are in a situation where things are terrible and you feel powerless, like you can't do anything, you can look at Offred and say, 'Well, if she's doing something, I can get off my ass and do something, too,'" Miller says. 
"She's not saying, 'This is just going to be my life and I'm not going to fight back,'" adds Moss. "I think that something very beautiful that has come out of all these recent events in our country is this resistance, this hope— this will to fight back. And that is what Offred has. And I think people can connect to that. I certainly did."
Looming over the entire production, which wrapped in February, was the figure of Atwood, the 77-year-old literary titan who has acknowledged in past interviews that the recent spike in sales of The Handmaid's Tale is directly related to the rise of Trump. Though Atwood wasn't ubiquitous on set, she often made herself available to the actors, and worked closely with Miller in developing the world of The Handmaid's Tale beyond her original text. "She's so behind us and so on board, there's no drama about it at all," Moss says of Atwood.  "She's totally normal. I'm the only one who's intimidated, and probably act like an idiot when I'm around her." Miller and his team of writers—whom he refers to as a group of "news junkies"—had carte blanche when it came to making the key changes necessary for adapting a classic novel for a contemporary television audience. 
Perhaps the most glaring of those changes was adding some much-needed diversity to a universe populated solely by white people. For instance, Samira Wiley (Orange Is the New Black) plays Moira, one of Offred's closest confidantes (the other is played by Alexis Bledel). In Atwood's book, Moira is white, but Miller wanted to reflect the racial palette of the current evangelical movement in America. "It's a lot more integrated," he says. "We talked about it really openly. What kind of racial animus would these people have? And how do you deal with racial issues when you're also dealing with every discussion about gender politics that's happened over the last 300 years?"
While everyone I speak with during my time on set is quick to draw parallels between the show and Trump's war on feminism, they echo Miller's sentiment that the power dynamics between men and women in The Handmaid's Tale are, in fact, timeless. "Fundamentalism has pursued our planet and will continue to pursue our planet," Fiennes says. "We like to think we're evolved, but then there's a turn of events and suddenly we're back to the dark ages very quickly. That's human nature."
Moss agrees: "Ultimately this story is about a woman who lost everything. I think that's why the book has been so relevant all these years, besides the fact that it's beautifully written and so intelligent and funny. It's been relevant for 30 years because of that idea. It was relevant in 1985 when it came out, and it's still something that people can connect to today." 
The Handmaid's Tale premieres April 26 on Hulu.