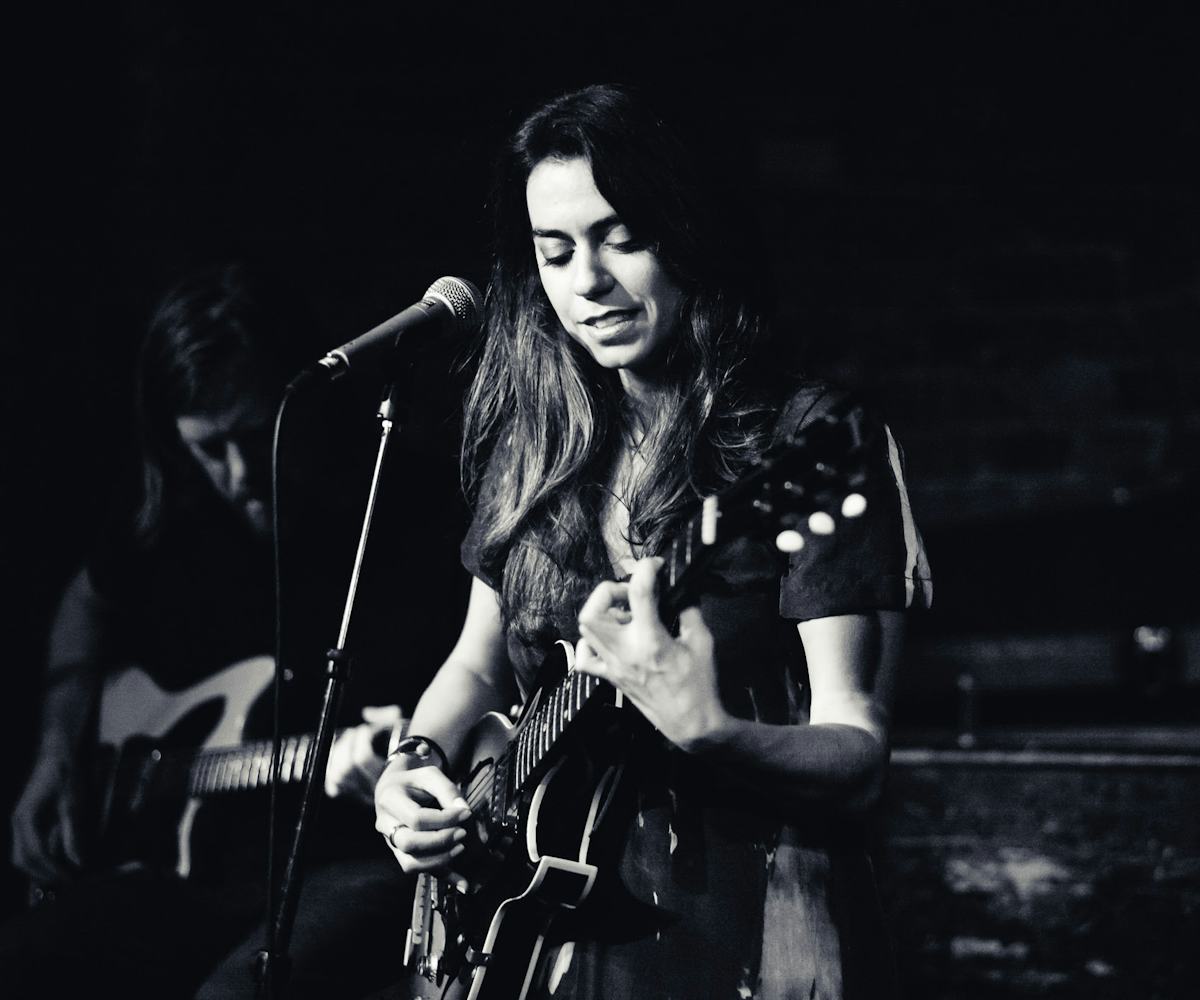 Photo by Andy Farnum
Haroula Rose Is In Full Bloom With "Here The Blue River"
Her new album has finally arrived
Haroula Rose is the sonic embodiment of spring. Her light, airy vocals instantly carry the listener to a place of spiritual calm. So it's very fitting that her sophomore album, Here the Blue River has arrived on this misty April morning, its acoustic, nature-inspired melodies carrying all the peace and promise of a fresh dewdrop.
The L.A.-based singer and songwriter plucked inspiration for her record from a string of passions that includes movies, literature, travel, and Greek mythology. She describes herself as a "gypsy soul," an energy she channels into her parallel careers as a producer and filmmaker. We chatted with Rose about her storytelling process, writing on the road, and how each of these artistic interests intersect.
You're heavily inspired by literature and poetry, and also Greek mythology. How do those literary influences play into your music?
I've always been a big reader, and the first album was all about personal experiences, so I wanted to try to create these different challenges for myself. I wanted to do something more varied—not just stuff I've been through, but the stuff I think about or I'm inspired by or hear about. Characters and poems... I think you can find inspiration everywhere if you look for it.
Do you consider yourself a poet?
That's tough! Songwriting can be considered poetry, but I never think about it that way. More songwriters are more poetic than others. But yes, I suppose.
Here The Blue River has an ethereal, spiritual vibe. Do you do anything to get into that relaxed zone when you're writing?
I try to meditate. It's hard for me because my brain is always going around in circles. I am spiritual, I just don't necessarily subscribe to any one thing. Music is spiritual. I don't think of it as a church thing.
How have these influences manifested in your new sound?
This one felt different in that I got to work with different people—in Georgia, in New York, in L.A.—and because I have a busy schedule with other projects, it was recording a handful of songs, and then another handful of songs, and it wasn't a seamless thing the way the first album was. It lends itself to having different elements of sounds which are really interesting and fun. I liked hearing a clarinet and learning how to make a banjo sound not totally country.
What other film projects were you working on while recording the album? Is it an easy transition?
I think you do have to get in certain zones. While I'm touring, it's going to be hard to do anything else. You do get sucked in, which is why it took a couple of years to complete this; it's hard to go back and forth daily. I was working on a couple of short films and some documentaries. I went to film school but I didn't complete it, so I kind of was creating my own version of that by making these short films and doing some music videos for friends. I love both mediums, and it's hard to pick. You never know how a film is going to go, so it's really nice to have another outlet to keep myself busy.
Have you always known that you would pursue both music and film?
I used to think you had to pick one or the other, but I just don't think that's true anymore. They're super complementary. I always wonder if it confuses other people just because I love both so much and, for me, it's not confusing.
Who are some of your favorite filmmakers?
I loved
The Revenant
. I saw it the day it came out. His [Alejandro G. Iñárritu's] movies always blow me away. I really liked
The Diary of a Teenage Girl
. I know the girl who made it, and she's super awesome. I love
Transparent
and Jill Soloway's directing. Those are my top three.
Within that world, you've worn so many different hats: actor, producer, writer, Fulbright scholar... Could you ever see yourself devoting more time to one in specific?
Touring is fun and I love recording and writing so much. Being involved in a film feels really collaborative because everyone's investing their energy in something at the same time. So they have similar elements that feel really good to me. Teaching was great because I felt like you can see something in other people and inspire them, so I'd really love to do that again.