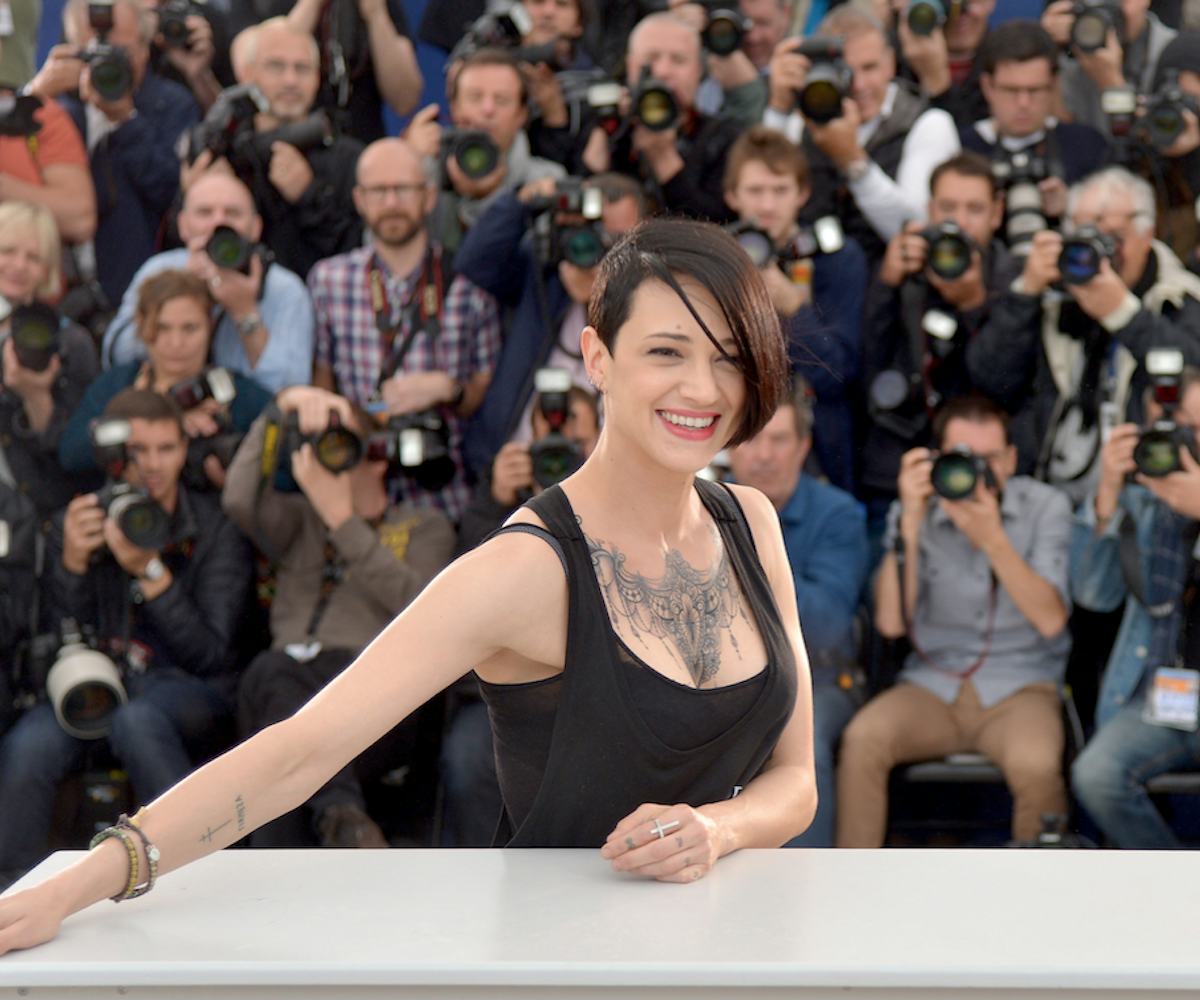 Photo by Michael Buckner/Getty
On The Sick Way Harvey Weinstein Made His Victims Feel Complicit In Their Abuse
In a story in 'The New Yorker,' multiple women allege rape at the hands of the disgraced producer
Today, The New Yorker published an explosive, long-reported piece by Ronan Farrow, in which multiple women—including actresses Asia Argento, Mira Sorvino, and Rosanna Arquette—reveal the sexual abuse they suffered at the hands of now-disgraced Hollywood producer Harvey Weinstein. Farrow's piece had been alluded to last week, when The New York Times published its own story on Weinstein's history of assault and subsequent cover-ups (including eight different lawsuits brought against Weinstein, which he settled), but its impending arrival was, perhaps, forgotten, following the post-Times article chaos, which saw Weinstein fired from Miramax, the production company he founded decades ago; his lawyer resigning after enduring harsh criticism for defending Weinstein as being a "dinosaur;" and Hollywood luminaries, from Meryl Streep to George Clooney, declaiming Weinstein's behavior as being despicable.
And yet there is no forgetting this piece once you start reading. Farrow meticulously details the accounts of many women who endured everything from verbal threats to unwelcome shoulder rubs to rape. It becomes instantly clear that Weinstein is a man whose behavior will rightfully be called monstrous, even though there's nothing about it that is truly outside the parameters of the behavior of other powerful and power-abusing men, like Roger Ailes or Bill O'Reilly. In the piece, Farrow speaks with actresses like Sorvino and Arquette, both of whom assert that their careers were derailed because they rejected Weinstein's advances. 
Sorvino, who won an Oscar for a Miramax-produced film, Mighty Aphrodite (directed by Farrow's father, Woody Allen), explains that, after finding herself in a hotel room with Weinstein, "he started massaging my shoulders, which made me very uncomfortable, and then tried to get more physical, sort of chasing me around." Sorvino was able to get away from him, by telling Weinstein it was "against her religion to date married men." She reported the harassment (Weinstein also showed up uninvited to her apartment past midnight, only leaving when Sorvino told him her boyfriend was on his way over) to a female executive at Miramax, but was dismissed by the woman. Sorvino feels that this "ultimately hurt her career," saying: "There may have been other factors, but I definitely felt iced out and that my rejection of Harvey had something to do with it."
Argento, actor and director, also reveals her harrowing experiences with Weinstein, which demonstrate the ways in which abusers make their victims feel complicit in their own abuse. Argento recalls how Weinstein brought her a bottle of lotion during a meeting and asked her to give him a massage. She remembers replying, "Look man, I am no fucking fool," but now says, "looking back, I am a fucking fool. And I am still trying to come to grips with what happened."
What happened was something all too common for many people who are put in compromising positions by their abusers, they are coerced to become a part of their abuse. Nobody wants to be a victim, nobody even wants to think they are a victim, so they are encouraged by their abusers to gain some control of the narrative by participating in it, by benefitting from it, so that they can feel shame about not being a "good" victim, not running away, not fighting back as hard as they think they should. For Argento, this has meant grappling with the very dual trauma of not only being abused but feeling like she had a hand in her own abuse. As she tells The New Yorker: "The thing with being a victim is I felt responsible... Because if I were a strong woman, I would have kicked him in the balls and run away. But I didn't. And so I felt responsible."
If there's any doubt, though, who was responsible for Weinstein's abuses, listen to the audio, embedded below, of Weinstein talking to Ambra Battilana Gutierrez, one of the women he allegedly assaulted. In a conversation recorded, as part of an NYPD sting operation, Weinstein tries over and over again to get Gutierrez to accompany him to his room while he takes a shower. Gutierrez repeatedly says she doesn't want to; her voice is trembling; she pleads, "I don't want to... I want to leave... I want to go downstairs."  
Weinstein's attempts to get her to come are a classic case of coercion, complete with shaming techniques and low-key threats. He says to her: "Now you're embarrassing me... Don't embarrass me in the hotel, I'm here all the time... Don't ruin your friendship with me for five minutes."
Following this conversation, the NYPD had enough evidence to present the Manhattan District Attorney's office with a prosecutable case, but a criminal charge was not brought against Weinstein. Perhaps this is because Gutierrez was subsequently dragged through the tabloids for past alleged sexual activities. No matter the reason, no charges were filed, and a powerful man was allowed to escape yet again.
Only this time, it seems there's nowhere left for Weinstein to go. As more and more of his crimes are brought to light, perhaps it will also allow victims of Weinstein's and of any powerful man like him to understand better that they are not to blame for what happened to them, and that it is never too late to take control of their story, wrest it away from those who tried to write their endings. This is just the beginning for those stories, now is the time for their voices to be heard.
The article previously stated that Weinstein had donated money to Manhattan D.A. Cyrus Vance, Jr. prior to these charges being dropped; in fact, Weinstein's lawyer, David Boies, did not donate to Vance until 2015, after the Gutierrez case.