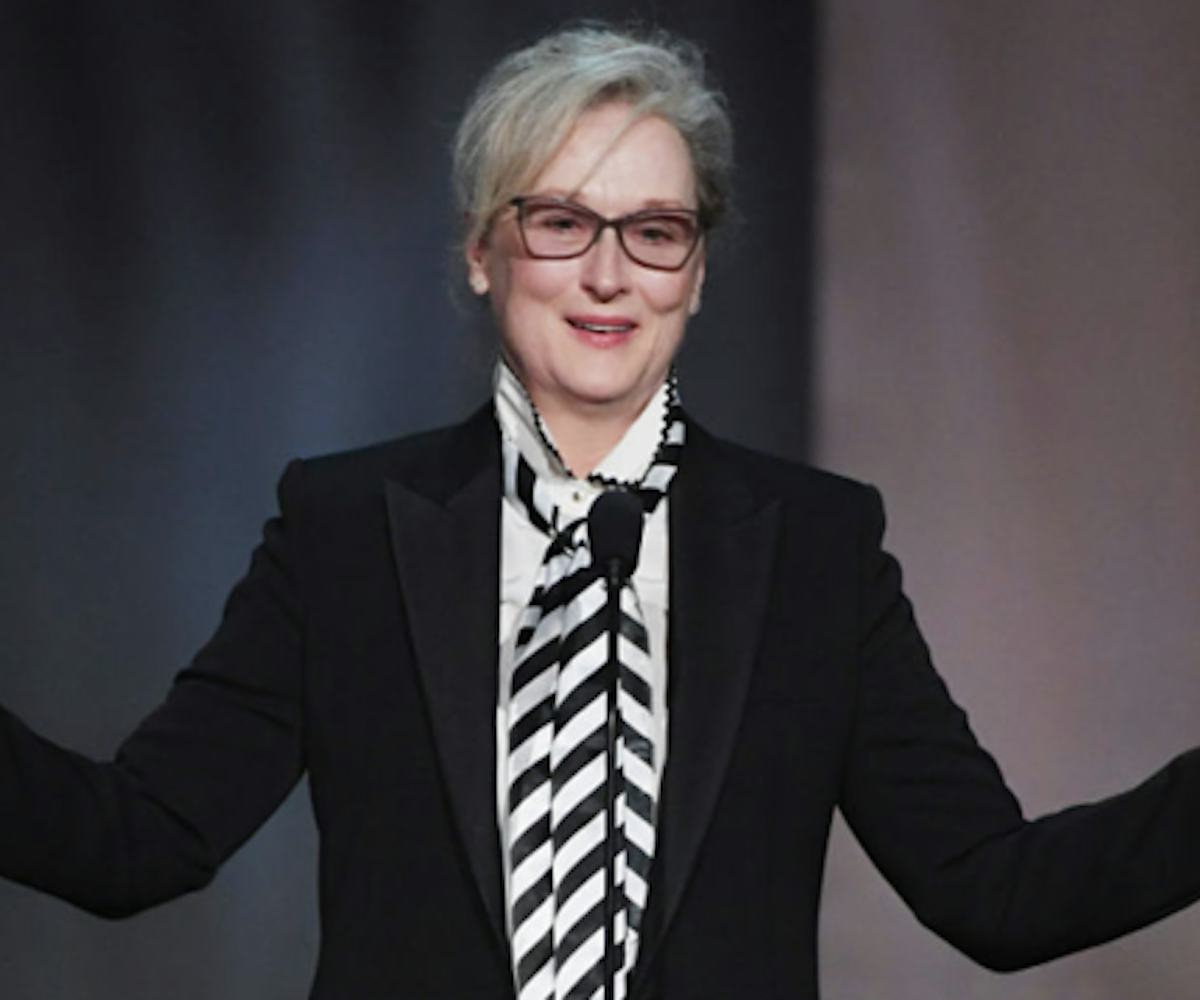 Photo by Kevin Winter / Getty Images
Meryl Streep Insists "Not Everybody Knew" About The Harvey Weinstein Scandal
Hollywood has started to address the disgraced mogul
The sexual harassment scandal involving Harvey Weinstein continues to mushroom. Last night, the board of The Weinstein Company, which he co-founded, announced that Weinstein was fired, effectively ending one of the most notorious and successful Hollywood careers of the last two decades. But while Weinstein's professional life is crumbling, the rest of Hollywood has been subject to widespread criticism for not speaking out in the aftermath of the New York Times story that detailed the fallen mogul's serial misconduct. 
And while some celebrities, like Seth Rogen, Lena Dunham, and Judd Apatow, publicly stood behind Weinstein's accusers, many were particularly dismayed that Meryl Streep in particular, who was close with Weinstein and is a champion ofr womens issues, was remaining silent. 
Whether or not Streep heard that criticism, she decided to break that silence today in a statement to the Huffington Post. "The disgraceful news about Harvey Weinstein has appalled those of us whose work he championed, and those whose good and worthy causes he supported," she wrote. "The intrepid women who raised their voices to expose this abuse are our heroes."
Streep took the opportunity to dispute the assumptions that Weinstein's transgressions were an open secret in Hollywood. "One thing can be clarified," she continued. "Not everybody knew. Harvey supported the work fiercely, was exasperating but respectful with me in our working relationship, and with many others with whom he worked professionally. I didn't know about these other offenses: I did not know about his financial settlements with actresses and colleagues; I did not know about his having meetings in his hotel room, his bathroom, or other inappropriate, coercive acts." 
Since then, several other high profile celebrities have tweeted their reactions to Weinstein's dramatic fall, some of which you can see below.
Dame Judi Dench, who has had a long and fruitful professional relationship with Weinstein—she won a Best Supporting Actress Oscar for Shakespeare in Love, one of Miramax's best-known films—once got a temporary tattoo of Weinstein's name on her butt. Today, she released a statement to Newsweek: ""Whilst there is no doubt that Harvey Weinstein has helped and championed my film career for the past 20 years, I was completely unaware of these offences which are, of course, horrifying, and I offer my sympathy to those who have suffered, and wholehearted support to those who have spoken out."
Meanwhile, Rose McGowan, who was one of the people names in the New York Times article, and who received a settlement resulting from an incident at the Sundance Film Festival in the late '90s, has publicly called on the entire board of The Weinstein Company to step down. "Men in Hollywood need to change ASAP," McGowan told The Hollywood Reporter. "Hollywood's power is dying because society has changed and grown, and yet Hollywood male behavior has not. It is so not a good look. In the way cooler than Hollywood world I live and work in, I am actually embarrassed to be associated with it." 
And now that Hollywood stars have finally begun publicly commenting on the situation, the call for late night hosts to do the same has begun. Jimmy Kimmel has addressed the scandal on Twitter, and John Oliver blasted Weinstein on his show last night. It will be interesting to see if Kimmel, Stephen Colbert, and Seth Meyers—all of whom have been vocal critics against Donald Trump—will take some shots at Weinstein on the air.