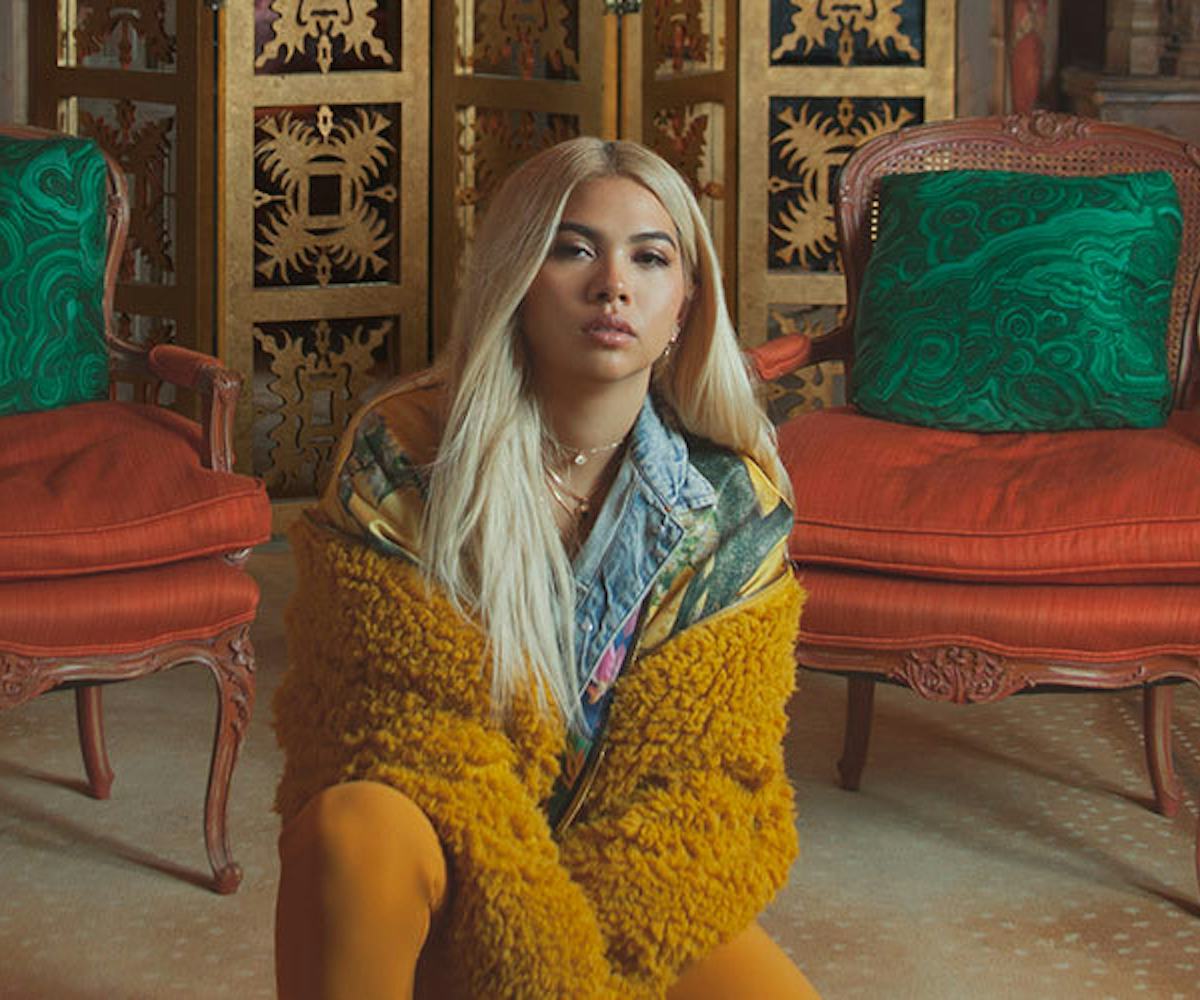 Photo by Amanda Charchian
Hayley Kiyoko's Expectations Are Now Beautiful Realities
Curiosity emboldens the cat
Hayley Kiyoko is somewhere in Alabama when we hop on the phone. She's hitting the road for a radio tour promoting her then-forthcoming debut album, Expectations. (It's out today via Atlantic Records!) "We're just cruising through, meeting fans, and spreading the good word," she laughs.
For the past decade or so, Kiyoko's been grinding for this moment, and all that comes with it. "I've known what I wanted to do for a long time, but it's been frustrating because I wasn't always given the opportunities or because I didn't have the clout, or the excitement, or whatever," she says. "So, it feels really good to know that something I've known I can do deep down for a long, long time is finally coming to fruition." 
Expectations is that big payoff. It's a delightful pop album bursting with queer anthems and harrowing vulnerability. There's a self-assuredness to it; it's clear Kiyoko knows who she is and is confident in it. She's feeling her oats here and deservedly so. "I know I'm where I'm supposed to be," she says. Kiyoko's come a long way from her breakout single, "Girls Like Girls," but her message of empowerment, acceptance, and keeping it real has remained the same. Expect big things from her. This is Kiyoko's year. 
Below, we play a little game of Expectations vs. Reality. Turns out that whole manifestation thing works. Curious? 
What was your expectation signing onto a label and then how has it really been?
My expectations were high, but also low because I knew that signing to a label would help me get the opportunities I needed, but I also knew there wasn't going to be overnight success. The reality of it all has been pretty dead-on. It has allowed me to grow but it's still taken me three years to get where I want to be. Having their support has definitely given me the opportunities that I wanted.
What were your expectations going into the album process as opposed to the EP process?
I thought it was going to be simple! [Laughs] I thought I was going to just, like, sit down and write my album in a clump of time, you know? Like, in a couple weeks or months. The reality of it is it took two and a half years, going in and out of the studio. I was all, "Oh yeah! This is gonna be really quick!" But no. Now I'm realizing how much work goes into it. When you've finished the music, that's just the beginning—that's just the bare bones. Then you have to create the art, and then you have to create the merch and the vinyl and the digital version, and the physical version. It just goes on and on and on and on.
How about working with Kelani on "What I Need"?
I had no expectations! Honestly, I set my expectations really low because I really didn't think it was going to actually happen. I kept thinking it was going to almost happen, but then maybe not. I didn't expect to get a song out of it. When we showed up to the studio, though, we knocked the song out in four hours and loved it. She was so down to put it on my album and was so supportive and so nice. We became friends after that! I'm a huge fan of hers and really thankful my first feature collaboration is with her.
What were your expectations directing your first music video?
That I was going to fail and that it was going to be too complicated, that I didn't know what I was doing. I didn't at first, but each video I've done since has helped me earn my stripes. Even if something goes miserably wrong and situations try to make me fail, whether it's losing a location or losing an actress the day of or other constraints, I know I can figure it out. I know that part of my job as a director is to figure out those problems. So now I feel really confident going into each music video because I'm able to problem-solve knowing that, whatever comes my way, the video will be good no matter what, even if it winds up being totally different from what I initially anticipated.
What did you expect your twenties to be, and now that you're halfway through them, how have they played out?
I expected my twenties to be exciting. I had high expectations that I would succeed and get everything I want and also date a lot of hot women. The reality is, I'm single. [Laughs] I've gone through a lot of health problems, which I wasn't expecting. I've dealt with a lot of family issues. The reality is my twenties have been a huge growing period for me, maturity-wise, and learning to really value life and the small moments. I'm understanding and learning what's important in life, which is your health. If I have good health, both physically and mentally, everything else will come together.
Finally, how has Twentygayteen played out for you?
My expectations were very high for Twentygayteen! The reality is it's beginning to look a lot like Christmas. I'm where I want to be and heading toward where I want to go. We'll see. You'll have to ask me that question again at the end of the year.