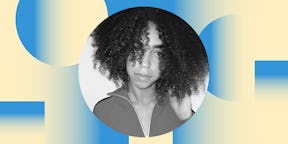 Hayley Law Wants To Make You Laugh
It Girl: Hayley Law
It's been less than two years since Hayley Law started acting, but the Vancouver native has undoubtedly made the most of her short time in the industry. Making her acting debut on one of television's most talked about shows, Law is best known as Riverdale's tenacious singer-songwriter Valerie Brown—a former member of the Pussycats and Archie's ex and musical mentor.
However, her penchant for strong characters with a low threshold for bullshit isn't just limited to Valerie. Earlier this year,Law garnered more buzz for her feminist, ass-kicking role on Netflix's dystopian sci-fi series Altered Carbon, as Lizzie Elliott—a murdered sex worker who comes back from the dead with a thirst for blood and vengeance. And while her resume may be filled with pretty heavy stuff, that doesn't mean she's only down to do dramas centered around sex and violence. She is poised to launch her stand-up comedy career in the near future, which will hopefully open up the way to more lighthearted roles.
But Law's no one-trick pony. An accomplished musician in her own right, she also recently released her debut album under the moniker Hayleau. Dubbed Touch, it's a candid study of heartbreak, love, and loss that aims to help women come to the realization that maybe it is okay to be alone—even though we're socialized to believe the contrary. If anything, you could consider it a work that puts a defiant, empowering spin on the traditional breakup album.
Then again, given her status as a rising triple threat to watch, it seems like she truly is doing just fine on her own.
Below, we talk with Law about how social media has changed the notion of the It Girl, the surprising thing people don't know about her, and who her own It Girls are.
What makes someone an It Girl, in your opinion?
It's someone who inspires you. Who is unapologetically them. Someone who effortlessly inspires the people around them. A mentor.
How has social media changed the notion of the It Girl for you?
We're definitely able to learn more about people through social media. I always try to share positivity and things I've been learning in the journey of my career. You never know who is reading. I really think social media is a way for us to use our voice for good.
What's one thing people don't know about you?
I'm writing a little stand-up comedy set and plan to do it very soon.
Who was your It Girl when you were growing up?
I was always looking at how my mom interacted with people. How she didn't take shit from anyone, and I always wanted to be like that. Inspiring then and still is!
Who is your It Girl now?
Laura Karpman! She is an incredible film composer, artist, visionary. I had the frickin' honor of working with her on a project that is going to be released next year. She's incredible. Every time I'm around her, I learn something new. Not just a hard worker but a truly amazing human being.