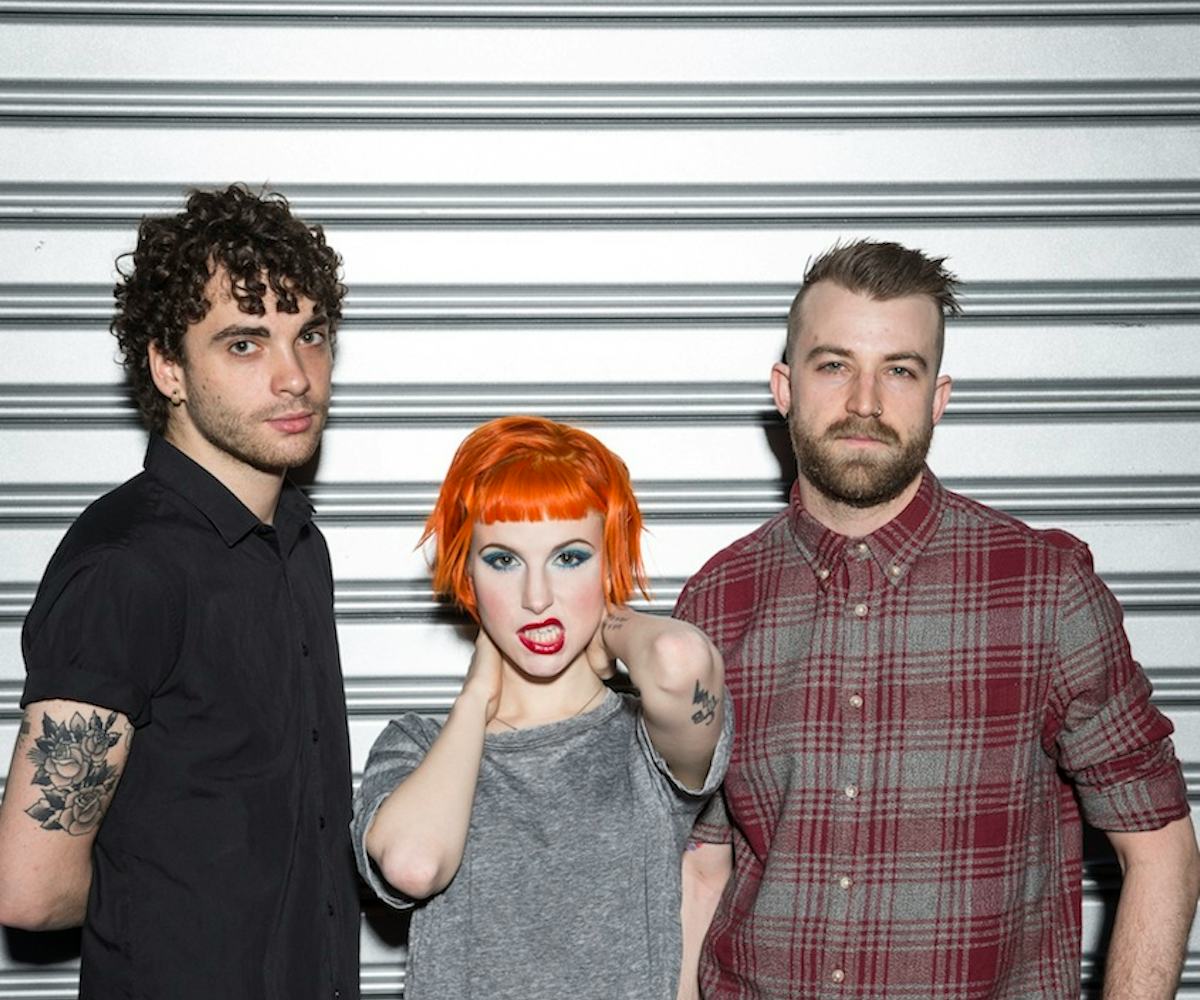 kane hibberd
the insider: hayley williams
everything you need to know about her new hair dye line!
There are a billion reasons why we heart Hayley Williams, but the most obvious one? When we called her last week, the Paramore frontwoman had woken up just a few minutes earlier--but despite having performed the night before, running around the stage and belting out "Ain't It Fun" to a sold-out crowd, the singer was totally energetic, kind, and exactly as awesome as you'd expect (even pre-coffee). The band is currently in the first legs of a massive nationwide tour with Fall Out Boy, and we got the lowdown from Williams on life on the road, her Game of Thrones addiction...and her hair dye line! Because yes, that's totally happening. So get excited and read our exclusive interview below. 
Hey Hayley! Where in the world are you right now? 
I just woke up! We're in the Philly/Camden area. We have a show here tomorrow and have a day off, so we're hoping to go get some food and then maybe go to a movie.
How's the tour going?
It's been so awesome; I'm loving it already. It's the type of thing that's so perfect, I'm wondering why we didn't do this tour so long ago. Fall Out Boy fans and Paramore fans are just both so incredible, and it's amazing being onstage and looking out at the crowds. It's this mixture that's, like, the perfect storm. 
I bet. Both of your fan groups so passionate. 
Yeah, and I think at least part of it is because both of our bands came from the same world and the same scene. Everyone's around the same age, so it's been a cool collaborative thing--it's not the world where there are feuds between the fan groups. This tour has been so great, and it's really just about two bands that have grown up together. 
What have you guys been doing when you're not onstage?
We've been watching Game of Thrones--like, a lot of it--I've never seen it before! So we've just been storming through those episodes so fast and all getting together at the end of the night and eating dinner and watching Game of Thrones. [Laughs] That's one of the best parts about being on tour, being surrounded by all of your best friends.
I know it's hard to play favorites, but do you have a city you just love coming back to?
You're right, we don't really play favorites...but we kind of do. We just have so much history and a kind of nostalgia that takes over, so it's hard not to! We love New York and New Jersey and Philly, and when we play anywhere around LA or Anaheim the crowds are always so great. We've actually kept in touch with those people who have come to the first shows...they're our friends by now. Except now they come and they've graduated from college and have jobs and are covered in tattoos. It's awesome. [Laughs] 
We have to talk about your new blue hair! What prompted the change?
Oh man. I  get bored so easily, and I'm kind of schizo when it comes to hair. My friend Brian has been responsible for almost every hairstyle I've had. Usually when we're bored we just talk about what we want to do, then we go for it. We were like, "We've never done turquoise before...let's go for it!" It was sort of a rigorous process. 
I bet. I remember when you wrote The Checklist for us, you mentioned a hair dye line might be in the works. What's the update? 
Yeah, I'm actually working on my own hair dye line in the future, and it's happening! It feels so good to say that it's on-- we've already got the name and the basic mission. I'm sort of drooling over it, and I can't wait to show people. Obviously I'm not going to put out anything that I don't believe in or that I don't wear myself. I can put it in my own hair and be like, "Look, I love this so much that I'm wearing it myself!" The colors are wild and awesome. I really can't wait to paint everyone's hair in the whole world.