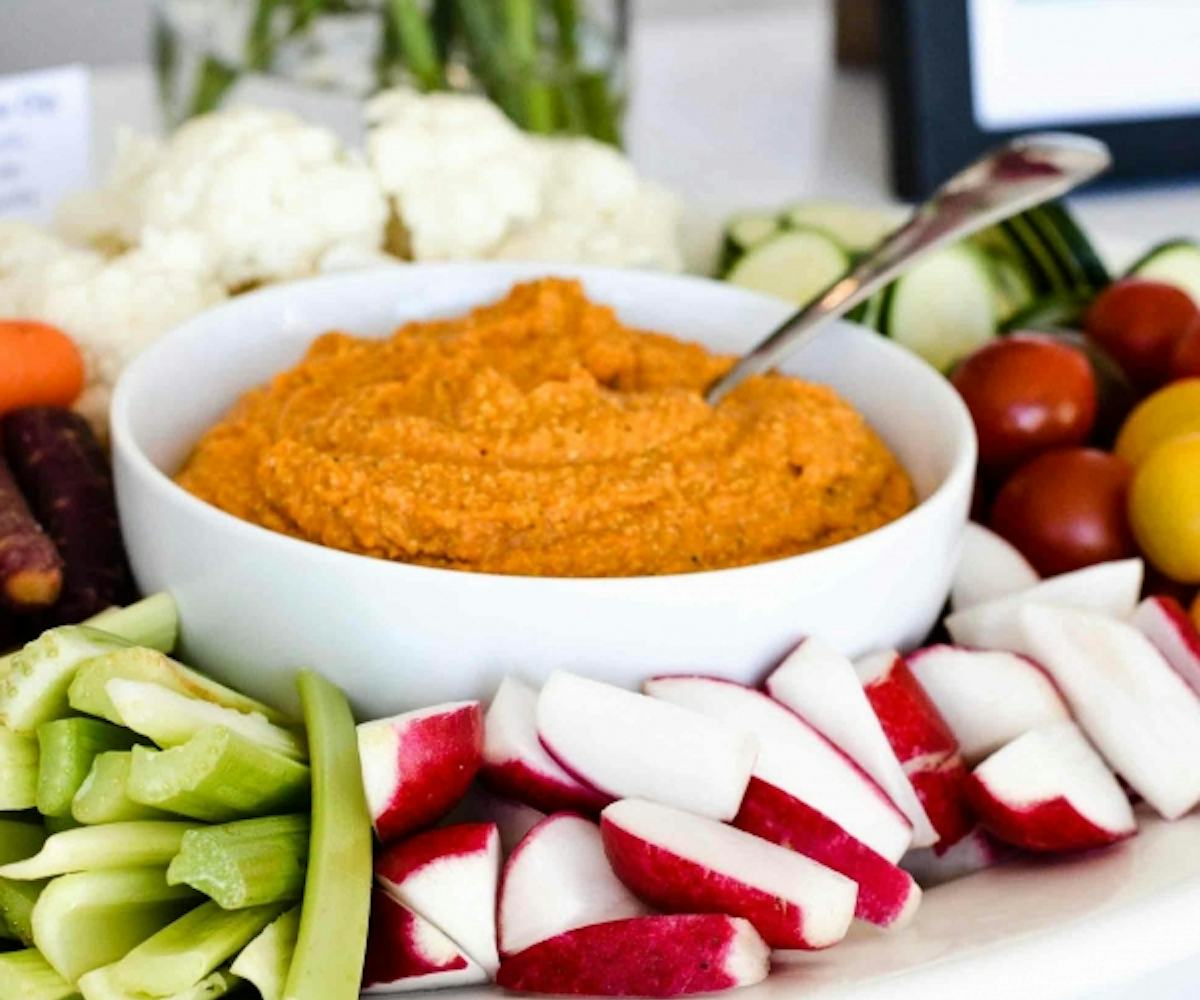 5 Healthy-Yet-Decadent Dips To Impress At Your Next Holiday Spread
From our friends at The Zoe Report
Curated by Rachel Zoe and her team of editors and stylists, The Zoe Report is not only your stop for all things fashion and beauty but all-around lifestyle as well. Check out their site for everything from shopping tips to dating advice, to the latest in celebrity news.
Though they're not as glamorous as some of the showier side dishes you'll find at holiday gatherings this season, dips can make or break the early mingling stages of a soiree. Here, five outside-of-the-box recipes, both savory and sweet, that you won't have to work hard to work off come January first.
Kore Kitchen's Curried Carrot Cashew Dip
Kore Kitchen is one of our favorite organic meal delivery services, and if that isn't recommendation enough, just know that Gwyneth Paltrow swears by it, too. Since not every lives in L.A., we asked founder Meryl Pritchard to divulge the secret behind one of the most addictive dips we've ever had the pleasure of dunking our veggies into.
Ingredients:
2 1/2 lbs. carrots
1/2 yellow onion, chopped
2 tablespoons garlic, peeled and chopped
1 tablespoons salt
1 teaspoon pepper
1 tablespoons Madras curry powder
1/2 tablespoons smoked paprika
2 tablespoons apple cider vinegar
1/2 tablespoons lemon juice
1 tablespoons Tamari
2.5 cups cashews, soaked overnight and rinsed
4 cups water
Directions:
Boil the carrots until soft. Strain, and add to food processor. Add in all remaining ingredients to food processor and blend until smooth. Add more water to thin out to desired texture. Serve with raw crudites of choice in a variety of colors—radish, cauliflower, asparagus, cherry tomato, broccoli, celery, etc. It's important to soak the cashews overnight, nuts contain an enzyme inhibitor called phytic acid which needs to be released through the soaking process, and then rinsed off the nuts. This makes their nutrients more readily available and easier to digest. This dip is a great alternative to hummus if someone has trouble digesting beans!
Kale and Artichoke Guacamole Dip
It's holiday season, which means we need to sneak our greens in wherever and whenever possible. We love this veggie-packed version of guacamole for helping us detox while we dip.
Ingredients:
2 cups packed chopped curly kale
1 tablespoon extra virgin olive oil
Salt
2 large avocados
1 lemon
1 clove garlic, pressed, microplaned or minced
Half a 14oz can artichoke hearts, chopped (freeze other half)
Directions:
Get full recipe instructions here.
Marcel Vigneron's Turmeric Hummus
Marcel Vigneron, Chef/Owner of WOLF and Beefsteak in Los Angeles, makes some of the best healthy dishes in town. With his restaurants to recommend him, we knew this turmeric hummus would be killer, and it can't hurt to end the year with 2016's star ingredient. This works well as a dip or dressing (pictured).
Ingredients:
2 liters garbanzo beans, cooked
1 1/2 cups cooking liquid
2 teaspoons turmeric powder
1 teaspoon cayenne
4 teaspoons lime juice
4 tablespoons lemon juice
2 teaspoons salt
4 tablespoons extra virgin olive oil
1/2 teaspoon chopped garlic (2 cloves)
2/3 cup tahini
Directions:
Combine everything in a Robot Coupe or any blender or food processor. Mix together and serve. Works great as a dip or even a dressing.
Black Bean, Corn & Quinoa Enchilada Dip
This one is hearty and will warm you right up, without being devoid of nutritional content. It's great served with tortilla, or even pita, chips.
Ingredients:
1/2 cup uncooked quinoa
1 teaspoon olive oil
1 yellow onion, chopped
3 cloves garlic
3 tablespoons chili powder
1 teaspoon cumin
1/4 teaspoon salt, plus more to taste
1/2 teaspoon dried oregano
1 (15 oz) can Muir Glen organic tomato sauce
3/4 cup water
1 (15 oz) can Muir Glen organic fire-roasted diced tomatoes, drained
1 (15 ounce) can black beans, rinsed and drained
1 (15 ounce) can sweet corn, drained
1/4 cup finely chopped cilantro, plus extra for garnish
1 1/2 cups of shredded Colby jack or Mexican cheese
Directions:
You can find full instructions for this recipe here.
Healthy S'mores Dip
Dips don't have to be savory, and in fact we love sweet versions as an option for indulging in dessert with moderation. We love this one when served with strawberries, too.
Ingredients:
1 15 oz can chickpeas (drained, rinsed and dried)
3 tablespoons coconut sugar or cane sugar
2 tablespoons maple syrup
2 tablespoons cocoa powder
2 tablespoons almond milk
1 teaspoon vanilla
¼ teaspoon sea salt
1 cup mini marshmallows (vegan and gluten-free, if needed)
Graham crackers and strawberries (for serving)
Directions:
You can find instructions for the full recipe here.