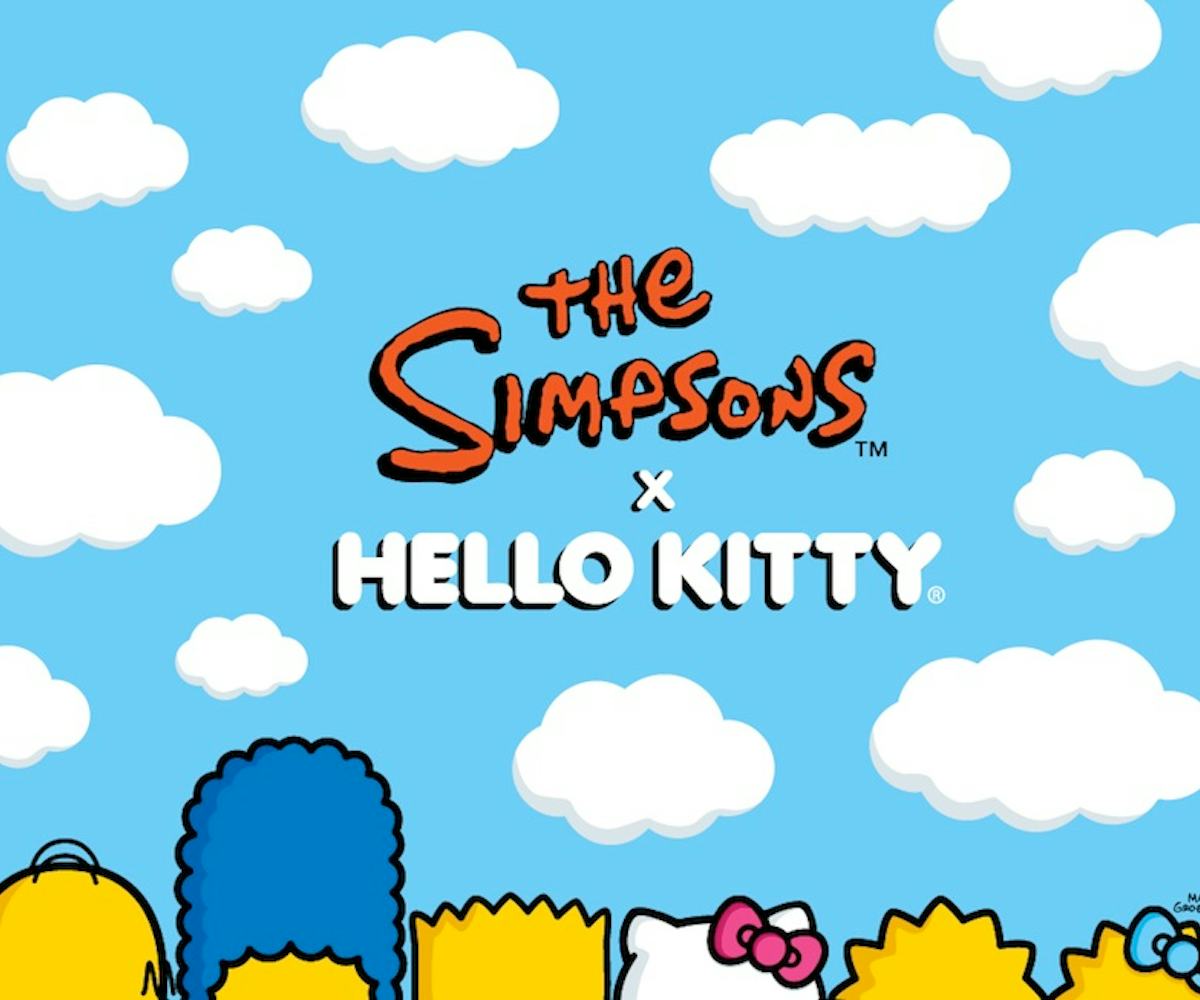 hello kitty x the simpsons
16 things to hope for from this awesome collab!
If you thought
Kate Moss and Johnny Depp reuniting
was going to be the best news this week, think again, because
The Simpsons
and Hello Kitty are collaborating on a line of products debuting in 2014. (ZOMG!)
I received a press release last night with few juicy details other than the fact that the brands would be partnering on a line of products available to consumers "d
uring the back-to-school timeframe in 2014" timed with Hello Kitty's 40th anniversary and The Simpsons' 25th anniversary. Even if that's almost a year away, that won't stop me from dreaming up everything I hope for from the epic pairing. Just because I can already get Hello Kitty roller skates, beer, and a sewing machine, doesn't mean I don't want more Hello Kitty in my life, especially if it involves a little Lisa Simpson in there too. 
Here's every single product I'm wishing for--what do you want to see from the collaboration? Tweet your hopes 
! 
1. Saxophones:
Lisa Simpson might be a bookworm, but that doesn't mean she couldn't benefit from a cute Hello Kitty saxophone. Perfect for nerdy girly girls everywhere!
2. Slingshots:
Boys can get Hello Kitty-ied out too! It's what Bart Simpson would do. 
3. Hair Bows:
Guys, what if Maggie Simpson
is
Hello Kitty... It's all starting to make sense now. Slowly...
4. Doughnuts:
Homer Simpson's favorite food could only be made better with some pink frosting and  
5. Beer:
Hello Kitty Beer may already exist in Taiwan, but I'll happily take a cold can of Duff.
6. Skateboards:
Good for busting out of school on a la Bart Simpson, great for rolling into Comic Con on dressed as Hello Kitty. 
7. Boxer Shorts:
What else would Smithers wear but Hello Kitty boxers shorts while he rollerblades (in these
, presumably) through Haight Ashbury?
8. A Giant Piano:
Perfect for dancing on just like Homer did in the "Big" episode. 
9. A Trillion Dollar Bill:
Mo' money, mo' problems... Unless your money is printed with a Hello Kitty version of Maggie. 
10. Pretzels by Marge:
I love some Hello Kitty snacks, and if Marge had only thought to adorn her pretzels with some Hello Kitty sprinkles or salt, I'm sure her mob operation would have gotten way more successful.
11. Crayons, Like the One Lodged in Homer's Brain:
This one appeals equally to Simpson's fans (for it's in-joke) and Hello Kitty obsessees (who love coloring). Everyone wins!
12. A Couch:
Just imagine how awesome it would be to plop your bottom on a couch just like the one in
The Simpsons'
intro adorned with a Hello Kitty print.
13. Treehouses of Horror:
Halloween just got a lot scarier and a lot cuter at the same time. 
14. Snowball x Hello Kitty Cat Stuffed Toy:
We're not sure what a Snowball-Hello Kitty mashup cat would look like, but we'd pay to see it. 
15. Itchy and Scratchy x Hello Kitty Cartoons:
Is Hello Kitty ready for Itchy and Scratchy's antics? Probably not, but that's why it'll be funny!
16. Kwit-E-Mart Cups:
What else are you going to carry your pink Squishee in?