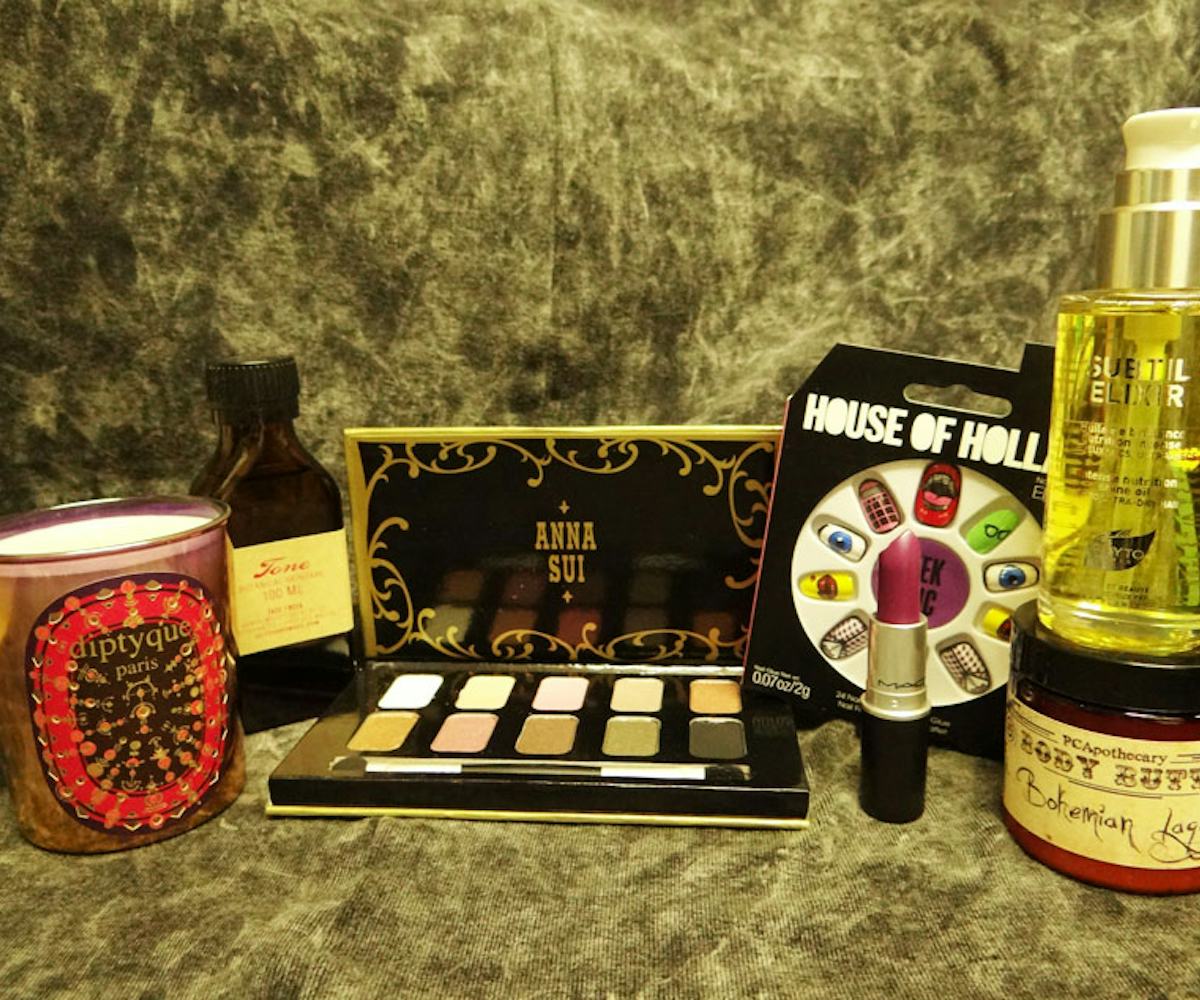 photo by jade taylor
vanity case
henry holland's new nail wraps and the best way to channel stevie nicks.
OLFACTORY GIRL
WHAT IS IT:
Diptyque Indian Incense 2013 Holiday Candle
WHY I LOVE IT:
Considering it's been snowing (what seems to be) non-stop here in New York, I've found myself in a Lisbon sister sort-of daze lately as I dream of places far away that are warm and sunny. Sadly, I can't jet set off to New Delhi or Mumbai anytime soon, but luckily I have the Diptyque Indian Incense Holiday Candle to keep me company. Infused with incense, myrrh, rose, and carnation, it first burns dark and then lightens up as more flowery notes start to burst--staying indoors has never seemed so luxurious.
FOR THOSE:
Who want to get out of town.
FLAMING LIPS
WHAT IS IT:
M.A.C Cosmetics Lipstick in Heroine
WHY I LOVE IT:
A few days ago when I found out that M.A.C Cosmetics was making their "Heroine" lipstick part of their permanent collection, I literally screamed at my desk and ran around half-sobbing. I've talked about this lipstick so. many. times. and how depressed I am that it's limited edition and yadda yadda yadda, but listen: It's seriously my favorite lipstick of all time, so unnecessary freakouts are warranted. Combining two of my favorite things--a matte finish and the perfect violet hue--it lasts forever and gives off a sick purple pigment. But I don't think I need to say anything else about it--just do yourself a favor and go get a tube because it's available now!
FOR THOSE:
Who want the perfect lipstick color, duh.
EYES WIDE SHUT
WHAT IS IT:
WHY I LOVE IT
: I've been a fan of Anna Sui's cosmetics for years, and it's not hard to explain way: The packaging is always on-point, and the performance of the products is just as impressive. My newest obsession is the Eye Color Palette 01, a decadently packaged palette with 10 surprising colors inside. You have your normal batch of neutrals, but then Sui adds shades like a Barbie pink, a shimmery olive, and a glittered navy blue that looks exactly like the night sky. I know it's cliche to say a palette can take you from day to night, but this one can do so much more than that.
FOR THOSE:
Who can't stop posting GIFS of Emma Robert's saying "Surprise, bitch" from
American Horror Story: Coven.
CLAWS OUT
WHAT IS IT
:
House of Holland Nailed By Elegant Touch in Geek Chic
WHY I LOVE IT
: Henry Holland, the genius behind English fashion brand House of Holland, has a creepy way of reading my mind. Every season I want to own his entire collection, but you know, this girl has to pay her phone bill, so that's not always a realistic possibility. However, Holland just teamed up with Elegant Touch nails to create sets of press-on claws that look like mini-masterpieces of his collections. My favorite? The "Geek Chic" set with digits stamped with eyeballs, a metal-mouth, suspenders, and gingham print. Excuse me while I mani-cam them on Instagram.
FOR THOSE:
Who want the nail-equivalent of Katy Perry's "Last Friday Night" music video.
BODY ELECTRIC
WHAT IS IT:
PCApothecary Body Butter Bohemian Lager
WHY I LOVE IT:
The words "Bohemian Lager" may evoke a mental image of Nicole Richie and Mary Kate Olsen twirling around like Stevie Nicks in their vintage fringe kimonos--which is, sort of, how I discovered this body butter. After going down what I lovingly refer to as an "Etsy rabbit hole" after searching "Stevie Nicks kimono," I stumbled onto Purple Cat Creatives, a handmade beauty company that specializes in body butters, sugar scrubs, soap whips, and solid perfume--but this product specifically caught my eye. Swirled with rich aged lager, creamy pumpkin, dark patchouli, oak resin, and subtle spice, it's the exact scent you'd want to linger on you as you blast Fleetwood Mac in your room.
FOR THOSE:
Who want Stevie Nicks' kimono collection.
FACE TIME
WHAT IS IT:
OCCO Handmade Tone Botanical Skincare
WHY I LOVE IT:
Toners often get a bad rap in the beauty world. "Are they totally necessary?" "Do they strip your skin?" But to be totally honest, toners are one of the most important steps in my skincare routine, and I recommend them highly for all skin types-- you just have to find the right one for you. After stumbling down another Etsy rabbit hole, I discovered this brand called OCCOHandmade. It has fun things like chakra sprays and various salves, but I noticed their "Tone" product and knew I wanted to try it out. Blended with pure therapeutic-grade sandalwood essential oil, witch hazel, and distilled water, it's the perfect potion for my oily and breakout-prone skin. Bonus: It smells amaze.
FOR THOSE:
Who explore the worldwide abyss of handmade beauty brands on Etsy.
HAIR METAL
WHAT IS IT:
WHY I LOVE IT:
I'll say it again: It's f*cking cold in New York City. My skin, hands, cuticles, and lips are feeling especially dry as a result, but my hair feels better than ever. How? This Subtil Elixir by Phyto Paris, that's how. The lightweight and easy-to-rinse oil brings hair back to life (like Misty Day) while the fragrance of banana leaf, passion flower, gardenia, and exotic musk notes linger on your strands after applying. 
FOR THOSE:
Hydrated, delicious-smelling hair? Yes, please.