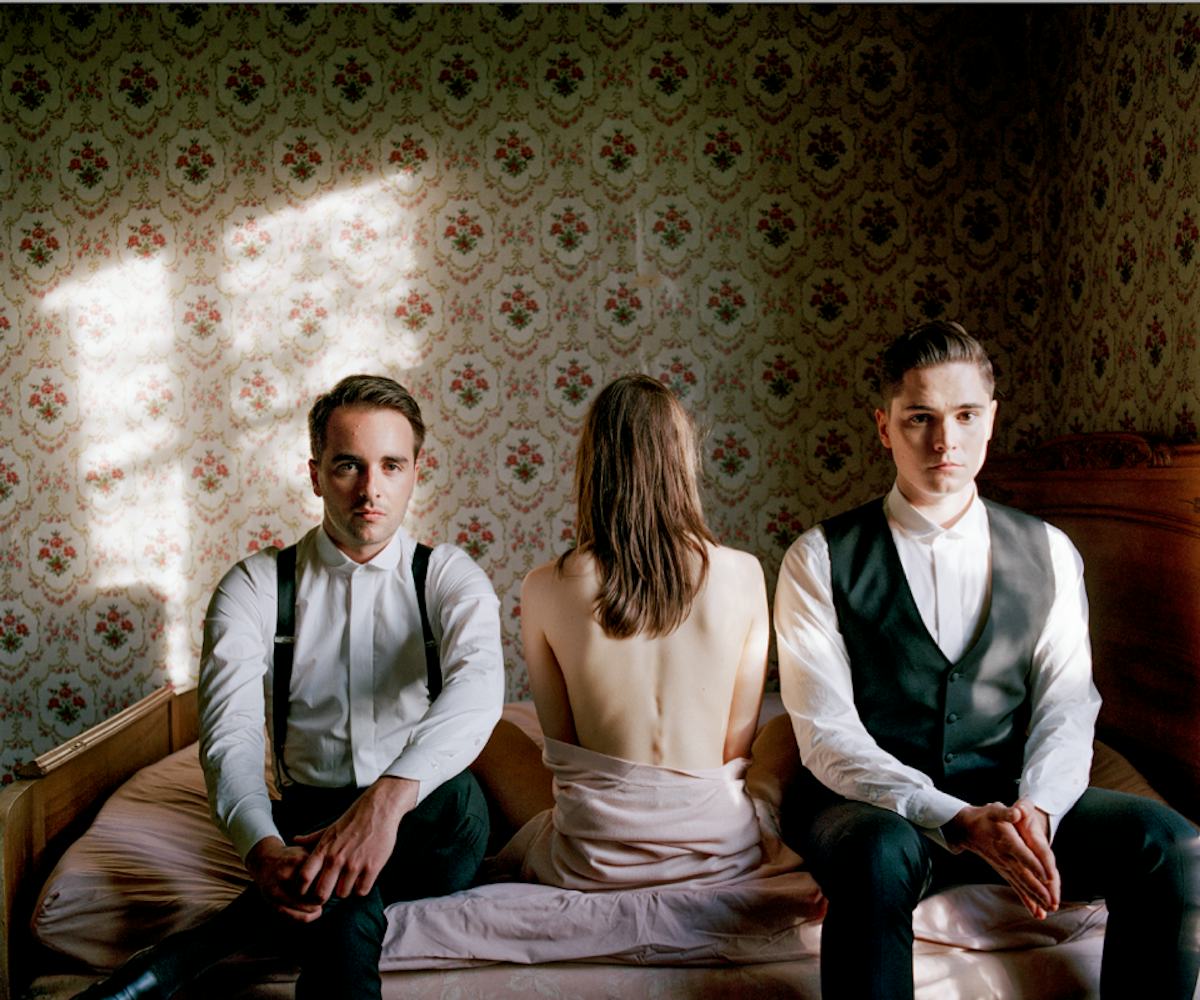 Photographed by Raphael Frydman
Her Is Bringing Back The Appeal Of Modern Romance
What the duo has been cooking up in the studio
About a year ago, Her quietly crept onto SoundCloud with their debut single "Quite Like." For a while, no one knew who the voice behind this sensual ode to a lucky lady was. Eventually, we found out that the mysterious project was the work of two men: Victor Solf and Simon Carpentier.
At the top of this year, the duo released their debutHer Tape #1EP. With a string of music videos that followed, Her has become even more recognizable. Given the rise of artists like Rhye, King Krule, and Kindness, it makes sense that they would appeal to the masses too. Her fits right in, and we wouldn't have it any other way.
After their first live performance in New York City, we sat down with the duo to learn more about how they came together and what fuels their musical fire. Skim through the interview in the pages to follow, below.
What are your backgrounds in music, and how did you both eventually meet?Victor Solf: I've been playing music for such a long time. I played the classical piano for a while, and then blues and jazz, and I also was in a choir. Simon played the saxophone, and then in high school, we had a band. For six years, we were quite famous in France. We toured in Brazil, Russia, and Germany, and then we started Her. 
Simon Carpentier: Yeah, we were in the same school, same class, and we had this band together. The other guy quit the band, so we decided to start Her. This year, we started working together, writing together, and then we started Her. 
Were you always into jazz and R&B?VS: I think jazz and blues really helped us enjoy music because before, we were just playing classical. So it really helped us to compose songs.
SC: We also liked punk music. Everyone liked punk music. We were more into rock music before, but I think it came off precisely during the video when we decided what we were going to do. We were trying to make our own mix of the different influences that we have. I played saxophone when I was really young. I'm such a fan of the Black music scene from the Motown sound to newer stuff like Kendrick Lamar. We really love that kind of music.
VS: Sometimes, we're still listening to Katy Perry, though.
Where are you originally from?VS: I was born in Germany.
SC: I was born in France. I went to high school for one year in Michigan.
How did you end up deciding to call your group Her?VS: It took a long time. We had all the songs before it, even the artwork. It was really at the end, at the very end. We wanted to have something simple but also for us, her, the woman is really a mystery. It will always be that silly thing. When we found the name, we were so happy about it.
SC: It truly represents and reflects the music. It's a really cool meaning because, in France, we have two words that are different but that correspond to the English word "her."
VS: There's no perfect translation of "her." The different meanings make it very interesting.
How long had you been working on the music for Her Tape #1?
VS: It took two years to make it.
SC: We waited until we had enough songs to be sure it was going to be the right direction, so we recorded, like, 20 songs live in the studio. Once we had those 20 songs, we said, "Okay, we're ready." It took several months to work with a sound engineer and a producer. We're currently working on the next eight. We're still composing new songs. We recorded 20 songs, but we just keep the best ones, so it takes time.
VS: And it took us a lot of research. Soul music, hip-hop, R&B music... It took us a while. That's why when we chose the name of tape, it was to get away from the EP. We really wanted to find the main subject. The main subject of the first tape is the woman and the relationship—it's the explanation of the name Her. Now, we're currently thinking about the next big subject of tape two.
Do you know when that might come out yet?VS: We hope to have the first single out in September.
You performed your first U.S. show in June. What are your crowds usually like?
SC: It's a really sexy mood most of the time, quite sensual. Sometimes, there are couples grinding.
VS: It's a very good crowd. They're paying attention, and that's a good thing because we work hard live. Also, there's a lot of different ages. There are old and young people.
What do you do when you're not together making music?VS: Actually, I've played every morning since I've been here in Brooklyn [, New York]. I also love to cook. We always cook when we're in the studio.
SC: Yeah, it's part of the creative process.
What do you like to cook?
VS: I love this hoagie sausage... It's like a sausage with a lot of tomatoes. It's a little bit spicy, but it's really tasty.
What's next for Her?
SC: We have some shows and tour dates. We play in France, Germany, and Switzerland this summer. We're also working on our next songs in the studio.