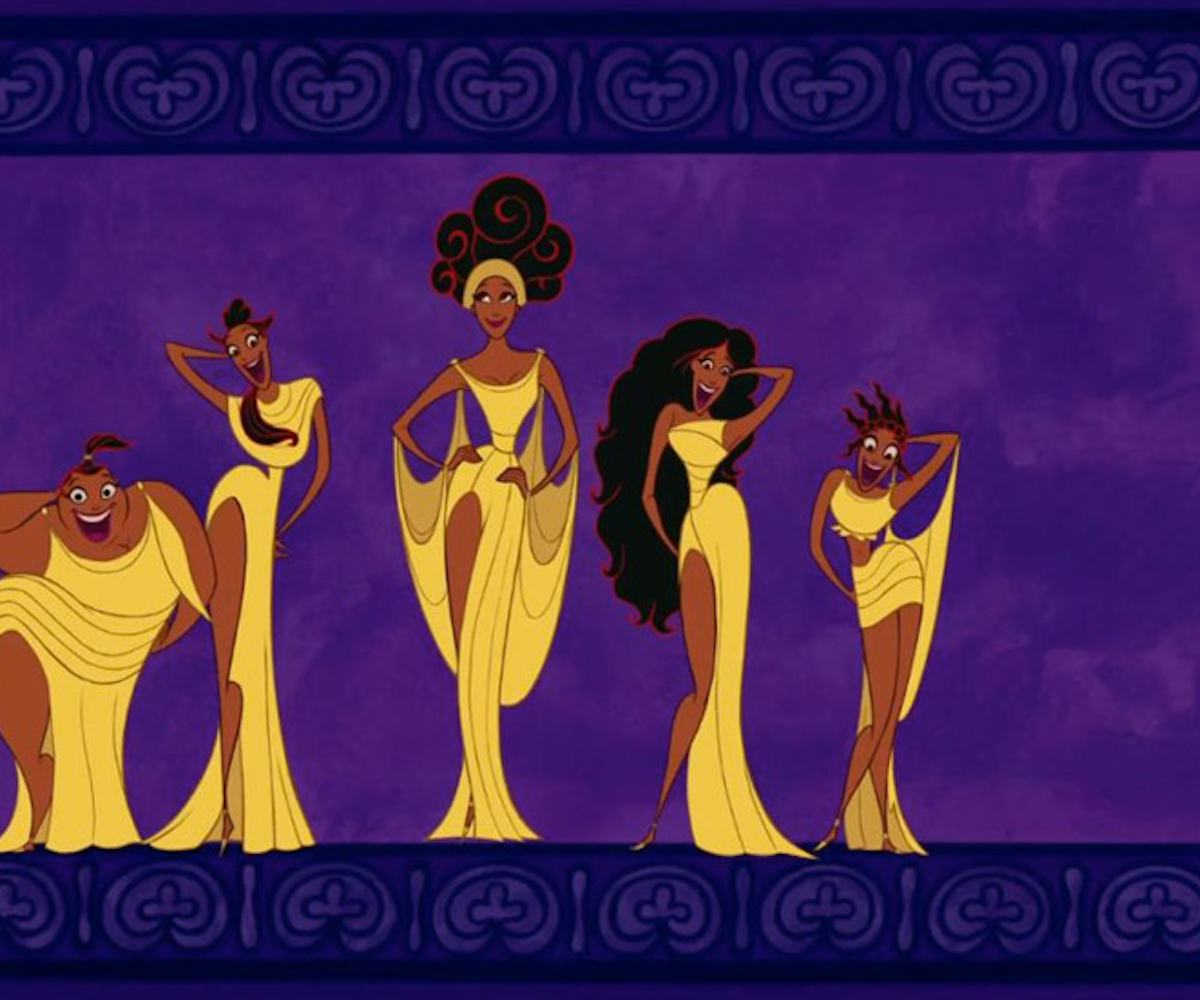 Why 'Hercules' Has The Best Disney Soundtrack Of All Time
We reflect on the music with the film's muses in honor of its 20th anniversary
When you think of outstanding Disney soundtracks, what comes to mind first? The Lion King, definitely. Beauty and The Beast, too. Maybe even Aladdin and Pocahontas. These are all understandable choice—all those movies have won Oscars for Best Original Song after all. But what about Hercules? Why doesn't anyone think of the criminally underrated 1997 Disney movie? The Hercules track, "Go The Distance," was nominated for an Oscar, but ended up losing to Titanic's "My Heart Will Go On." But that's not Hercules' fault, nothing was going to stop Titanic that year! That doesn't contradict the fact that, 20 years later, the Hercules soundtrack remains a standout. And that's mostly due to its five muses.
Calliope, Clio, Melpomene, Terpsichore, and Thalia (not many people know the Disney muses have actual names, but they do) were voiced by singers Lillias White, Vanéese Y. Thomas, Cheryl Freeman, LaChanze, and Roz Ryan. They were supporting characters, mainly appearing when the film required narration and dynamic vocals, but, for many, they provided the movie's real star quality. The women were selected mostly due to their work on Broadway. LaChanze says Harold Wheeler, who composed and orchestrated the film, sought her out following her work on Once on this Island. Freeman, meanwhile, tells me that, prior to Hercules, she auditioned for the role of Pocahontas, which is where she met the composer, Alan Menken. "The director told me, 'You sang that so well, but you will not get this role because your voice is a little too mature for this character,'" she says. "Allan Menken said, 'Well, we have to find something for her.'"
It was rumored that the Spice Girls were considered for the roles, but had to decline due to scheduling conflicts. Though likely a calculated option, can you picture the British girl group belting out "A Star Is Born," with the conviction necessary to sell that song? Yeah, neither can we. LaChanze says that big hitters like Patti LaBelle, Aretha Franklin, and Gladys Knight were also considered, but, essentially, Wheeler needed "singers that could take direction and come together and sound like music… he wanted Broadway voices that could take direction and blend." The five women did that seamlessly (think: The Supremes in glamorous togas); outside of their musical background, they also all had a hint of church in them, something very necessary for the largely gospel-driven soundtrack.
Menken once said in an interview that he, initially, wanted to go down a classic Greek approach for the soundtrack, but directors, Ron Clements and John Musker, were the ones who really pushed the gospel direction because "that's what you sing when you're singing about God—or in this case the gods." Musker explained on a separate occasion: "Gospel is a storytelling kind of music. It can be exhilarating, especially when it gets everybody on their feet. We were looking for a modern equivalent for the Greek references and this style of music seemed to be entertaining and a real departure at the same time." Especially when it comes to Disney music. Sure, there are songs like "Go The Distance" and "I Won't Say I'm In Love," both impeccable and very much in line with the company's ethos, but they were played alongside the soulful and sassy "The Gospel Truth" and "Zero To Hero," making the soundtrack more well-rounded than most.  
Another departure: seeing five black women in an animated film. Not just that, but these five black women were portrayed as beautiful, smart, if not slightly silly, goddesses. The actual characters were made to look like the singers voicing them, down to their gestures, hair, and bodies (there were cameras in the studio to record the ladies). Freeman says that Menken also encouraged the women to put some personality into their roles. "He would let us embellish stuff," she says. "It wasn't 'do exactly this or that.' There was sheet music, but it was also like 'what's your flavor?'" Which means we got curls on some and straight styles on other. Short and curvy body types as well as tall and skinny. A muse with a penchant for drama and another with a passion for dance. We got real, nuanced women.
When speaking about favorite memories from her time working on the film, Freeman recalls, for one particular song, coming into the studio and seeing a crew of all-black session singers hired to play the townspeople. Amongst them was Luther Vandross. "He came in and was like, 'I want to be a part of this, this is history,'" she says. "I don't know whether he sang or not, but he just said that he had to be a part of it."
After Hercules, it took another 12 years for Disney to make The Princess and the Frog, which featured the company's first black princess and the first prominent black character since Hercules. A decade is a long time, but Freeman likes to think her and the other muses' presence in Hercules helped to clear that path. "To be portrayed as positive, funny, loving, information givers, and, of course, Hercules' biggest fan, I feel like it opened the door for Anika Noni Rose," she says. "She's the first black princess, so we were the goddesses that were the build up for her, or whoever to be that. And that feels good."
Will we ever see a group of confident black women, with the same talent and singing expertise at the forefront of a Disney animated film again? Hard to say. But while we're all on a live-action kick, it would be criminal not to put Hercules up for consideration. Freeman would be on board, if only to experience as many laughs as she did 20 years ago. "It was, simply put, a sweet, fun, happy job. You go to work with people you adore. People that are so talented. And everyone worked so well together. Being a part of something that has a wonderful message makes it even better," she says. "That's what I strive for, to do things that really make statements in my career." 
Hercules was a statement all right, even if not many people were paying attention. Revisit it for yourself below.