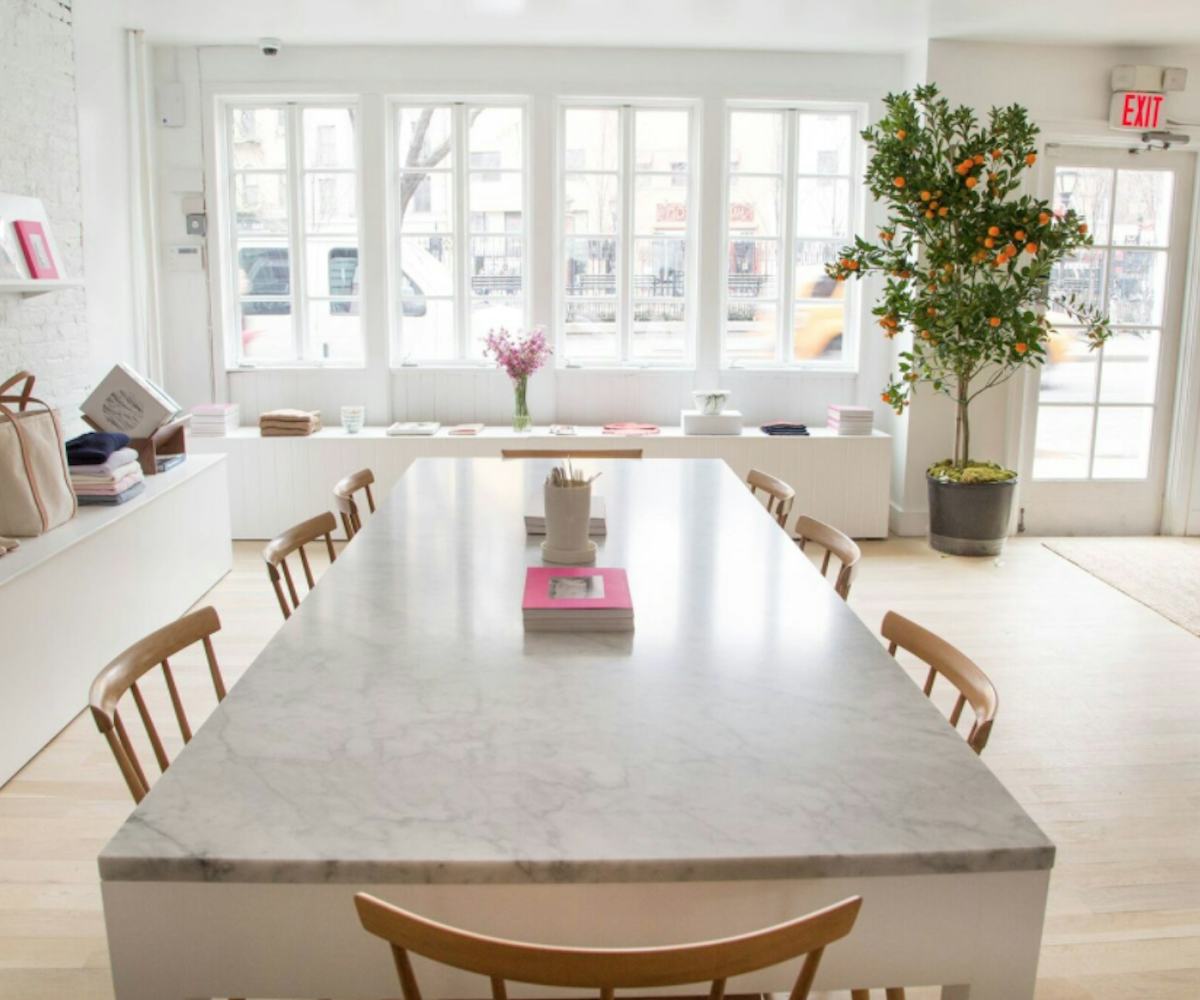 Photo by Alyson Redding
Inside Hesperios, The Boutique Bringing Together Fashion And Good Food
Talking with Autumn Hruby about her new SoHo shop
Humor doesn't always translate very well via email, particularly when that humor is bone-dry. But I laughed out loud at Autumn Hruby's written response to my question of how she chose the items in Hesperios, her immaculately appointed, just-opened shop in downtown New York: "Blindfolded with darts."
You wouldn't even need to visit the store, but just see photos of its gorgeous, light-filled interior to know that it's unlikely that chance played any part in its curation, even though there's much about it that's unexpected. For one, Hesperios—a name which, as Hruby tells me, is "the ancient Greek name for the planet we now call Venus. Phosphorus was Venus in the morning, and Hesperios was the 'Evening Star'"—is located in what was once a vape shop, though that provenance could never be guessed by anyone entering it now. For another, rather than a simple retail experience, Hesperios serves as more of a meeting place than just somewhere to shop. This is thanks to the generously sized tables which fill the room, as well as the small cafe, that serves Saxelby's cheeses, teas and coffee, homemade sodas, and bread from Meyers Bageri. In warmer weather, there will be seating in the ample backyard garden; a work in progress, it's being landscaped by Miranda Brooks.
Of course, there is shopping, too. The store is filled with treasures ranging from ceramics to art books to handbags to the Hesperios line of knitwear. (There is a charmingly constructed dressing room that Hruby made a point of showing me.) It has charm in abundance, but also a specifically welcoming atmosphere. It's easy enough to imagine whiling away an afternoon, sipping tea and snacking on bread and cheese, leafing through an issue of The Paris Review, and trying on the kind of perfect knit skirt that skims, and even seems to float over, your body.
Below, Hruby explains more about what makes Hesperios special, and how she sees the space developing moving forward.
What made you want to open a retail shop?
I wanted to open a shop because I had no idea how much work it entailed. No, really, I'm a tactile person. I like to see and touch things before I buy them. As great as the world wide web is, it's not the full experience. I'm a believer that what makes a knit sweater great, can only be appreciated in real life. Also, we all lament our favorite places that are no longer, but, rather than just sit around and miss them, I wanted to create the kind of place that I wish there were more of. 
What makes Hesperios a different retail experience?
The difference is always in the details. The color palette of Hesperios collection, the art and literary books we publish biannually, the ceramic collections we carry, Meyers Bageri bread and House of Waris tea served in our café, my travel finds and the friendships with artists I have cultivated over the years who have made limited-editions exclusively for our shop. Our outdoor garden in the heart of New York City. When you add these up, one would hope they make for a different space. We are also a store that is determinedly about giving space. It feels so hard to come by these days. I also can't stand clutter, and I love our long Carrara marble communal tables. When the weather warms up, we have this amazing outdoor area, and it will be so much fun to come up with reasons to fill it with great people. 
How do you envision the space developing moving forward?
Organically. We have the garden coming. The café is just getting started. We have our artist exhibitions coming. That's the thing about development—you let them grow and see what happens and let things have a life of their own. 
What three items are your favorites right now?
Hesperios: The Florence Dress in Tuscan yellow and The Cyrus woven leather book bags in brown and white. Temps Des Rêves: Matera silk scarf.
How important is being part of a creative community to you?
Community is vital, and, if I think about it, my community has always been creative. I feel very fortunate to have always had friends who write, paint, sculpt, act, dance, make movies, and are very open-minded. Friends who I can collaborate and travel with or go on spontaneous adventures that involve cycling across country, hiking for days through the Dolomites, or taking a train to Fäviken in Northern Sweden. Travel has always been important to me, and this is how I've met many of my friends. The other day, I walked in the shop, and my friend Luke and a customer from Tunisia were laughing and discussing everything under the sun. It made me so happy. I would love it if this place became a space for community. 
Who are some of your favorite creative inspirations?
We all have our personal cannons. For me, it's Amelia Earhart, Eliška Junková, Isadora Duncan, Esther Inglis's handmade books, Byron's letters, Françoise Gilot, Sonia Delaunay, Sally Potter's Orlando, Murakami, Sibelius… the list goes on. Basically, anything that helps to inspire and rewire my brain.
Where do you see yourself and Hesperios five years from now?
That's a fun question to think about but a terrible one to answer. There are some fun things building for sure, but I would hate to talk them away.
Visit Hesperios in person at 23 Cleveland Place, or online at Hesperios.com