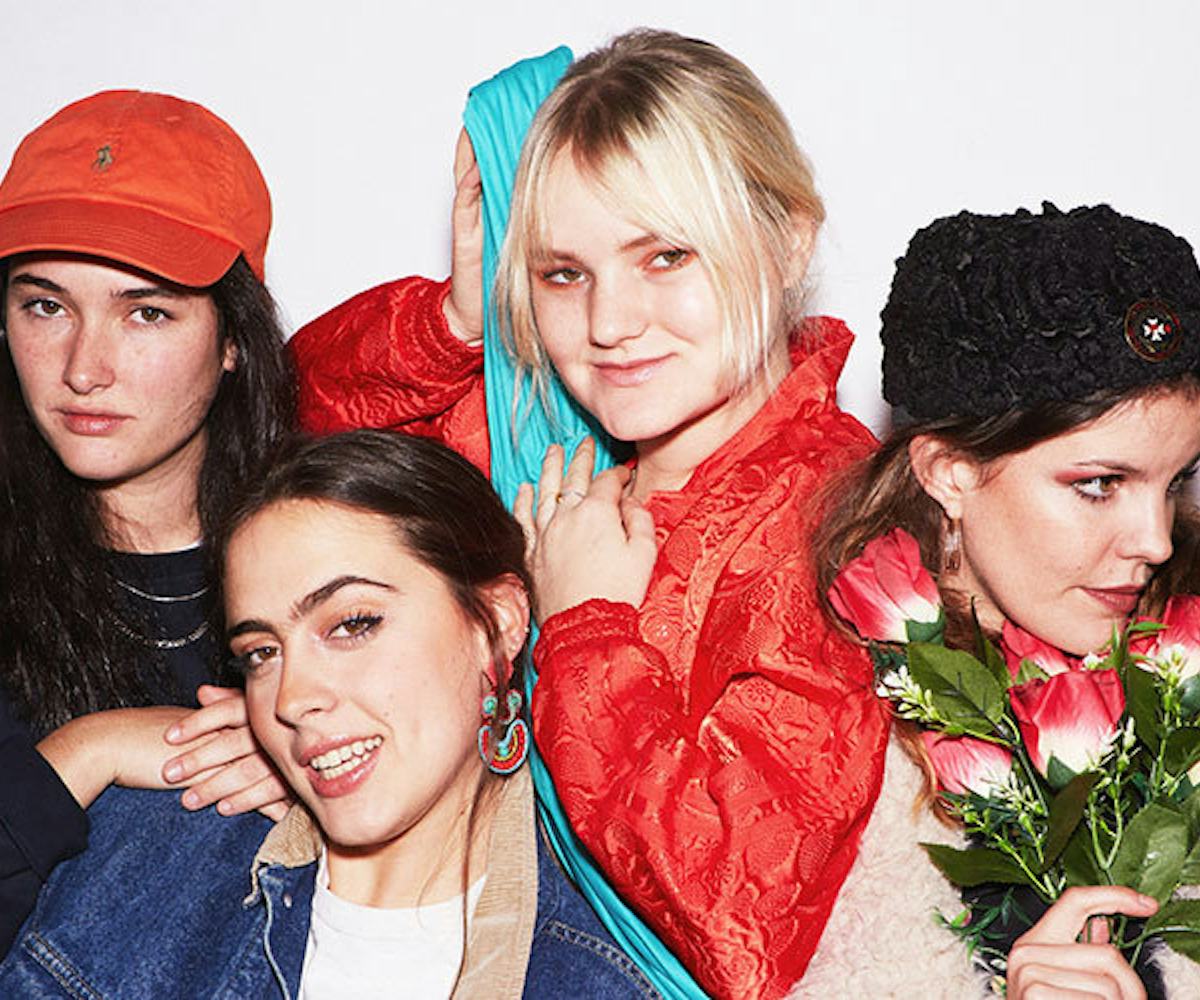 Photo by Alberto Van Stokkum
Hinds Find Their Footing On Sophomore Album
Run, don't walk to 'I Don't Run'
Hinds are stronger now. In the two years since the Madrid quartet released their buzzy debut album, Leave Me Alone, they've graduated from indie darlings to pure rockstars and toured a hell of a lot. "It brings the worst out of you and the best out of you," Ana García Perrote, Hinds' vocalist and guitarist, says. "You can be in a bad mood, and want to be in a bad mood, but know you can't because you don't want to bring the energy down around you." That lesson in resilience brings the group closer together and, in its wake, spawns an album as realized as I Don't Run, Hinds' sophomore LP.
Beating around the bush isn't a thing with this new Hinds album. Each of its 11 songs lays their motives out in plain view, contributing to an overwhelming rawness. "When we do a sad song, it's a stronger sad song," Perrote says. They're writing from the same place of honesty on songs like "Echoing My Name" and "To The Morning Light," but aren't wrapping it up in red tape. The darkness, Perrote says, is simply the result of brutal honesty.
Take their song "Finally Floating." It's the second longest song on the album and layers the band's vocals in a dizzying menagerie punctuated by a bolt of electric guitar lightning. It is, as Perrote says, a song about personal solitude in the midst of constant stimulation. "Sleep is really our only means of retreating to our own thoughts," she explains. "We talk about dreams a lot on this record because it's when we're asleep that we can be on our own."
"It's a good thing we were all friends before this," Perrote laughs. After all, it's inevitable to romanticize the idea of being alone, but Hinds isn't a band that thrives off of that. If touring taught them anything, it's that their sisterhood is their lifeblood. "We're living the same life," she says. "This really weird life. We give so much to Hinds that having three other people experience the same frustrations, same joys, same thrills makes it all worth it."
It's easy to read their song "New For You" as a letter to a lover, but Perrote says it's more universal than that. In the band's case, it's a promise to be the best for one another because, together, they know they're leading other girls to foster their own friendships and goals. "The more we tour, the more people, especially girls, come up to us and say they started a band with their friends because they say we were friends in a band," Perrote says. "We didn't have that kind of female role model growing up so it's amazing when someone says that we are that for them."
That they are. Hinds have arrived with I Don't Run, open for whatever and ready to reach more souls. They're growing up, managing expectations, and weaving an infectiously hazy lo-fi fantasy of independence in the process. "If we had a self-titled album, it would be this one," Perrote ends. Hinds is more present than ever.
I Don't Run drops April 6 via Mom + Pop.