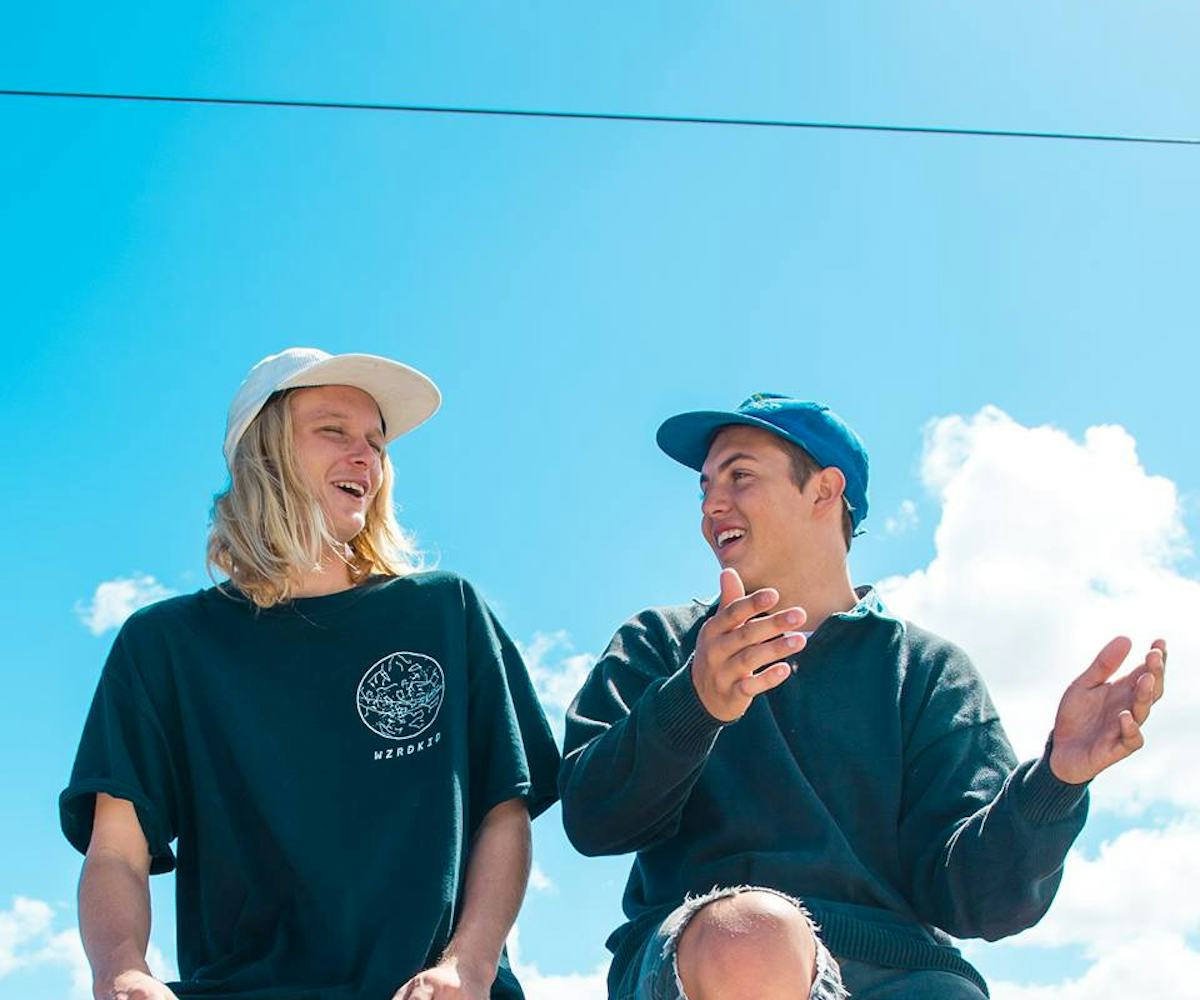 Photo by Ian Laidlaw
Surf Rock Duo Hockey Dad Brings The Australian Coast Stateside
Chatting about memes, night rituals, and their humble origins
For many, childhood friendships are just a distant memory of times gone by. But for Zach Stephenson and Billy Fleming, it's the very thing that gives their music its distinct appeal. Amidst a sea of unremarkable surf rock bands, the Australian duo stands out as Hockey Dad.
The band began gaining traction in 2014 with the release of their Dreamin' EP. Their music evokes a curious feeling which can be described as an anti-nostalgia of sorts, rejecting a longing for the past and instead celebrating youth as it is. Which is fitting, considering Hockey Dad is only just getting started.  
Stephenson and Fleming are on the verge of releasing their debut album Boronia, a bright collection of ocean-inspired tracks. Out August 12, the album has already brought promising singles like the plucky "Jump the Gun," which declares "I don't wanna go home/ I'm having too much fun," and "I Need A Woman," a refreshing display of vulnerability. 
We caught up with the self-deprecating rockers just in time for their U.S. tour dates, which include a stop at Rough Trade in Brooklyn, New York, on September 5. Stream Boronia below, and find out why Hockey Dad is our latest band crush below.
How would you describe your aesthetic?
Billy Fleming: Our aesthetic is basically whatever shirt doesn't smell the worst with some jeans and skate shoes. As a band, I guess we're just your average-looking blokes from Australia that are still grommies at heart.
How did your career get started?
BF: We met playing footy out in the front yard with my dad when we were about five years old. Then a few years later, we were just grommies jamming on Zach's dad's old gear in his shed when there was no surf. I guess it took a few years of playing gigs around our hometown to realize we could do something half decent with playing music.
Where do you hope to be professionally in five years?
Zach Stephenson: We hope to be undercover cops infiltrating the NASCAR circuit. Burn rubber, baby!
What are you most proud of so far in terms of your career?
ZS: Probably the fact that people on the other side of the world have heard of us and actually dig us.
What famous person dead or living do most wish you could have as a roommate?
ZS: [Actor and comedian] Pauly Shore.
What is your favorite driving music?
ZS: Depends on what time of day you're driving. If it's early in the day or afternoon, probably something upbeat or even some nice punk to make the trip a bit more fun. But nighttime needs much easier listening. We both love Patsy Cline in the evenings behind the wheel.
If you had to live in a past time, what do you think would be the most fun era and why?
ZS: That's a hard one because there are so many eras that would be amazing to experience. I guess I'd have to say the mid to late '60s. Then, I suppose, you could just keep going after that, and you'd still get to see the '70s, '80s, and '90s.
How do you wind down before bed?
ZS: Have a cup of tea and watch some TV.
When are you most relaxed?
ZS: When at home with nothing to do but surf and hang out with mates.
What kind of person were you in high school?
ZS: We were little, sandy-haired, zinc-skinned surf rats who played a little bit of music on the side and had no chance with girls.
Can you tell me a quality about yourself that you are genuinely proud of?
BF: We can't because we don't have any, we're terrible people. Nah, I don't know, I guess being best mates for 14 years is something to proud of.
Do you have any phobias?
ZS: Needles and heights.
What's a serious side of you that people are unlikely to know about?
ZS: Billy is very serious about his car, the old Toyota Hilux 4X4 Turbo Diesel with two-inch lift and diff lock. He loves it more than any woman. We also get real emotional when there's no surf for ages, everyone hates how grumpy we get.
What are some new hobbies you would like to take on?
ZS: We'd both like to start snowboarding heaps more because we haven't done it in a long time and it's super fun.
What are some of your favorite internet memes of all-time?
How do you hope to grow as a creative person?
BF: Just to have the opportunity to keep writing and recording songs for years to come. We're super psyched to get our debut album out, but after already finishing heaps of demos for the second album, we know we've got so much more in us yet to come.
If there was a phrase that you think best sums up your approach to life?
ZS: She'll be right, mate.