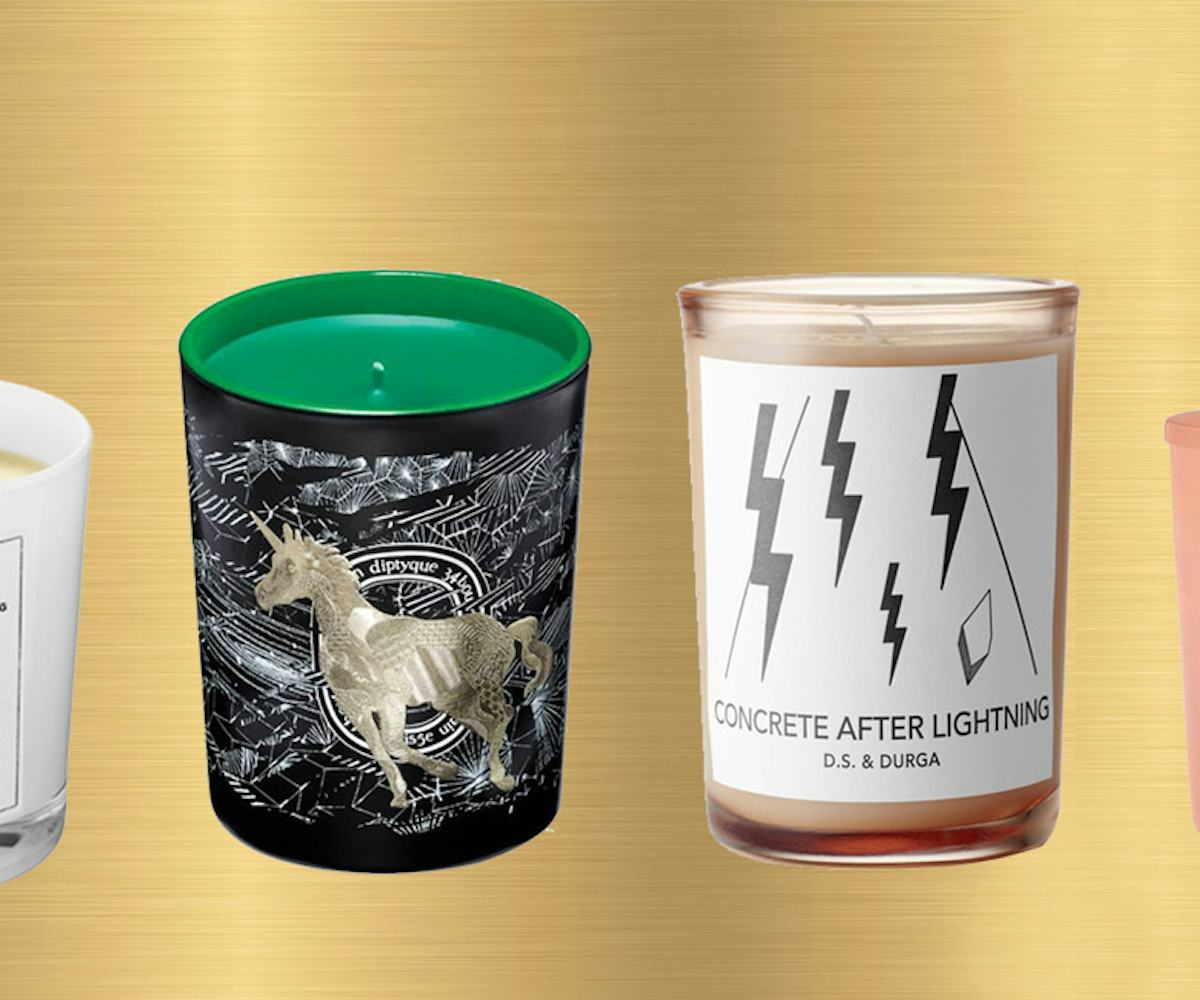 17 Holiday Candles That Will Make Your Home Luxe AF
We sniffed out the best ones for this holiday season
We don't know about you, but we love to receive designer candles as gifts. You know, those candles that cost way more than anything than anything ephemeral should (even if we do use their containers later as flower vases and other Instagrammable receptacles). Chances are, you know exactly what I'm talking about. According to Otherland, a whimsical direct-to-consumer candle brand that launched earlier this month, a quarter of all millennial women buy 10 or more candles per year. And since people love getting nicer-than-they-would-buy-themselves versions of their favorite things, splurging on luxury candles for your loved ones will be very appreciated.
Besides, not only are chic candles the best home décor, but they can also change the mood of your entire abode. Light up Le Labo's Palo Santo 14 Candle and get ready to manifest good intentions for the new year, dreaming of how this will be the year we take down the patriarchy; light up diptyque's Figuier and get transported to a dreamy garden where the warmth of the fig tree bark and the fresh fig leaves will shelter you from the troubles of the world, if only for a few brief, but necessary moments.
Note: If your gift recipient is a candle connoisseur, they probably have their favorites established (see above for mine!). Never fear, though, it's holiday season, which means there is a slew of new scents that have just dropped and ones that are just made for wintertime weather. Let this guide light your way to the best ones out there.
Manifest what you want for 2018 with this candle made from 13 pure plant botanicals sourced from around the world.
Sakara, The Manifestation Candle, $95, available at Sakara.
With a candle design this pretty, does it matter what the scent is? If it does, the fragrance oozes of fir needles, hinoki wood, and mint, all mixing together for a lush forest aroma befitting the home of, well, a unicorn.
Diptyque, Unicorn Frosted Forest Scented Candle, $70, available at Nordstrom.
Speaking of fitting, is there a better scent with which to meet the new year than one whose notes include Champagne, saffron, and leather? We didn't think so.
Otherland, Chandelier, $36, available at Otherland.
Are you looking forward to cuddling with a good book (or 50) over the holidays? Us, too. Let this earthy candle, inspired by the novels of Ernest Hemingway and F. Scott Fitzgerald, set the mood for you.
Commodity, Book Candle, $55, available at Sephora.
This candle promises notes of bergamot, coriander, vanilla, and tonka bean, but all we smell is romance in the winter. All to say it's sensual and mysterious, pulsing hot and freezing cold at once.
Ex Nihilo, Ambre Fou, $75, available at Saks Fifth Avenue.
When you think of the holidays, "concrete after lighting" may not be the first scent that comes to mind, but, after smelling this, I think, maybe, it should be? It smells like electricity, rain, and steam; it's glorious and, yes, electrifying.
D.S. & Durga, Concrete After Lightning, $65, available at D.S. & Durga.
If you've ever tasted Dona Chai's Masala Chai, you know that it's winter in a cup. This candle is like a cup that never ends and envelops your entire living quarters.
Dona Chai, Candle, $35, available at Dona Chai.
To make sure we never get out of bed, our favorite bedding company has come out with candles. Their newest one, Dusk, smells like a literal cabin in the woods... if the woods were in a fairytale far far away from our reality.
Brooklinen, Scented Candle in Dusk, $35, available at Brooklinen.
There is something special in NYC's air during the holidays—and, no, it's not just the aroma of chestnuts roasting over an open fire. Capture New York's holiday energy with this candle, that explodes with the scents—jasmine, gardenia, carnation, patchouli, sandalwood, coffee, caramel—of the city that never sleeps.
Bond No. 9, New York Nights Scented Candle, $100, available at Bond No. 9.
Describing the amazing Goop scents is a futile act; they smell like everything, and nothing at once. This newest scent is no different but claims to be "of spirit-clearing smoke, mystical resins, forbidden spices, and holy woods." It's magical and mystical and a must-have this season.
Goop, Scented Candle in Edition 03, $72, available at Goop.
This candle smells like a wintertime fire, and is thus probably the most classic of the bunch. We love everything about it, from the smell to the packaging.
Nest Fragrances, Hearth Candle, $40, available at Amazon.
For some people, winter means the smell of pine trees, burning wood, and baking spices; for others, it's a walk on the beach on a cold day. If you're of the latter type, you will be seduced by one of Replica's most popular scents, which oozes of salty water mixed in with the sun on a cold day, and a sandy shore whose depths suck your feet in, encouraging you to stay right where you are for as long as you want.
Maison Margiela, Replica Beach Walk Scented Candle, $62, available at Sephora.
These are the prettiest candles around. This one, in particular, stands out as the perfect candle for the holidays not just for its jewel-like color but, also, for its woodsy birch scent.
Cire Trudon, Ciel, $105, available at Barneys.
While you might not necessarily think of Tom Ford as a premiere candle maker, think again. This fragrance-turned-candle smells like mint and thyme and wildflowers, like the sea of Amalfi, Italy, and the citrus fruits that line the walls of whitewashed villas.
Tom Ford, Private Blend Mandarino di Amalfi Candle, $98, available at Bloomingdale's.
Speaking of unlikely candle makers, luxe glasses brand Linda Farrow, known for her rose gold glasses, also makes gorgeous metallic candles. This rose gold candle smells of freshly cut grass, which is, like, not very "holiday," but, maybe, that's the point when you're snowed in somewhere.
Linda Farrow, Herbe Coupe Candle, $150, available at Linda Farrow.
This candle company has become a new favorite of ours for the sassy quotes it has fronting its products. Let this one remind your recipient that 2018 will be a new year and we can change everything that needs changing.
The 125 Collection, One Year 365 Possibilities, $35, available at The 125 Collection.
When all else fails, get your recipient a Fornasetti candle. If they're anything like us, meaning in possession of very good taste, they have been lusting after one for a while.
Fornasetti, 'L'Ape - Otto' Lidded Candle, $195, available at Nordstrom.