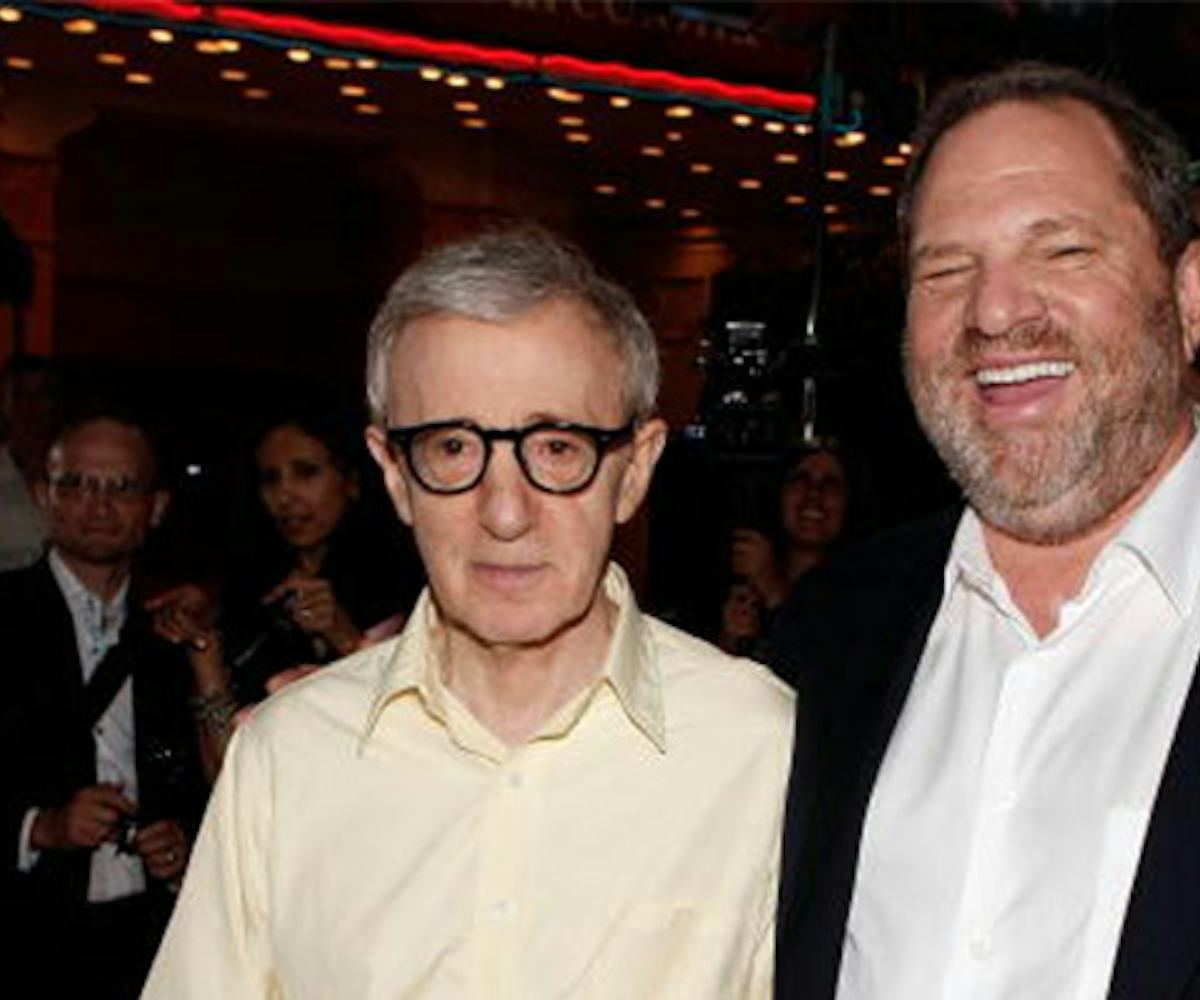 Photo by Kevin Winter/Getty Images
The Hypocrisy Of Hollywood When It Comes To Harvey Weinstein
They condemn him, while supporting the system that allowed him to thrive
On Sunday night's episode of Last Week Tonight with John Oliver, the late-night host was reluctant to praise the Academy of Motion Pictures Arts and Sciences for kicking out Harvey Weinstein, in light of recent sexual assault allegations. "Yes, finally," Oliver said, "the group that counts among its current members Roman Polanski, Bill Cosby, and Mel Gibson has found the one guy who treated women badly and kicked him out."
Polanski pled guilty to unlawful sex with a 13-year-old girl in 1977, and two other women have accused him of sexually abusing them when they were minors. Cosby was accused by more than 50 women of drugging and sexually assaulting them. Mel Gibson was accused by his ex-girlfriend, Oksana Grigorieva, of physically assaulting her while she was holding their nine-month-old baby. 
"So congratulations, Hollywood," Oliver continued. "See you at the next Oscars where―and this is true―Casey Affleck will be presenting Best Actress." Affleck has been accused by two different women of sexual harassment on the set of the film I'm Still Here. 
Oliver's point is, of course, that it's hypocritical of the Academy to expel Weinstein while remaining silent on the accusations leveled against other powerful men in Hollywood. And the members of the Academy aren't the only ones condemning Weinstein while continuing to support other alleged—and, in Polanski's case, convicted—predators. Kate Winslet recently said that not having to work with Weinstein again is "one of the best things that's ever happened." And yet, that's only because she once had an unpleasant working experience with him, not necessarily because of the dozens of accusations of sexual assault against him. 
Winslet continues to work with Woody Allen, despite the fact that he was accused by his adopted daughter Dylan of sexually molesting her at the age of seven, and will star in his upcoming film Wonder Wheel. "It was the most purely actor-director relationship I've ever had," Winslet recently said of working with Allen. "There were no lunches, dinners or social (interactions). It was really nice to just focus on the job." It's not the first time she's defended her decision to work with men like Allen and Polanski. 
"Of course one thinks about it," she told The New York Times of the allegations against Allen. "But at the same time, I didn't know Woody and I don't know anything about that family. As the actor in the film, you just have to step away and say, I don't know anything, really, and whether any of it is true or false. Having thought it all through, you put it to one side and just work with the person. Woody Allen is an incredible director. So is Roman Polanski. I had an extraordinary working experience with both of those men, and that's the truth."
This kind of compartmentalizing is what most actresses claim to do when working with Allen. "It's amazing what Woody has written for women," Blake Lively, who appeared in Allen's film Café Society, told the Los Angeles Times last year. When asked about the sexual abuse allegations against him, Lively said, "It's very dangerous to factor in things you don't know anything about. I could [only] know my experience. And my experience with Woody is he's empowering to women."
There is an ongoing debate about whether these men are artists or sexual predators when they are clearly both. Polanski is an incredibly talented director and a convicted sexual offender; Allen is a brilliant filmmaker and an alleged child molester. The Artist vs. Predator debate makes it easier for people who work with them to brush off the accusations as mere speculation. 
It took more than 30 years and dozens of women to come forward before people in Hollywood felt comfortable condemning Weinstein. We can't wait for it to get to this point every time. The Academy and Winslet and Lively can't turn a blind eye to these very serious accusations until they are held accountable or are victim to the harassment themselves. You can't condemn Weinstein, while still supporting the system that allowed him to thrive.